People are already coming to the horrible realisation that this simple tweet that was sent out asking for colour advice may be a repeat of "the dress" episode which fractured friends and families.
So what do you think? Left or right?
WHICH COLOR MATCHES THE SHOES THE BEST pic.twitter.com/Qv3mpOOf8w

— a (@totallymendes) July 8, 2015
Here at M2woman we're sitting on a nice democratic 50/50 split amongst the designers. Here's the rest of Twitter's opinions. I vote they mix the colours. At the bottom of the post we've included a closeup of the colours beside each other so you can get really scientific with it.
@totallymendes @rllyshawn the one thats the same color of the shoe! the one on the left

— Jadis//July 13th (@JadisSMendes) July 9, 2015
@landisreed @totallymendes its the dress all over again shit

— kiera aka queen fab (@JACKGILINQT) July 8, 2015
@totallymendes just mix the two nail polishes haha

— Hailey (@Xbasicallyshawn) July 8, 2015
@totallymendes the one on the right is the exact color

— samantha (@deadmemcries) July 8, 2015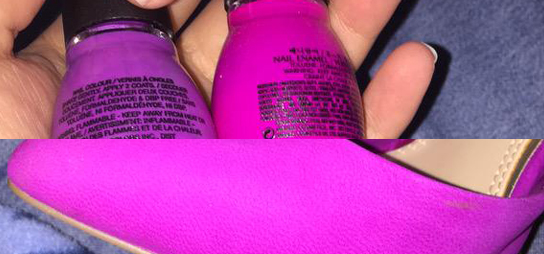 ---
WANT MORE? JOIN OUR NEWSLETTER!