Rebecca McFadzien – The Changing Face of Women in Film
If there is one thing Hollywood needs more of, it is movies that challenge stereotypes and empower women, something Kiwi actress Rebecca McFadzien managed to do in the most unexpected film genre.
When you think of women's roles in most horror films, you will likely picture a damsel in distress who needs a strong, brave man to save her. Quarries, an award-winning drama-horror-thriller starts out like this; a group of women embark on a hiking expedition and then find themselves in grave danger, having crossed paths with savage hunters.
"This is where Quarries deviates from the usual 'damsel in distress' convention, which usually involves the girl being rescued at the very last minute by someone else," McFadzien says. "No one is coming to save these women, and they know it. They work together as a team to fend for themselves, and they fight to stay alive using both physical strength and emotional bravery. They are each pushed to their absolute limits and ultimately, they discover just how strong they are."
Winning Best Narrative Feature at the 2016 Women's International Film Festival and Best Feature Film at the Los Angeles Thriller Film Festival, this movie brings girl power to Hollywood and horror. "I'm really excited to be a part of this new wave of female-driven film and television content" McFadzien says. "Girl power is all about women really supporting each other instead of feeling threatened or comparing themselves to another… I think in today's society, we can never have too much girl power, nor can we have too much positivity, optimism or general encouragement of one another! There seems to be an awful lot of uncertainty in the world right now – but my hope is that we can rise above it all, as a team, with compassion and kindness. We truly do rise by lifting others."
Quarries is directed by Nils Taylor, but it is a very female-driven film, something McFadzien says was incredibly empowering. "We went on a journey together, and I feel that I have been changed forever by the experience. I came out at the other end having a deeper understanding of who I am, and feeling stronger for it. It has also inspired me to write more of my own material and get involved with the stuff that goes on behind the camera, as well as continuing on with my work as an actress.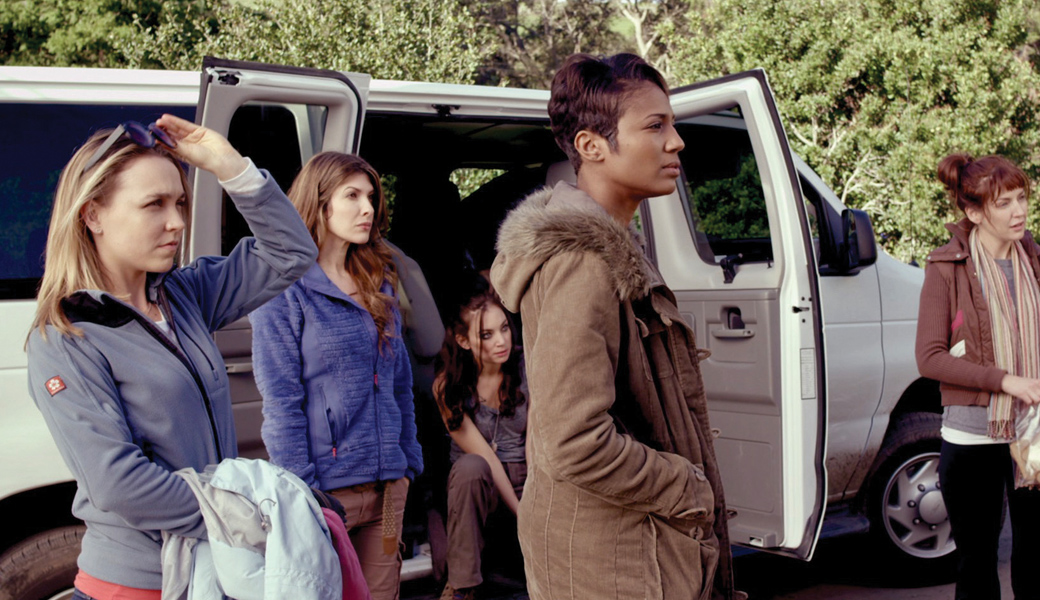 "When I first read the script, I was struck by how incredibly strong and diverse the female characters were. I love challenging stereotypes, and empowering women through the work I do as an actress, so I knew right away that I wanted to be a part of it," she says.
McFadzien had been in Los Angeles for just one month when she was given the opportunity to audition for a role in Quarries; it just so happened to be her first audition. She was soon cast as Brit, a cute, blonde Californian girl, but after the director got to know her, Brit became a Kiwi girl and her accent shone.
"I absolutely loved getting to use my real Kiwi accent in the film! It's an honour to have the opportunity to represent New Zealand women in an international film… I think one of the biggest challenges for me during this shoot was embracing the fact that I was different from the other actresses. Before moving to LA, I assumed I'd need to hide my accent and always speak in my American dialect, in order to be successful. However, the director of Quarries [Taylor] chose to have me keep my authentic Kiwi accent, which I felt a little self-conscious about at first, but ended up loving. I learned to celebrate my individuality in a whole new light!"
McFadzien thinks embracing our differences and what makes us special is an important theme that needs to be addressed through films; so should the stereotypical female roles that dominate Hollywood: "I would love to see more empowered, independent, feisty women in every genre. World domination! Mwahaha!"
You'll also like: