Last Friday to kick off our weekend, my colleague Sophie and I decided to check out Ebisu, a contemporary Japanese restaurant on Quay st, part of the Britomart block of dining establishments.
It was a hot day, but sitting near the windows was still preferable, as getting the most out of the Auckland summer is a top priority at the moment. Headed by chef Yukio Ozekei the restaurant offers new-style sushi and sashimi as well as traditional Japanese dishes.
The service was surprisingly quick, with us taking more time to decide what we wanted than time it took to pop out the kitchen. We barely started on our glasses of Steinlager Tokyo Dry before the Beef Tataki with seared Angus sirloin, onion garlic dressing, black truffle paste, white truffle oil & spring onion came out.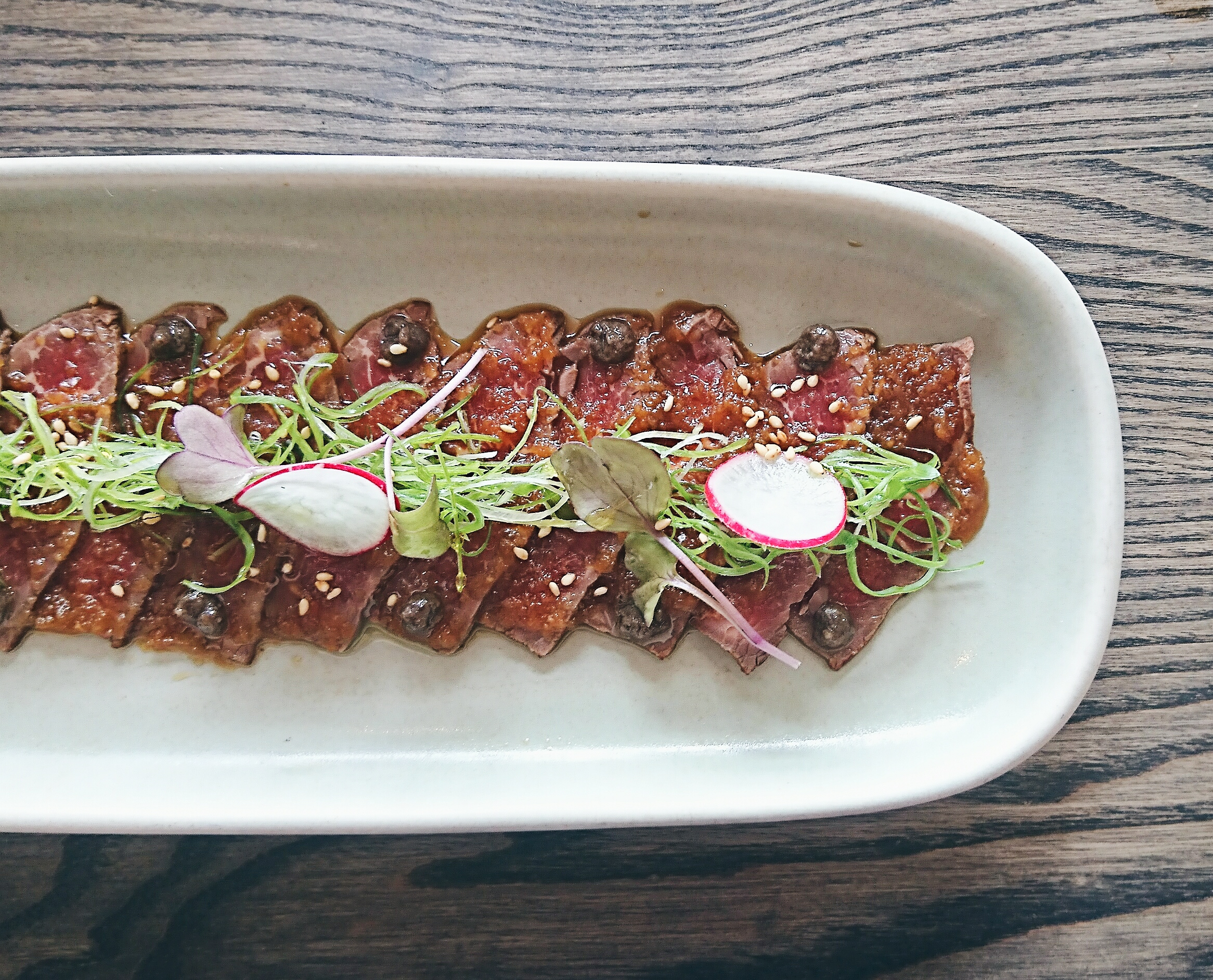 We aimed for small plates for our lunch. It's recommended that all items you get there are made to be shared. So you can quickly get a taste for everything on the menu if you're dining with friends.
Our Ebi Mayo Roll with compressed rockmelon, black tiger prawn with avocado, red tobiko, mayo, chives & tempura crunch arrived next, and it was from here we realised that Ebisu leans toward creating rather sweet creations. This is the first time I have ever described a sushi roll as sweet. A strange, but not unwelcome experience.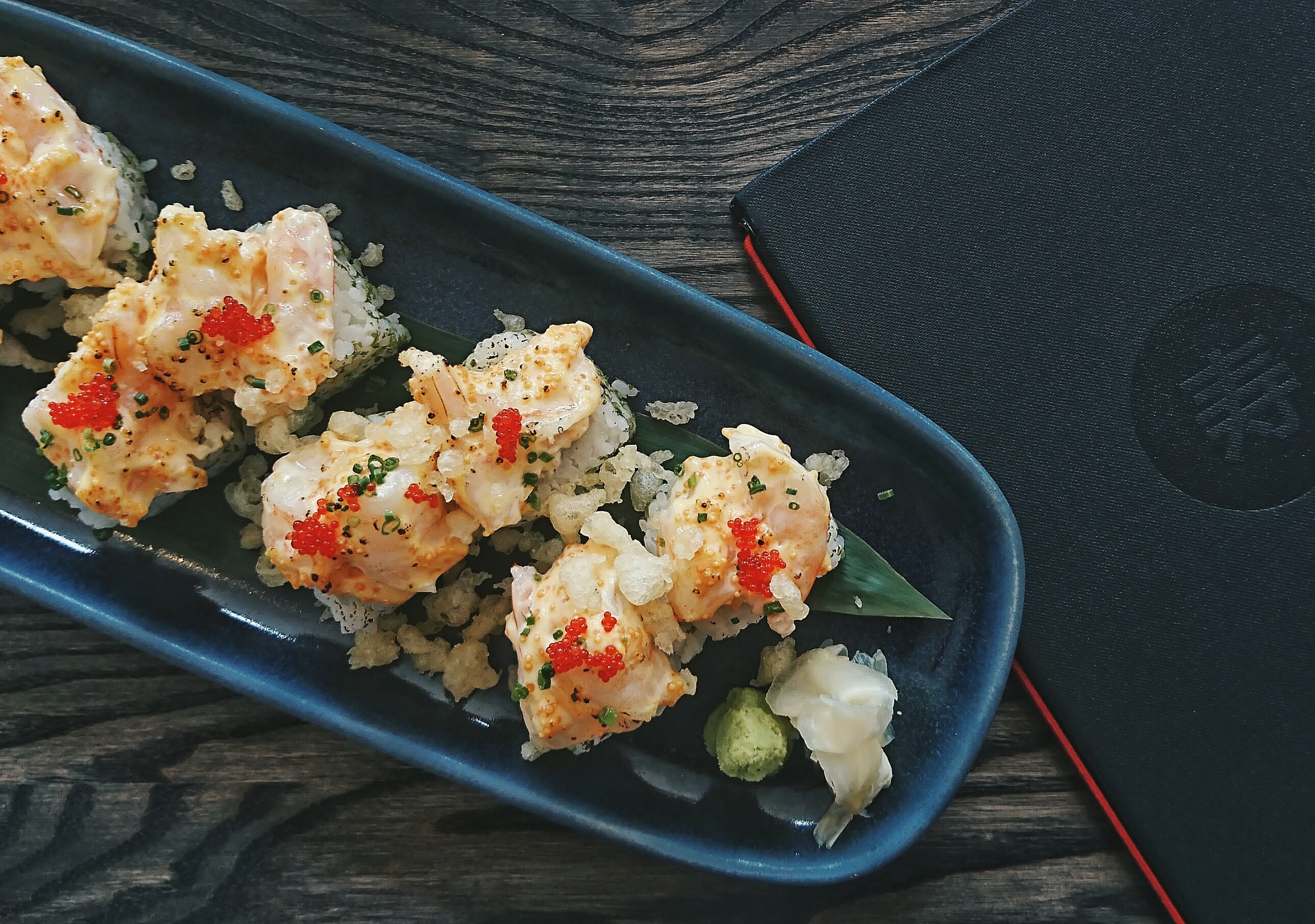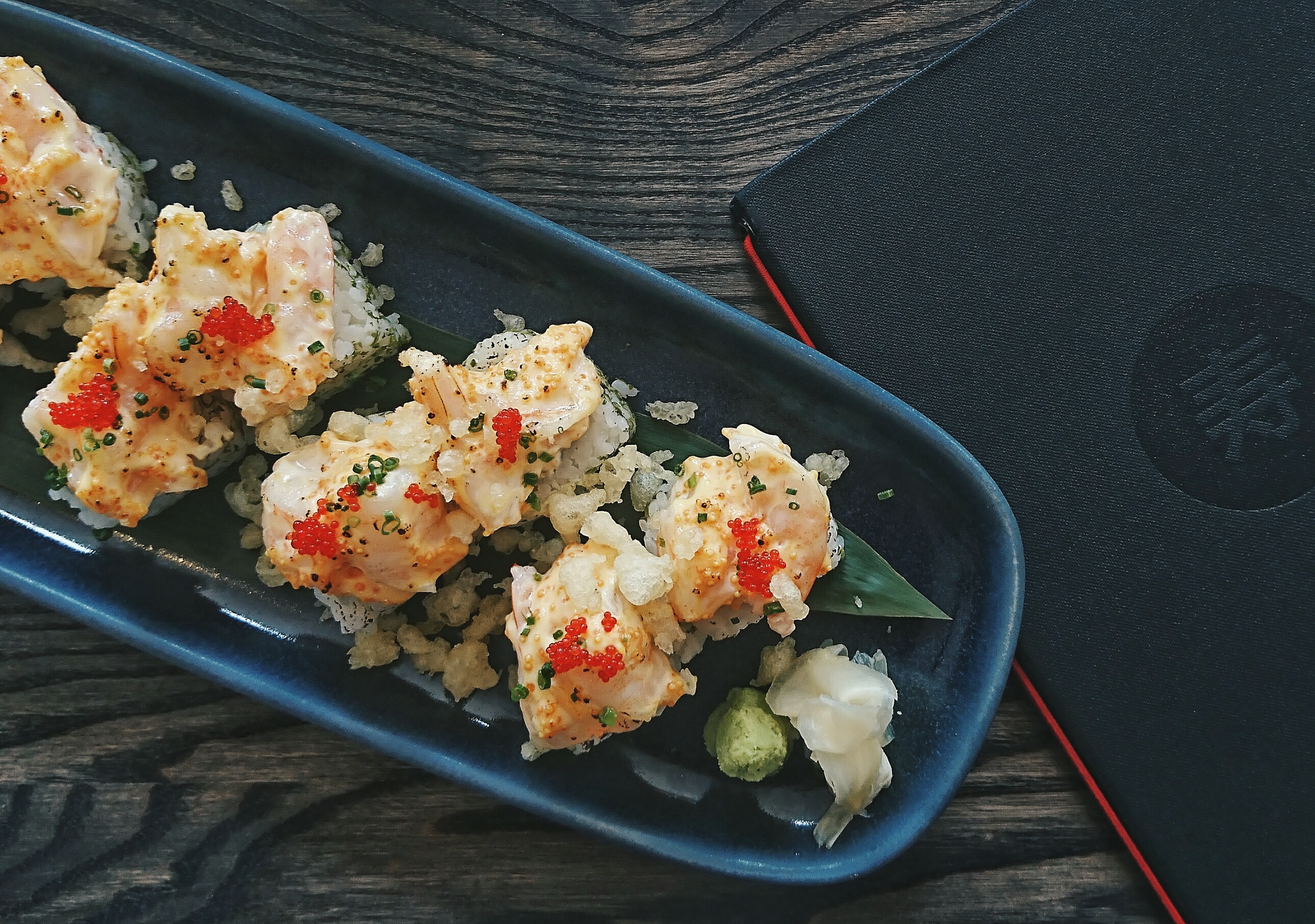 Finally arrived our Miso Glazed 'Saikyo' Tooth Fish, which was difficult to share mostly because I didn't want to share it. The portion seemed more like it was meant for a solo experience but we managed to split the black tobiko, beetroot pickles & tempura waffle with the fish anyway. Once again an overwhelming sweet vibe came with the dish due to the cauliflower puree it sat in. This was when our palettes were clearly defined from each other, as I have more of a sweet tooth than Sophie.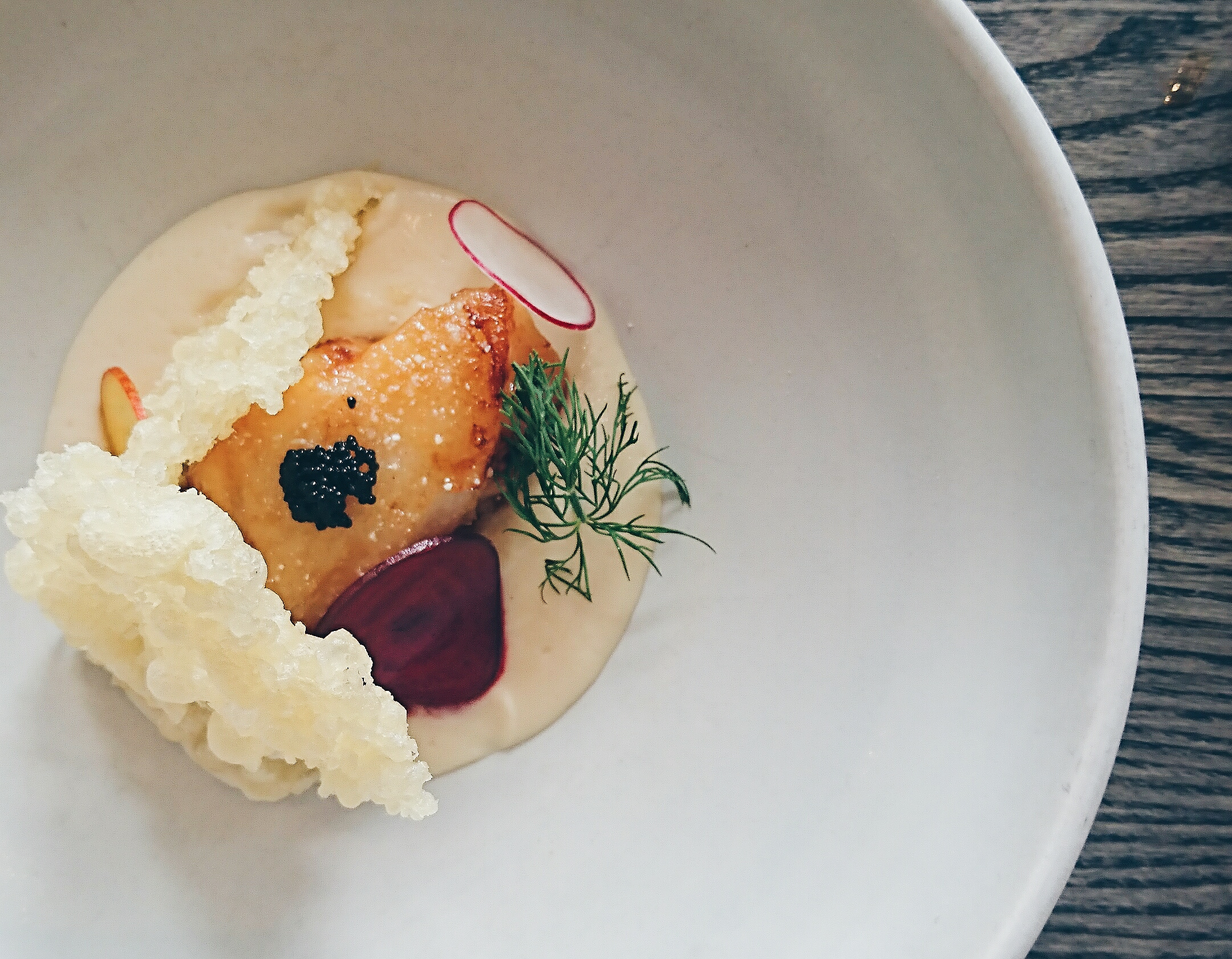 She was however determined to get dessert, so I demanded that if we were then we'd have to get the more adventurous flavours of icecream. This ended with three scoops, Chocolate Tofu with dark chocolate ganache & macadamia nut, Green tea with green tea dust and finally the yuzu sorbet which was deliciously sour and complimented the other two spectacularly. It turned out the that the chocolat tofu was in fact a solid choice, being not too sweet, but offsetting the sour zing of the yuzu perfectly. I strayed away from the green tea icecream which Sophie loved. Our waiter had previously warned us that it isn't to everyone's tastes while looking pointedly at my white skin.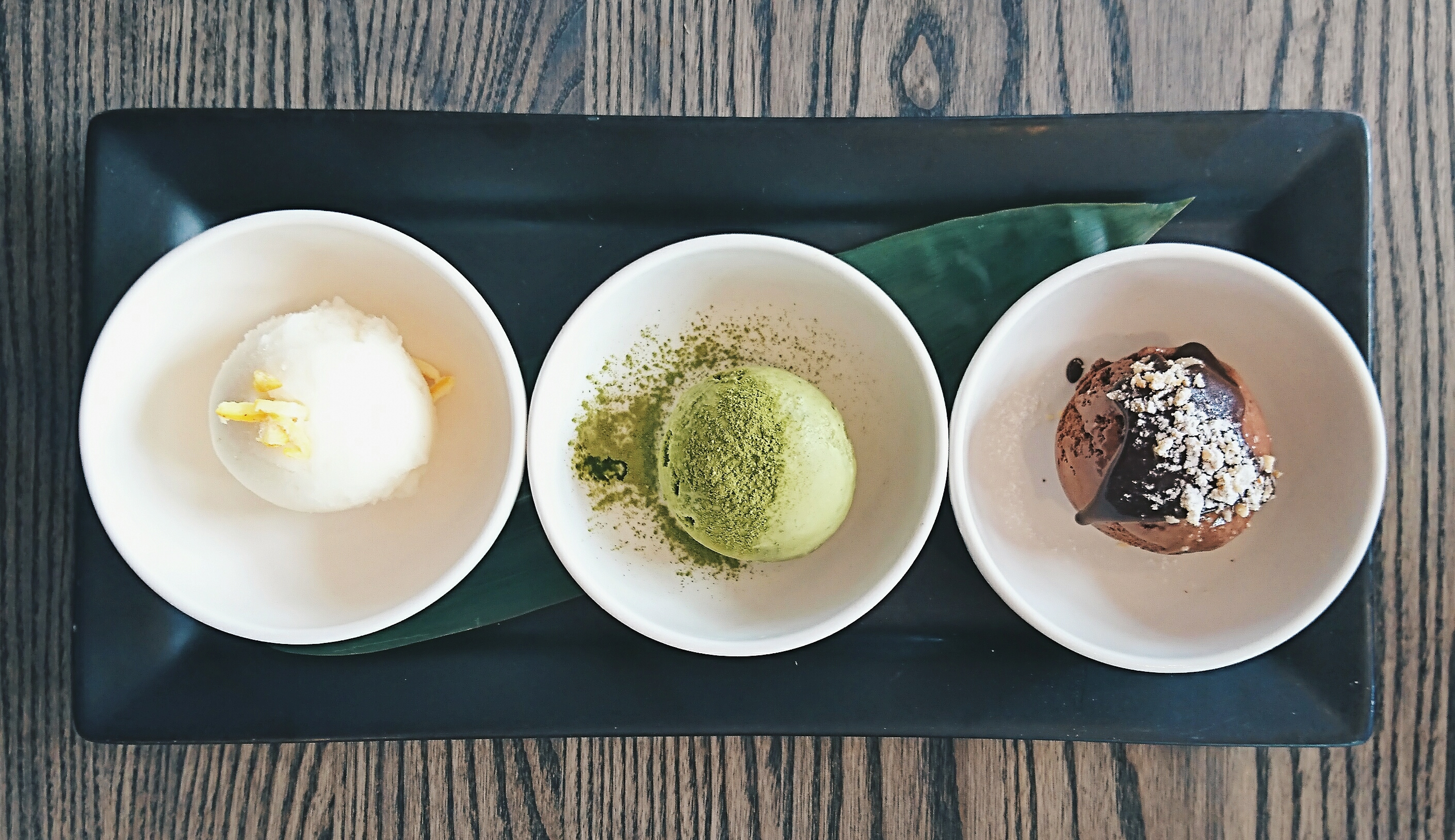 I had a little more money in my account so I decided to have a Choya Classic Umeshu for the road because there's nothing like following a sweet meal with plum wine. However I would recommend if you were going to get one of the plum wines that you don't cheap out like I did and instead go for one of the more expensive options on the list.
For the two of us a couple more plates would have done the trick, the wishlist for going next time would include the hot large plates as well as the rainbow sushi rolls. If you have a sweet tooth, you're in for a good time, otherwise, you have been warned.