10 Hotel Bathrooms That Are Bigger Than Your Apartment
All over the world we've seen an increase in housing to keep up with the population so it's no wonder that micro housing is on the rise; from 'co-living' in London, where tenants share communal spaces but have their own bedroom and bathroom, to micro-condos in America, where residents live inside a space that is smaller than some hotel bathrooms. Yes, some luxury hotels house bathrooms that are the same size or bigger than an entire living space in a micro house or apartment. Keen to discover where these bathroom mansions are located? With more than one million properties Booking.com, the global leader in connecting travellers with the most incredible places to stay, has scoured its offerings to uncover accommodations worth booking for their bathroom amenities alone. From lavish and opulent décor to slick and innovative designs, these jaw dropping bathrooms are certainly ones to be seen.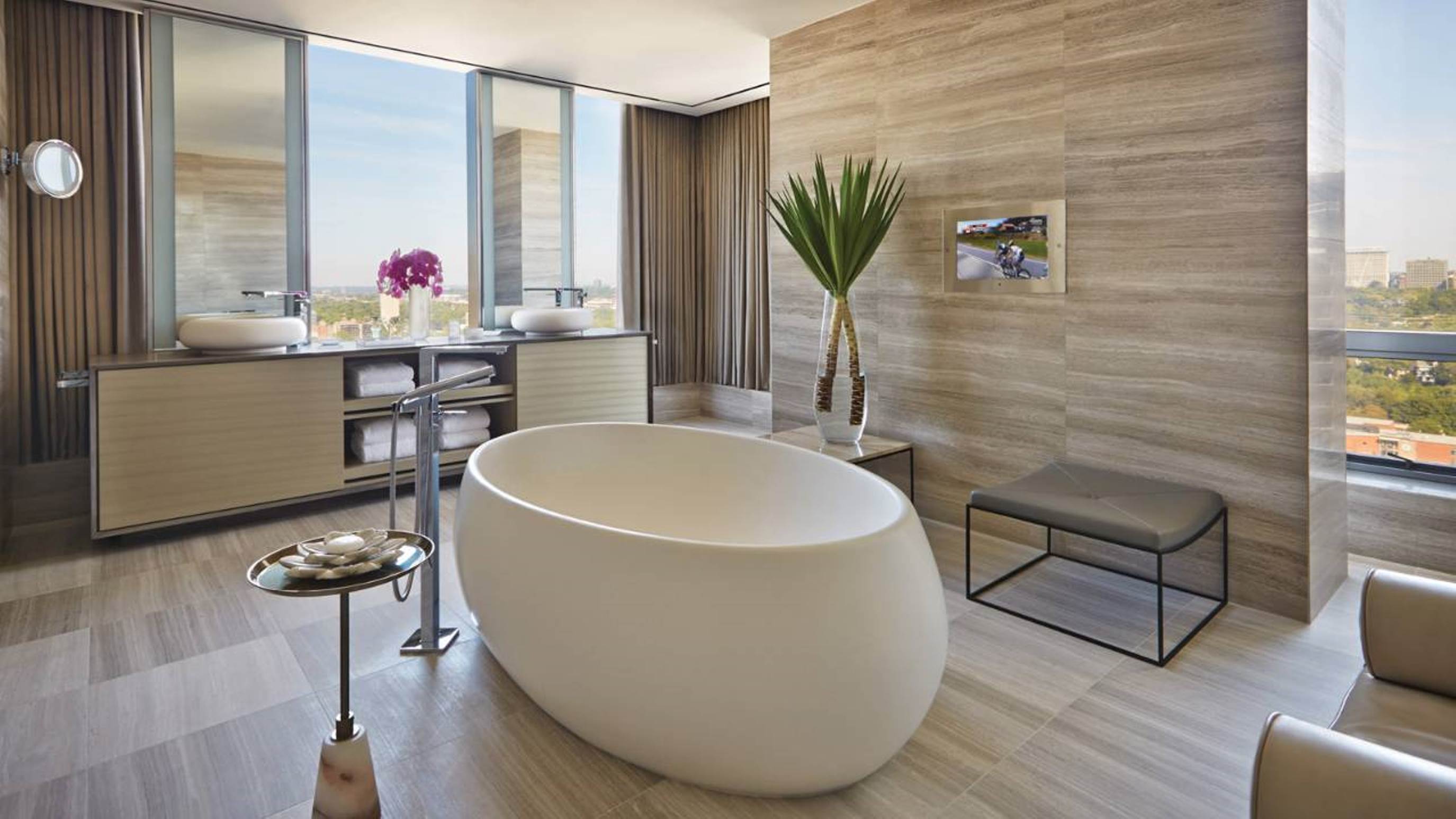 This elegant five-star accommodation offers guests more than just its unbeatable location. High above this soaring hotel on the 21st floor, you'll find its largest and most prestigious suite – the Royal. As you step inside the grand space and into the oversized master bathroom, you'll immediately understand what it's like to live like royalty. Coming in at 320 square feet, the granite filled space features a marble egg shaped tub, a double vanity, magnificent windows overlooking the Toronto city skyline, as well as an adjoining walk-in closet and dressing area.
Earning itself the prestigious "Palace" status, this historic property is ranked one higher than a five-star. Situated only moments away from the Champs-Élysées, high profile guests such as Madonna, Robert De Niro and the former King of pop, Michael Jackson have all enjoyed this property's glorious washroom facilities. The hotel's pièce de résistance is the Royal Monceau Suite complete with superb artwork, custom furniture and of course a lavish 320 square foot salle de bain.  With a walk-in shower, free-standing claw-footed bath, Japanese 'Toto' toilet, plush terry bathrobes and slippers and even Clarins products, it is guaranteed to impress.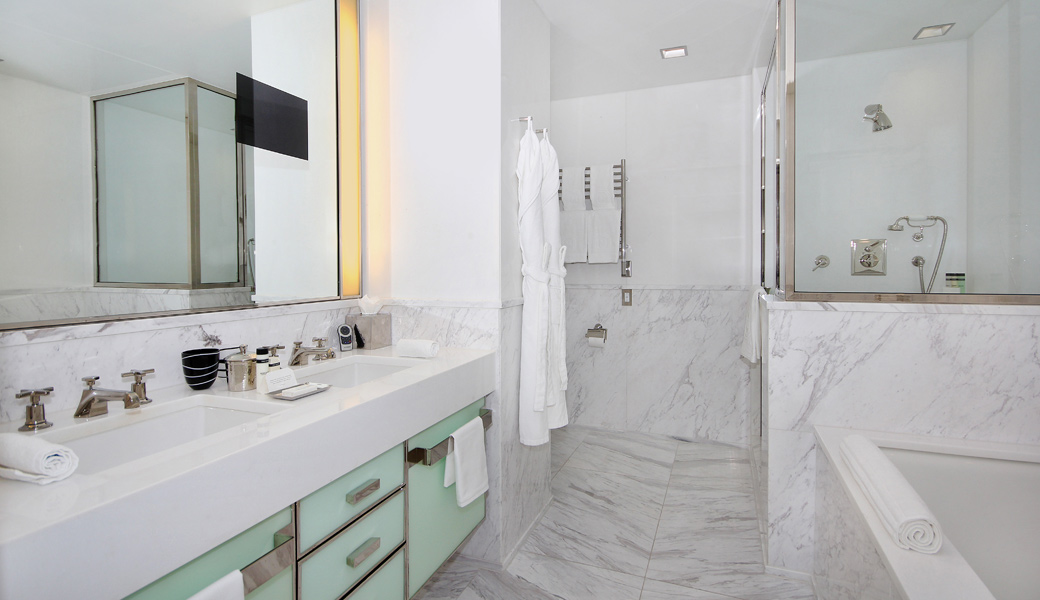 The big apple is no stranger to the ultra-rich and luxurious. This 1927 landmark, turned luxury hotel, happens to be home to the world's most expensive suite. The 12,000 square foot penthouse spread across two floors has been described as a "castle in the sky" featuring five bedrooms, a 2,500 square foot rooftop with Central Park views, a library and wait for it, six incredibly deluxe bathrooms, one of which even has a steam room. The master bedroom features a his-and-hers washroom with heated flooring that's lined with the hotel's iconic black and white stripes, infinity deep-soaking tubs and custom-made Hermes toiletries.
[shortcode id="33529″]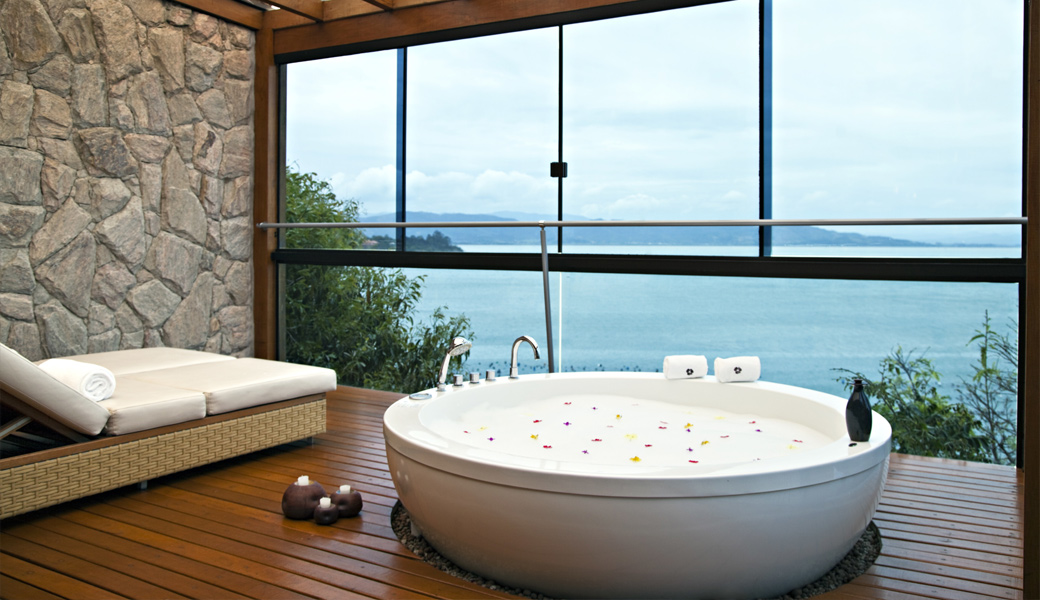 Hiding within the tropical Brazilian rainforest along a secluded beach is a little piece of paradise – the Ponta dos Ganchos Hotel. Situated on a private island, the property overlooks the emerald coast and provides guest the privacy they're craving. The hotel's lavatories, however, have made going to the bathroom an experience you won't forget. Inside the Especial Esmeralda Villa, you'll find a 350 square foot spa-like bathroom oasis decorated with garapeira-wood, featuring day beds, a dry sauna, an indulgent oceanfront whirlpool bathtub with a built in stereo system, a spa area with plush massage tatamis for in-room treatments and an infinity edge lap pool just outside.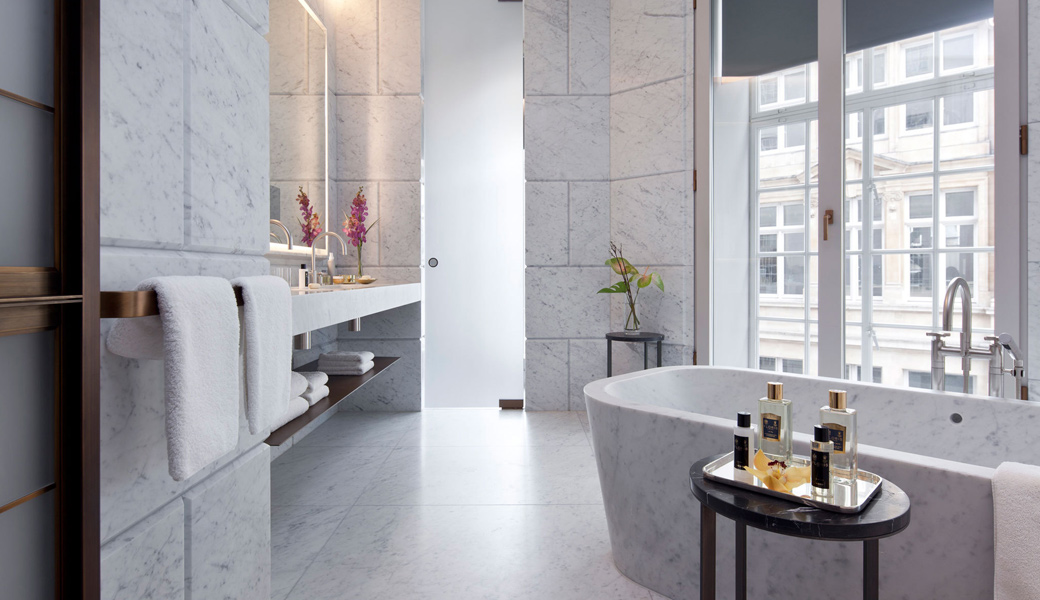 This five-star hotel in the heart of central London takes going to the loo very seriously. Its signature touch happens to be the extravagant Carrara Marble bathrooms. Even more impressive are the individually handcrafted marble bathtubs which were carved onsite. The hotel's Empire Suite, totaling 2,282 square feet, features an impressive rainfall shower, a deep marble bath, a large TV screen, luxury bathrobes and slippers, and designer British amenities from Floris. Now that's my cup of tea.
You'll also like: