Billing itself as the 'world's most luxurious hotel', Burj Al Arab is an experience like no other.  Located on its own island, the hotel makes no shortcomings when it comes to its prestige decadence, offering guests everything from private butlers, to 24k-gold iPads and everything in between.  The two-floor Royal Suite features huge gold covered pillars, a grand staircase, a private library and even a 13-pillow menu to ensure you get that perfect sleep.  Of the suite's bathrooms (yes, plural as there are three!) the largest one is a whopping 1, 163 square feet complete with a rotunda-style soaking tub, marble and gold finishings throughout, a plethora of luxe cushions and seating areas, and even offers Hermes bath products and fragrances.
[shortcode id="33529″]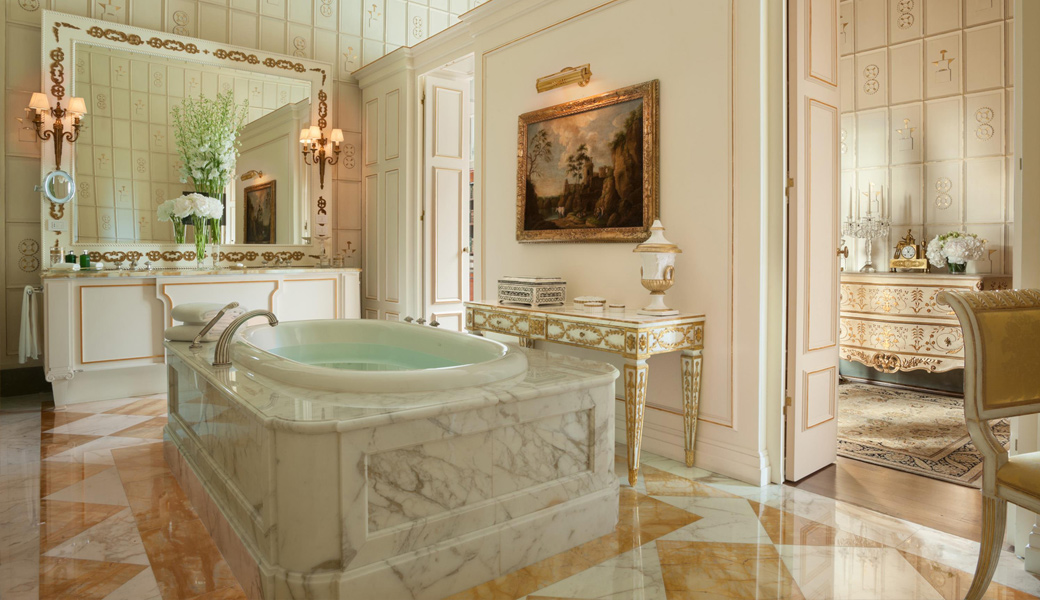 Amid one of the largest private gardens in the city, Four Seasons Hotel Firenze, celebrates the Jewel of the Renaissance with its luxe furnishings and ornate décor.  If you're lucky enough to grace the presence of the Royal Suite, you will be exposed to more than 2,500 square feet of stunning art-detailed vaulted ceilings, beautiful frescoes and an original Capodimonte Maioliche-style ceramic floor.  Perhaps the most impressive feat of the Suite however, is the nearly 500 square foot main bathroom featuring a full marble finishing, a lavish vanity, walk-in shower, a tub overlooking a private terrace, and of course, no Italian bathroom would be complete without a bidet.  Don't worry though, the suite has a second smaller bathroom should this one not fulfill all of your must-haves.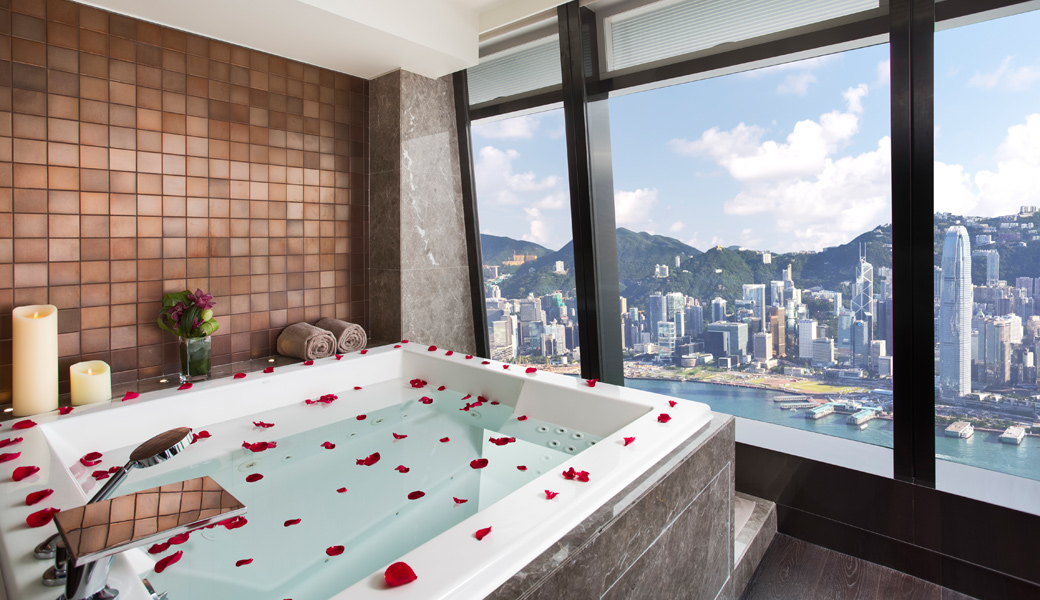 Towering over the Victoria Harbour, the Ritz Carlton Hong Kong is located in the fifth tallest building in the world and houses the highest bar in the world. The hotel takes no shortcuts when it comes to extravagance, boasting floor-to-ceiling windows in each room that open up to panoramic views of the city, two Michelin Star restaurants, 400-thread count linens, feather pillows and one-of-a-kind art pieces.  The Ritz-Carlton Suite features a nearly 700 square foot full marble bathroom, with a rainforest shower head, oversized soaking tub with a scenic vista, powder room, double sink and separate sauna area.  Forget the spa, with amenities like this you'll never want to leave your room.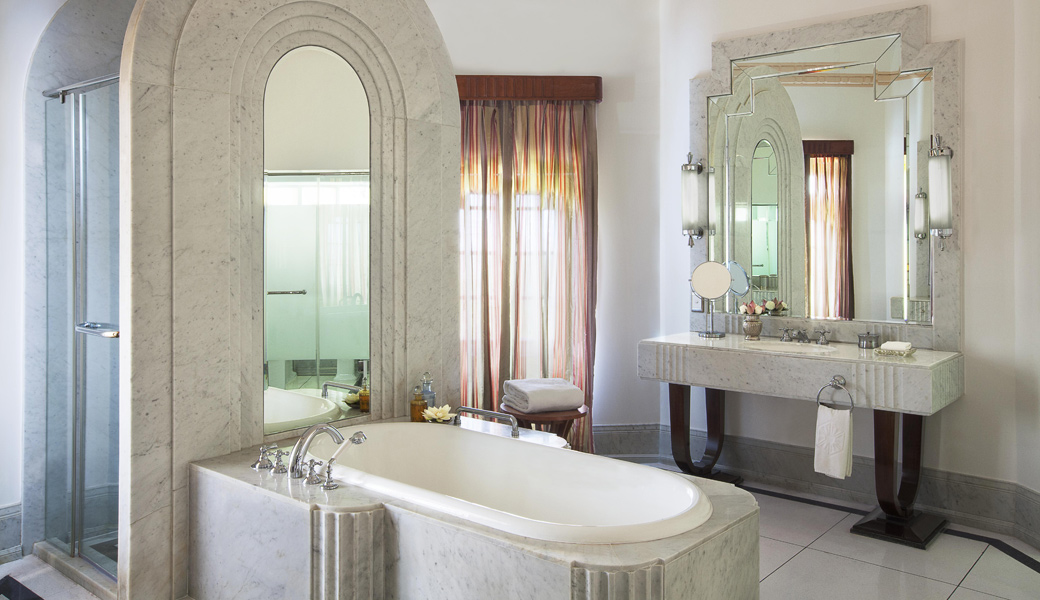 Built in the first half of the twentieth century, Umain Bhawan Palace spans across 26 acres of intricate and lush gardens. Finished with an underlying Art Deco and Renaissance themed design, the Palace also overlooks the desert capital of Jodhpur and offers a fine collection of Victorian and Edwardian era antiques.  The Maharani Suite, originally designed for the queen, is the epitome of luxury and royalty.  Adorned with exotic murals, flaming chrome torches, faux leopard-skin sofas and original artefacts the suite is visually stunning.  The royal suite features a 447 square foot five-fixture bathroom, that includes a Jacuzzi, steam room, and most impressively, a bath designed by Stefan Norblin carved out of a single piece of pink Italian marble.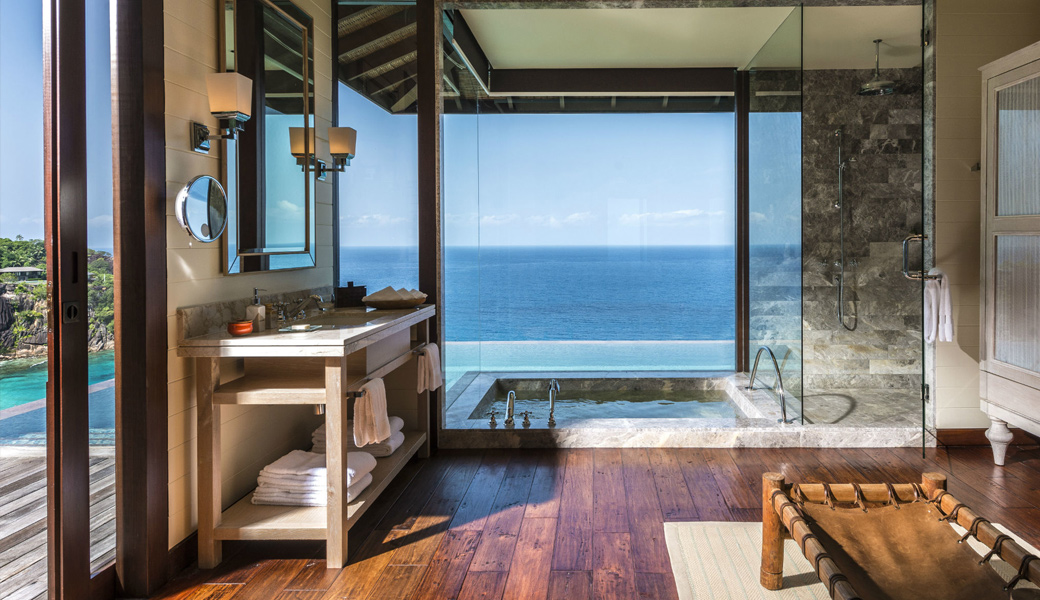 In the middle of the Indian Ocean, on the south west coast of Mahé sits the stunning Four Seasons Resort in Seychelles. Scattered across a hilltop, you'll find the Serenity Villas tree-house where you can bathe as if you're outdoors. The 340 square foot opulent restroom features wooden accents and the not-to-be missed marble tub and rain shower. Enclosed in glass, they offer tantalizing and dramatic views of the crystal clear water, lush jungle, and granite hillsides. Immediately adjacent, you'll find a private wrap around infinity pool, and an outdoor living space ideal for sunset tropical views.