Choosing a place to stay in NYC is as overwhelming as it gets. Especially for a punctilious person who feels the need to look through all options before making a purchase decision. I could peruse through a restaurant menu again and again for up to two drinks worth of time, trying to figure out what it is that my fastidious palate desires – spring rolls or summer rolls? Pork belly or Massaman curry? Sorbet or ice-cream? This type of decision-making can be placed in the 'relatively easy' and most of the time, 'fun' categories.
But when it comes to dropping 2+ zeros for a single item, my mind becomes as frantic as Jim Carrey's in The Mask and unfortunately, can deter certain someones due to my newfound unbearable character traits. For example, my annual designer handbag shop – oh boy, when the bag doesn't coax you from the window, then I'll do two rounds of peering into all the boutiques within the department store, escalator-riding from one floor to another and blowing up the pedometer (I don't actually have one of these – mainly because they are and also look, incredibly stupid) to the point that the task of 'shopping' becomes 'strenuous exercise' and I'm bed-ridden the following day. Some of you will agree that 'shopping' is an immense task that requires physical training as well as a hefty amount of mental capacity for serious decision making.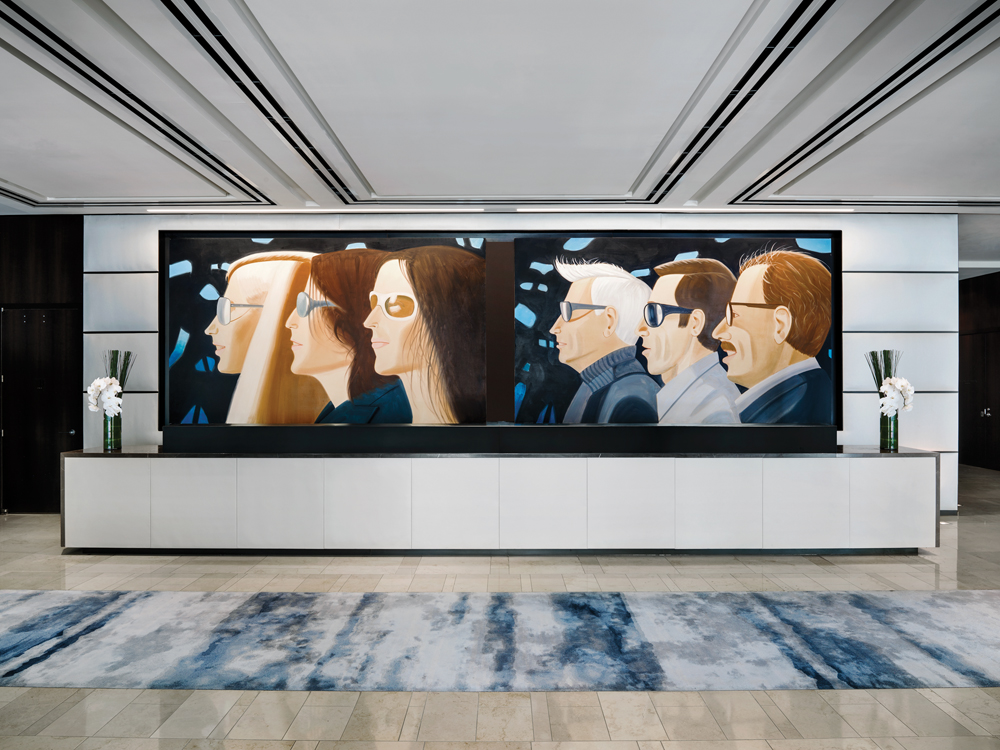 Hotel-choosing for any city is just as much of a sweat-inducer as designer shopping – But NYC? A killer. However, in light of splendid news that I spent a night at the #1 Hotel in New York City, I guess the head-and-hair-splitting labour of looking into perfect accommodation for endless hours was all worth it in the end. Mainly because now I can go around boasting how I'm so wonderfully well-travelled and that I stayed at the best hotel in NYC – responses have so far been very satisfying. Late last year, Condé Nast Traveler bestowed the humbling first place to The Langham, New York, for their 2017 Reader's Choice Awards. Everything about the room was designed as a luxurious place of residence with breathing space, plenty of light and optimal comfort. I can say with confidence that I would have no problem living there should anyone be willing to financially support this.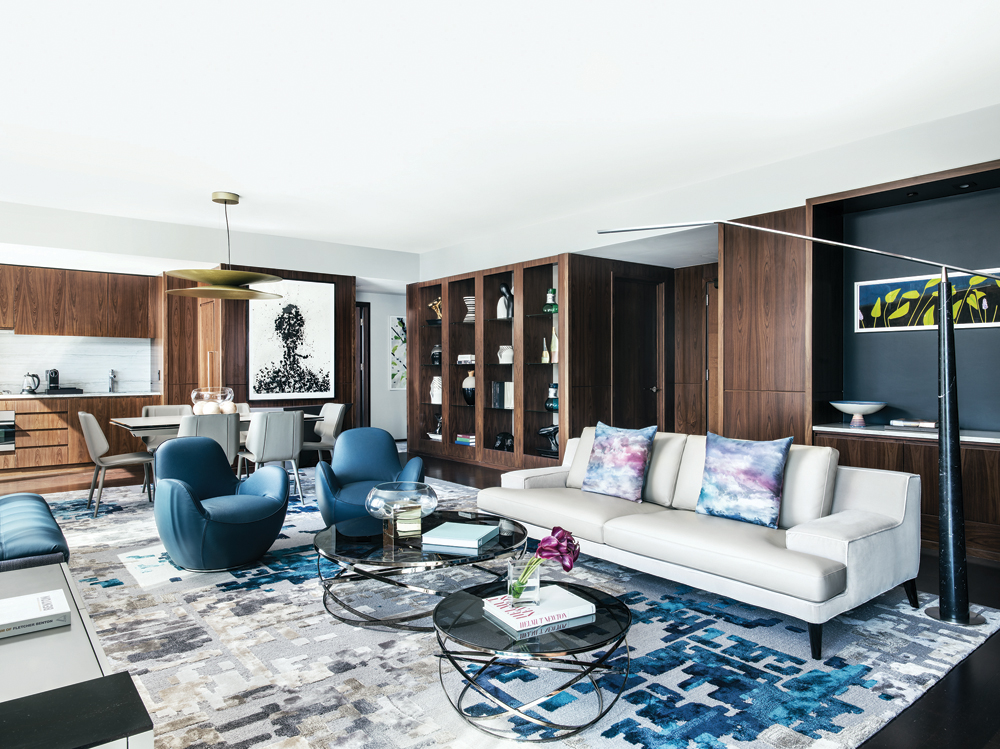 Here's the lowdown. First off, a suite at The Langham, New York, trumps a night sharing a shabby sunken couch at your friend's place in Brooklyn – hands down. Second, the location is smack bang in Midtown on Manhattan's most distinguished Avenue – the fifth one. Slotted in between West 36th and 37th, a mere three blocks away from the Empire State Building, a hop and skip away from Times Square and Grand Central, it's destination sensation.
[columns_row width="half"]
[column]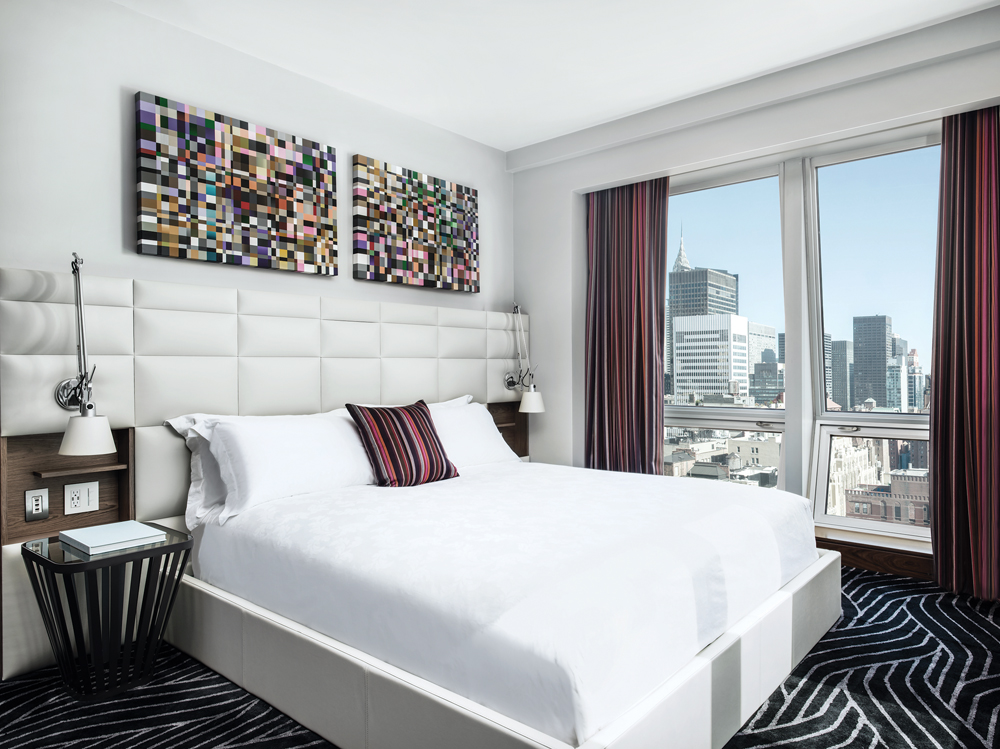 [/column]
[column]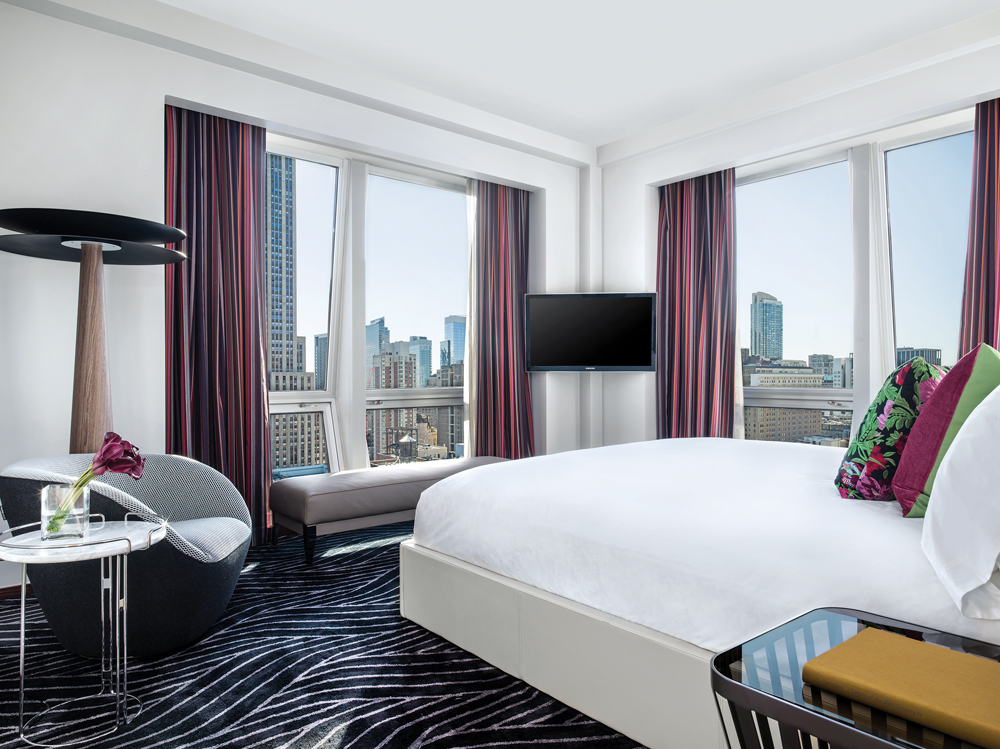 [/column]
[/columns_row]
In a place where real estate is as precious as diamonds, their 234 guest rooms and suites are some of the largest in NYC. I was lucky enough to get spoilt in a suite – we're talking ~80m2 of pure luxury with the legendary Nobel prize-winning DUX bed worth US$10,000 and floor-to-ceiling windows showing off views of the concrete jungle. Italian walnut and rosewood panels against muted neutral tones gives off a (aspirational) homely vibe that's understated in a cool, modern way. I'm not sure what it is about 5-star bathrooms, but they always make my knees weak and heart flutter with giddiness. The Langham is no exception – a rain shower, his and her basins, a full-length view of the Big Apple to enjoy in the ginormous Zuma deep-soak tub and gorgeous marble walls that provide the best lighting and backdrop for selfies, I would've gladly been suite-bound if it weren't for the whinging boyfriend wanting to venture out and see the city. Did I really need to leave heaven on Earth when there's room service available? (Well yes – it's New York – drinkable art a.k.a. cocktails await in those hard-to-find speakeasies.)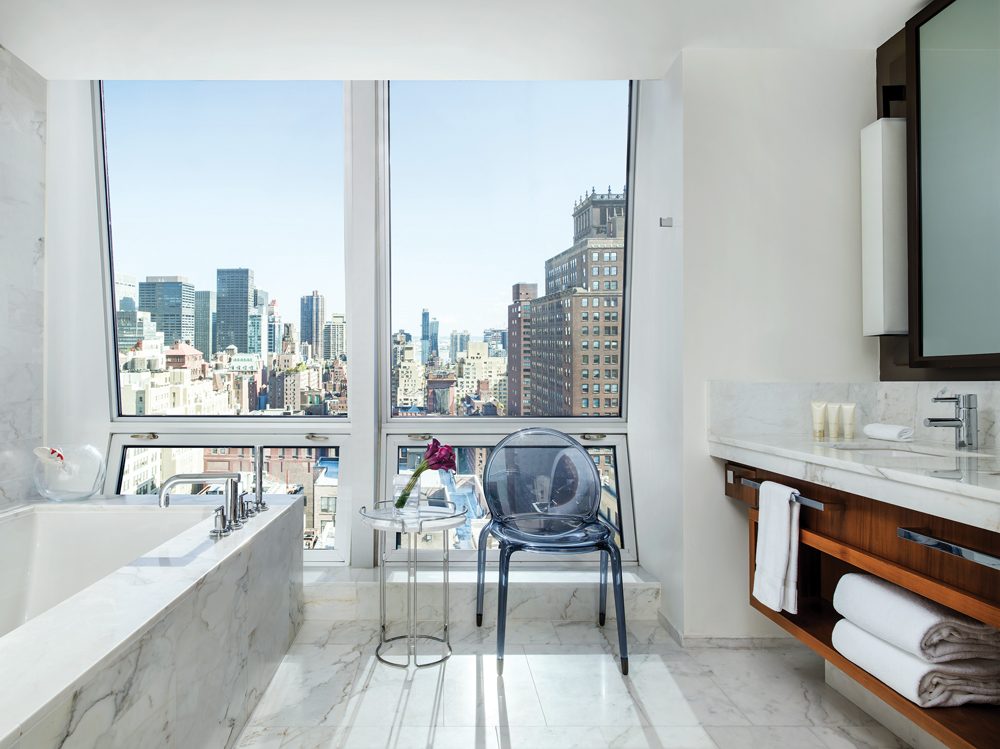 The new Presidential Suite by Roche Bobois, takes it to a whole new level, immersing one in offerings of regal degree. A two-bedroom penthouse with marble-clad bathrooms, Miel appliances, L'Objet glassware and china, flatware by Christofle, Privilegio Milano linen, Courchevel and Rive Droite beds and a collection of Roche Bobois trademark furniture alongside the most magnificent view of the Empire State Building, this pinnacle suite doesn't skimp out on a single thing.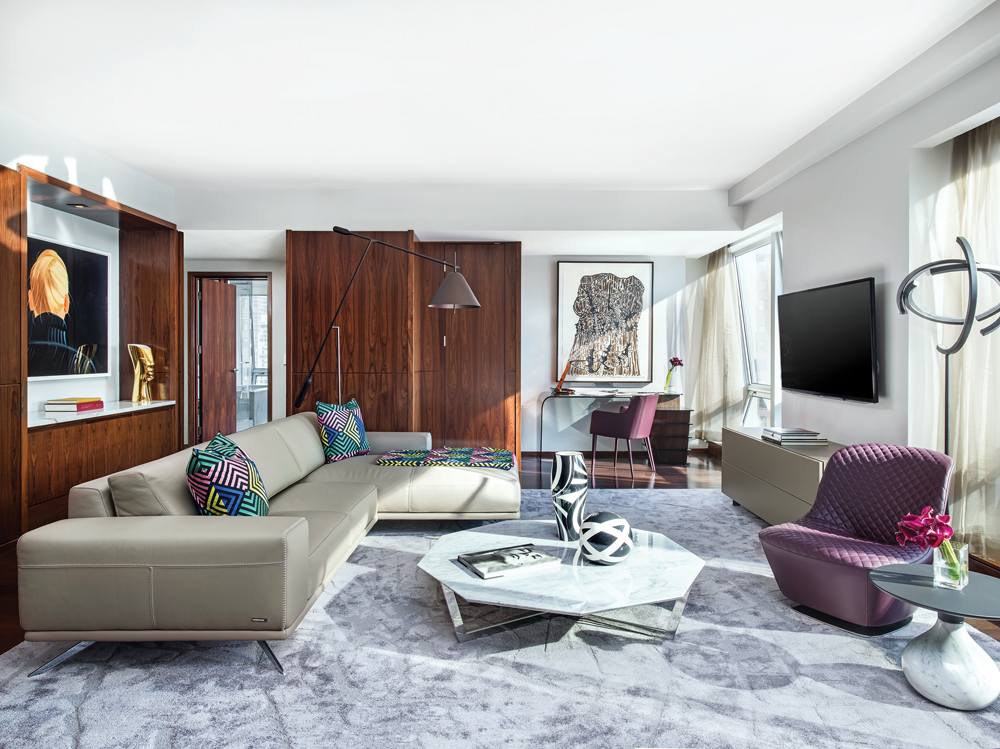 Gunning for the top spot, Richard Bussiere, the Managing Director of The Langham, New York, says, "We are confident that, thanks to the overall design of the suite by Roche Bobois, and the exclusive offerings from our partners at Ai Fiori, the Presidential Suite by Roche Bobois will soon be considered the top suite in New York City… Roche Bobois went above and beyond with this suite, choosing fabrics and materials that rival those found in any other hotel in the city. And thanks to our partnership with Altamarea Group, we can offer exclusive culinary experiences to guests of this suite, courtesy of Ai Fiori and Chef Michael White." A michelin-starred restaurant serving a menu that's simply unforgettable, the collaboration consists of three programs that will knock your socks off; a pantry and mini bar curated by Chef Michael White, room service of the full menu and a private chef experience for your exquisite high-end private dinner en suite.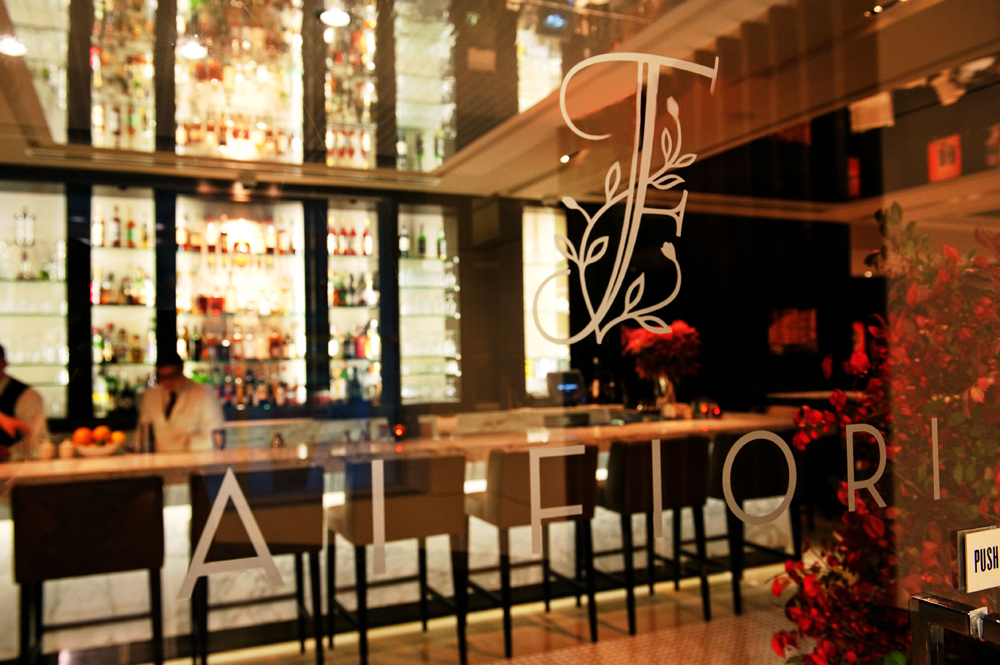 Alternatively, for those who aren't ordering world class food to their Presidential suite, you can be seated in the restaurant on the second floor. At the time of visiting, the hotel was undergoing construction (as is the rest of New York City) so it was pretty loud and shaky but otherwise, it's a pretty decent spot to dine. With a three-course meal at $68, the price is surprisingly inoffensive for how top notch it is. The hype amongst foodies to taste creations by high-calibre chefs reaches a celebrity status that we could never imagine. But when you taste a plate of deliciousness, it's easy to understand why. Every aspect of the food was on form, the kitchen crew were clearly trained to be perfectionists. I can still remember the taste of the dessert to this day.
To top it off, The Langham, New York, received the prestigious AAA Five Diamond rating this year. The only New York City hotel to be awarded this status in 2018 amongst the 121 in North America, there's no other evaluation system that proves it's true worth in excellent hospitality.