The new fragrance from Jimmy Choo – L'Eau – is one of the most beautiful smelling perfumes on the market right now. Perfect for the dynamic, alluring, and adventurous Jimmy Choo woman this fragrance is strong and free spirited yet feminine. This is the perfume you'll want to be wearing this winter and for years to come.
With pure and subtle notes of hibiscus flowers, Jimmy Choo L'Eau is an absolutely gorgeous scent. From meeting your partner's parents to a busy day at work or even a night out with the gals, this is the perfect scent for every occasion. Writing a new chapter in the history of Jimmy Choo perfumes, L'Eau is amongst the most coveted of the Jimmy Choo brand's accessories.
The contrasting notes are an expression of modern femininity. Created and composed by incredible perfumer Juliette Karagueuzoglou, L'Eau evokes a radiant femininity. The fragrance combines a symphony of floral, fresh, and musky notes. Along with hibiscus flowers there are also notes of bergamot, nectarine, and floral peony in this stunning scent. The fruity and floral notes are grounded by the fragrances base notes of heady cedarwood and musk which embodies the sensual yet sweet contrasts at the heart of the Jimmy Choo woman. The combination is an inviting bouquet of aromas which will delight the senses of yourself and those around you.
"Jimmy Choo L'Eau captures the scent of a delicious thirst-quenching hibiscus flower blended with barks, fruits and vibrant woods, to create a radiant feminine sensuality." Juliette Karagueuzoglou, Perfumer.
The actual bottle is also exquisite. You'll want to parade around town showing this one off. Inspired by Venetian Murano glass the cocoon shaped bottle encases the liquid perfume inside gracefully. The design of the bottle is elegant, modern, and luxurious, everything you could ever want in a perfume bottle. And of course the outer packaging features an ethereal pale pink snakeskin print, which is a Jimmy Choo signature.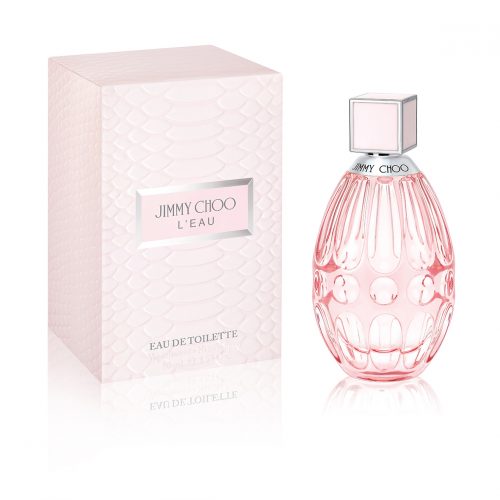 Available at Department Stores, Farmers, and selected pharmacies nationwide.