My appreciation of the efforts of young entrepreneurs is no secret. This month, I wanted to introduce you to Donielle Brooke, Founder and Creative Director of Designer Wardrobe. I was an early investor in Designer Wardrobe, and I never cease to be impressed by what Donielle manages to achieve, despite the challenges she's faced.
Donielle was diagnosed with thyroid cancer when she was just 25 years old. With few savings behind her, she was facing the prospect of a long time off from paid work as she worked to get well again. What she did have though, was a wardrobe full of designer items that she'd accumulated over the years.
It was from here that the idea of Designer Wardrobe came… She wanted to create a platform to sell (and perhaps occasional buy) beautiful, second-hand, designer items. Starting with a Facebook group that allowed members to buy, sell and rent designer items, Donielle spent her recovery time working to grow her online community as a way to have something positive at the forefront of her life.
Four years later, Donielle is well again and Designer Wardrobe is thriving with over 90,000 members. I caught up with Donielle to get her top tips for other female entrepreneurs…
Start with what you love
"I often dream up ideas and this one resonated strongly with me," Donielle explains. "The idea [for Designer Wardrobe] came to me as I loved buying second-hand clothing online, but felt very uninspired sifting through junk to find that one gem. I really wished there was a way to only look at beautiful items that were presented in a really nice way. And now there is!"
So many businesses, brands and inventions began from someone taking up the challenge of creating something that they themselves wanted. If you can identify a real (and currently unmet) need that people have, and have an idea that will fill a gap in the market, then chances are you could be on to a winner.
Stay focused on your vision
This one may seem obvious, and it should be, but it still continues to differentiate the businesses that make it and the ones that fade away. "From the beginning, I've had a very clear vision for Designer Wardrobe – and that's to be the best destination for Buying, Selling and Renting high end fashion. Our core focus is making our platform be the best it can be," Donielle maintains.
Don't let challenges hold you back
If it was easy, everyone would do it, or so the saying goes. As well as having a laser-sharp focus on what it is you've set out to achieve, the ones that win in business are those who aren't afraid to dig deeper when the going gets tough. Donielle started Designer Wardrobe at a time when many others would have confined themselves to bed and a steady diet of Netflix, so she's been fighting, in some way or other, since the start – and there have been other challenges…
"Being dyslexic made me feel a little misunderstood in the beginning," Donielle explains. "However, this has given me drive every day to show people that dyslexia is a gift and that the actions I have taken to push this venture in the right direction, are louder than words – and have had more impact than the occasional bad spelling," she adds with a laugh. I firmly believe that it's this attitude – one of turning perceived weaknesses into strengths – that has seen her succeed. But, what keeps her going?
Find people to positively influence and inspire you
"I am very inspired by Sophia Amoruso, who started Nasty Gal," says Donielle. "She started by selling second-hand items on eBay and had never worked in an office before starting her business! I totally recommend her book #girlboss." As well as role models who may be within your industry, look for others with experience and business nous that you admire and ask for their support and guidance, or for them to be a sounding board.
"We've been very fortunate to have Shane Bradley [CEO and Founder of GrabOne] and Simon Moutter [Managing Director of Spark] as our Investor Directors from the start and they were – and continue to be – huge supporters of Designer Wardrobe, both as investors as well as being on our Board," Donielle explains.
"The most important learning for me is the importance of having a team around you bringing every bit of strength that a start up needs to be a successful business. We are very lucky to have that!" Donielle adds.
When it comes to her other learnings, Donielle maintains that thinking outside of the box has been key, especially as they now have their foot in the door to expand into Australia. Donielle's next phase also sees her ready to raise equity. "Now that we're more established, as a community and marketplace, it's fitting that we give our members, those who have been on this journey with u,s a chance to own a part of the company," Donielle explains.
Using the Snowball Effect platform, that I've seen work well for other entrepreneurs, Donielle is giving other people the opportunity to invest in Designer Wardrobe and share in the company's success – something that's previously been mostly reserved for venture capitalists and professional investors. It's just another example of that 'outside of the box thinking' that's helped Donielle get this far.
And finally, Donielle's advice for other female entrepreneurs? "If you have a business idea that you believe in, just do it! Put your head down and work on it every day to make it happen. Have the right values and stick by them; you don't have to have gone to uni or have extensive experience. Know your strengths, and find a great team that believes in your idea as much as you do that can fill the gaps."
I'm so proud of Donielle and couldn't agree more!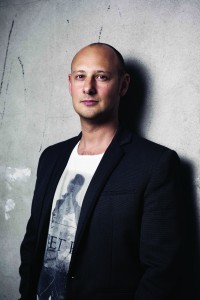 Richard Conway is Founder & CEO of Pure SEO.
Now Read more of Richard's Columns.