My best ideas often come on the running trail. I am a regular mid-distance trail runner but I am not very good at it and find it quite difficult to breathe. My body is designed for sprinting, with a large percentage of fast-twitch muscle fibres and excellent anaerobic endurance over short distances while at high speed.
I am built for fast, stop-start sports like hockey, touch and indoor netball, where I can play comfortably for long periods of time. But I love trail running, despite being so spectacularly unsuited to it. Not only do I love it, but I absolutely need it, both physically and mentally. Here are some of the reasons I find the experience of running on a trail so invigorating:
The solitude of a secluded bush or beach trail where I am all alone in nature with my two small dogs allows my mind to be free.
The concentration required to watch each step to avoid tripping, sliding or rolling ankles puts an instant stop to all conscious thoughts of work and worries.
The discomfort of struggling to breathe perversely drowns out the noise of other complaints, aches and pains.
After all these years of running, I am still amazed at how the process of trail running can kick-start the thought process and spark my creativity. Some of the best ideas I have ever had randomly popping into my head while my brain has been simply focused on my feet, my breathing and my surroundings.
The job that I do takes enormous energy, stamina, resilience and mental toughness. I need to be fit both physically and mentally to be at least effective, but hopefully magnificent at what I do. The running keeps me physically fit while the trail keeps me mentally fit.
Finally, there is no satisfaction and self-congratulation quite like that which comes at the end of one of those runs. You know the ones: you have simply not wanted to get out of bed, put on your gear, face the weather, or cope with the shortness of breath and muscle fatigue, but you have. Those are the days when you realise that the fear of something is usually so much worse than the something itself. But also that you can overcome all your own negative thoughts – and not just about running.
So yes, I am very proud to tell you that this short-legged, out of breath, middle aged broad is a mid-distance trail runner.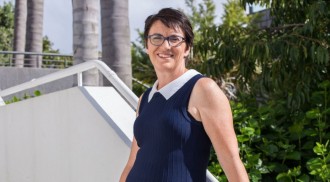 Naomi Ballantyne
Founder and managing director, Partners Life.
You can read more of Naomi's columns here.