If you wear rings on a daily basis you'll know that we put our jewelry through a lot. Most of us don't always take them off when we're doing daily tasks such as washing the dishes. In fact, I know I'm guilty of wearing rings in the shower. This is precisely why Auckland jeweller and director at John Franich Jewellers, Jenni Franich believes Kiwi women need more robust jewelry.
Auckland jeweller Jenni has been in the business for over 20 years in the West Auckland region. Jenni and her husband John, specialize in creating custom pieces and know the process of creating jewelry from beginning to end. They also know what qualities New Zealand women want in their diamonds.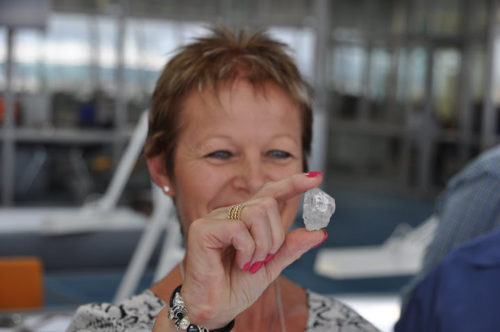 Here's Jenni's opinion on why Kiwi women need sturdier jewelry. As well as how our nation of DIYers can protect our precious jewels.
Why do New Zealanders need more robust jewelry?
"Once my clients leave with one of our manufactured rings, they are almost never removed. I find that women I meet through my store at NorthWest Shopping Centre have all kinds of reasons for leaving their rings on. From "I won't remember where I put it", and "my husband gave it to me and I'm never taking it off" to "I can't bear not to have it on my finger."
"We bear this in mind when designing and crafting jewelry. We make sure robustness is at the top of the priority list. However, we do always advise women to try and take their jewelry off every so often , if they want it to last forever."
What can Kiwi women do to protect their jewelry?
"Even doing the dishes in hot soapy water is no good for jewelry. It may seem like your rings are getting a good wash at the same time, but the chemicals in detergent can discolour the silver and gold. Gem stones will lose their polished finish with too much exposure to cleaning products."
"In the warmer months we make our way to the beaches in droves. But we should really try to leave our precious jewels at home. Sun and salt are the worst- silver tarnishes when it's exposed to direct sunlight, heat distorts colour and metals, and salt water erodes gem stones. Sunscreen is also terrible for jewelry- it gets stuck in chains and crevices, and gives it a dull, filmy coat that's hard to remove."
Jenni insists that just because jewelry is robust doesn't mean compromising on style or sparkle. In fact the most precious and valuable metals are often the strongest. Quality diamond engagement rings are created to stand up to wear and tear. Plus diamonds are the hardest material in the natural world.
If you're on the lookout for a custom-made piece, luxury brands, or jewelry to withstand the test of time you can check out Jenni and John's shop, John Franich jewellers at the NorthWest Shopping Centre.