You may think you've seen all there is to see in New Zealand. That there are no places left that will surprise you. But this is not the case. Although we may live in a relatively small country there are still many curious secrets and surprises within it.
So if you want to discover and explore some different places get your car ready, and give one of these curious New Zealand places a visit.
Te Waikoropupu Springs
Tucked away in Nelson this is considered some of the clearest water anywhere in the world. While you can't touch the water due to it being sacred it's a truly stunning sight. In Māori tradition the Springs are wairou, the purest form of water which is the spiritual and physical source of life. The Springs provide water for healing, and in the past were a place of ceremonial blessings at times of birth and death and the leaving and returning of travelers.
The Tree Church
This church is a stunning show of nature located in the Waikato near Hamilton. This curious church is a hidden gem and was created by owner Barry Cox. He planted trees all over his property to form a church. Now, the tress which were planted in 2011 have grown to form an amazing church that can be hired out for weddings.
Gibbs Farm
This farm has a big selection of larger than life sculptures set up across a farm just North of Auckland. The farm belongs to art collector Alan Gibbs and is open for the public to enjoy once a month. Here art and farm animals collide. It is also home to Electrum which is the largest Tesla coil in the world.
Moeraki Boulders
These curious boulders , found on Koekohe Beach in Otago, may be more well know but they are still a definite must-see. The shape of these boulders is very curious as they are almost perfectly spherical. These boulders are over 60 million years old.
Owlcatraz
This native bird and wildlife park near Palmerston North is home to the adorably named owls; Owlvis Presley, Owl Capone, and more. You can also meet some farm animals or visit the owl themed jail they have on site.
Stonehenge Aoetearoa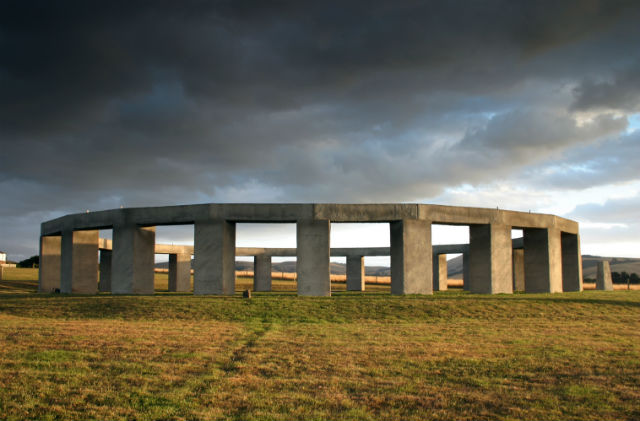 Yes, we have our very own (man-made) Stonehenge here in New Zealand.So now you can experience Stonehenge just outside of Wellington. The most curious thing about this attraction is why? However it is quite a stunning sight and they do hold some interesting astronomy events.
Read Next: Top Ten Walks In New Zealand