Who doesn't love a good cocktail in the Summer? (or all year round if we're honest), but for those of us who have a gluten-free diet finding a cocktail to drink can be a bit of a mission. While many types of alcohol are gluten-free any that are made from wheat, barley or rye have to be avoided. So to save you the hassle of trying to figure out what you can and can't drink this Summer we've compiled a list of some of our favourite gluten-free cocktails, that also happen to taste delicious. Cheers!
Summer Themed Gluten-Free Cocktails:
This simple to make vodka recipe is not only gluten-free but sugar-free as well! Thanks to Tasty Yummies for coming up with this recipe.
Ingredients:
1 liter bottle of vodka
1 lb of fresh organic figs, stems removed and cut into quarters
2 organic vanilla beans, split
1-2 tablespoons dried cardamom pods
You'll need two 1 quart jars, a large pitcher, 1 liter bottle, etc.
Method:
Add all of the ingredients to a glass jar, pitcher or bottle. Let sit in the fridge for at least 1 week. Strain out the figs, vanilla beans, cardamom pods, etc and add back to the jar or bottle. Enjoy as is on the rocks or in cocktails!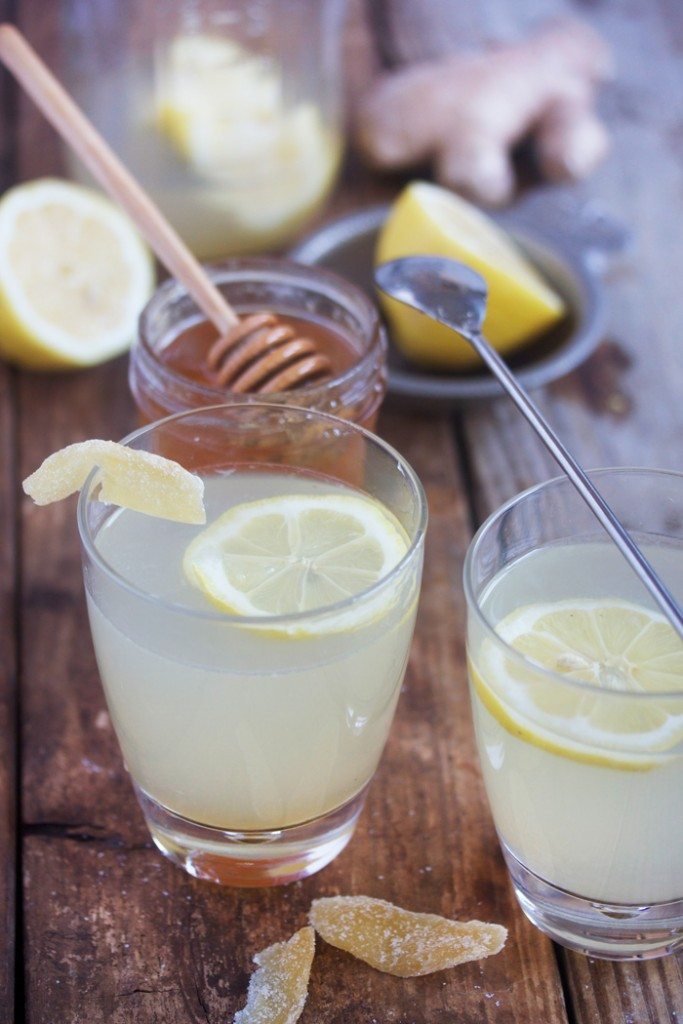 If you're looking for something ultra refreshing and thirst quenching this is the cocktail to go for. If you decide you want a non-alcoholic version you can just take out the vodka as well. Thanks to Lexi's Clean Kitchen for coming up with this recipe.
Ingredients:
Ginger-infused honey
1 cup raw honey
1/3 cup crystallized or candied ginger
Everything else
1 large lemon, juiced
Tito's Vodka (or other gluten-free vodka), adjust amount based on desired strength
Ice cubes
Method:
Use a double broiler (or a small pot inside a larger pot)
Add 1/3 cup water to the bottom of the double broiler
In the smaller pot at the top, add honey and ginger
Bring water (not honey) to a boil- bring honey temperature to 160 for 60 minutes (you don't have to sit and watch the whole time)
Watch water and add as needed
Once done, transfer to a clean air-tight jar and place in the fridge or leave out and let cool
Alternatively, you can place ginger in the honey and seal tight for 3-5 days if you plan in advance.
Using a shaker glass, place 4-6 shots Tito's vodka, 1/2 cup cold water, 4 ice cubes, lemon juice, and 3 tbsp infused honey (more to taste)
Garnish with additional candied ginger and lemon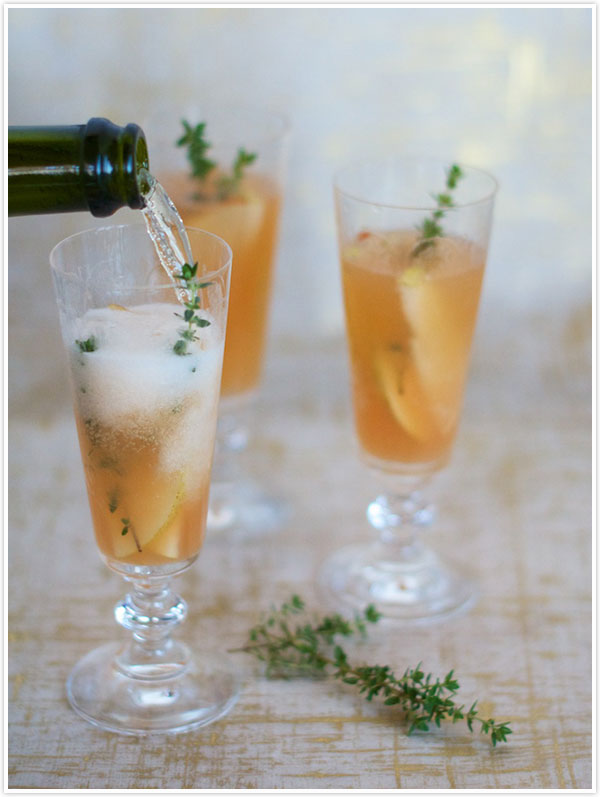 Another refreshing and fruity option but with a herbal twist is this pear and thyme fizz. Thanks to Camille Styles for coming up with this recipe.
Ingredients:
2 cups good-quality apple juice
1 ripe but firm pear, very thinly sliced
12 sprigs fresh thyme
1/4 cup orange-flavored liqueur (I like grand marnier)
1 bottle sparkling wine (champagne, prosecco, cava, etc.)
Method:
In a pitcher, combine apple juice, pears, thyme and liqueur. Stir together, then refrigerate for 2 – 4 hours to allow the pears and thyme to infuse the juice with flavor.
Divide between 6 champagne flutes, discarding thyme, then fill remainder of each glass with champagne. Garnish each glass with a sprig of fresh thyme. Bottoms up!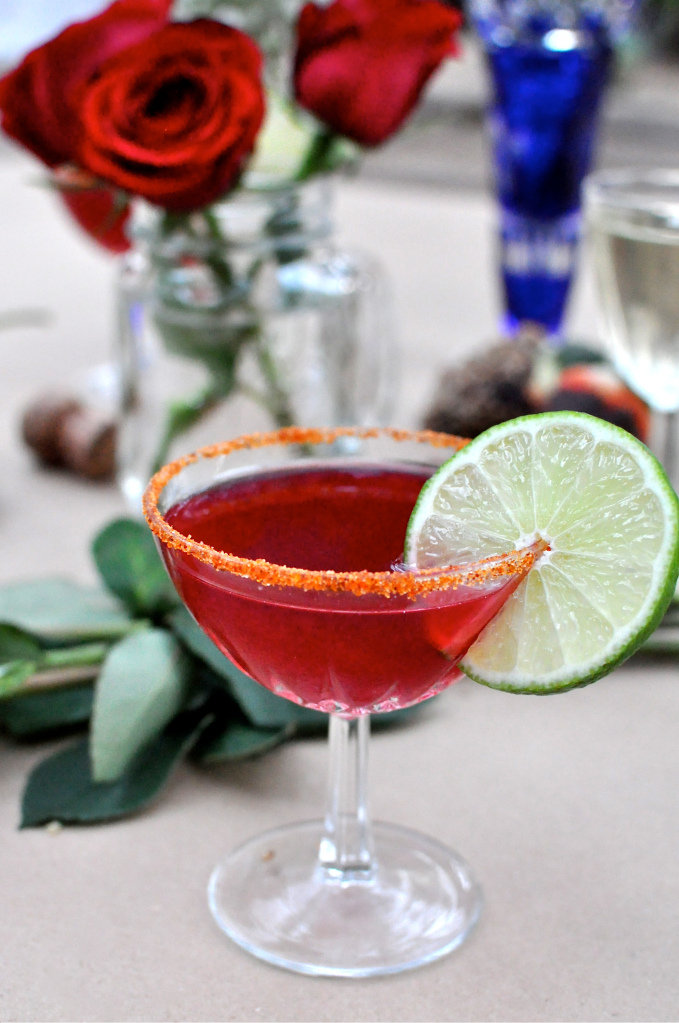 If you're wanting something a little more adventurous try out this spicy pomegranate margarita made with a dash of chili powder. Thanks to Fed & Fit for this fab recipe.
Ingredients:
1 part Vodka
1 ½ parts Pomegranate Juice
1 part Fresh Lime Juice
1 tsp Salty Chili Powder
1 Fresh Lime Disc (for garnish)
Note, for a single serving, I translate "part" to = one shot = ~1.5 ounces.
Method:
Keep all ingredients in refrigerator to cool down.
Using a cocktail shaker or bowl with ice, pour in all liquid ingredients and shake/stir.
Run a lime around the rim of the glass then roll in the salty chili powder.
Sifting through the ice, pour the liquid ingredients into the salted glass.
Garnish with a lime disc and serve.
Enjoy!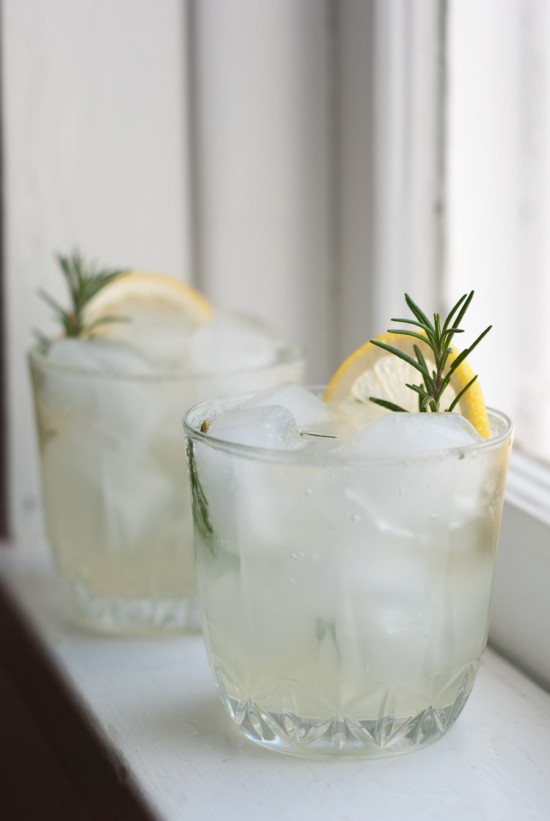 These rosemary gin fizzes will make you feel super classy – just be sure to pick up a gin that's gluten-free. Thanks to Cookie & Kate for this recipe.
Ingredients:
3 one-inch sprigs of fresh rosemary
1 small lemon, juiced
½ teaspoon honey
1 ½ ounces gin
3 ounces club soda
Method:
In a small drinking glass, muddle the fresh rosemary, lemon juice and honey.
Fill the glass with ice, then pour in the gin and top with club soda.
Give it a little swirl with a spoon. That's it!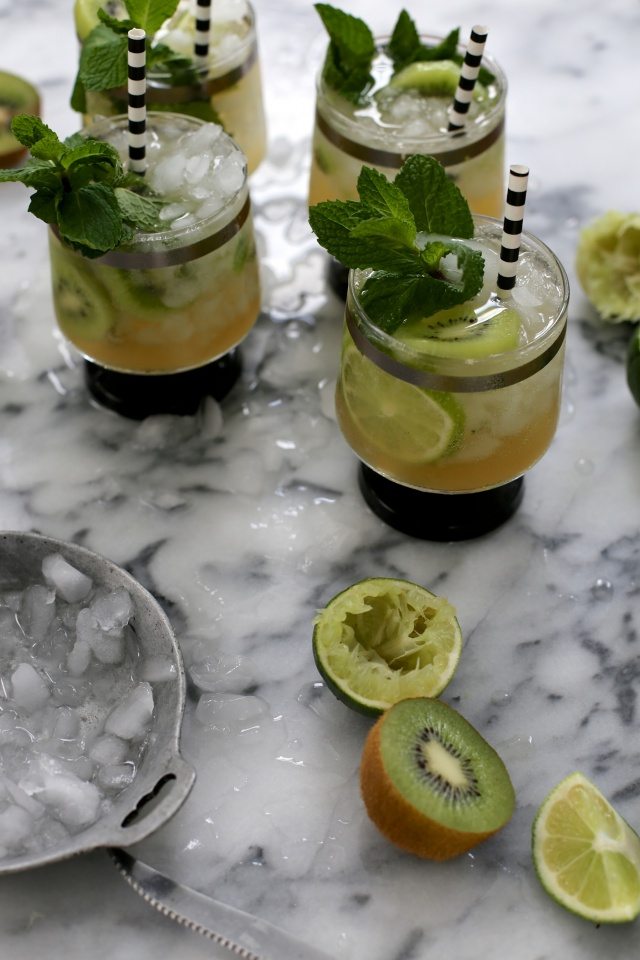 We thought we'd better be at least a little patriotic, and throw in a cocktail using our very own kiwi fruit. The addition of lime and rum is a match made in heaven. Thanks to Joy the Baker for this recipe.
Ingredients:
lots of crushed ice
1/2 cup fresh lime juice plus lime wedges for garnish
3-4 tablespoons super fine granulated sugar, depending on your sweet tooth
1 handful fresh mint leaves, plus large sprigs of mint to garnish
3 ripe kiwi, peeled and sliced into rounds
1 cup rum
splash of club soda for each glass
Method:
In a large glass or cocktail shaker stir together lemon juice and sugar until sugar has dissolved. Add mint leaves and a few slices of kiwi and muddle until fruit and mint are crushed and fragrant.
Add rum and a handful of crushed ice and stir until combined.
Fill four small glasses with crushed ice. Add mint sprigs, kiwi slices and lime wedges to each glass.
Divide the cocktail between the four glasses, top each glass with club soda. Add a straw and enjoy immediately.