If you live in Auckland or Christchurch get ready for a taste sensation! For one night only you'll be able to try a range of Peruvian food in New Zealand's first ever Peruvian pop-up restaurant.
Peru is the country we have to thank for the health craze trend that is quinoa. Wholefoods brand Ceres Organics have just announced their new white quinoa which will come in an eco-friendly home compostable pack. To celebrate this a Peruvian pop-up will come to Auckland and Christchurch.
On Friday October 6 Pilkington's Bar in Auckland will get a one-night makeover into a Peruvian restaurant. Then on Wednesday October 11 Christchurch's Kadett will get the same treatment.
The best part of all is that a tasty menu will be served up by none other than Nadia Lim. Who, along with Kiwi artist Evie Kemp, who will help create the interior, will transport you to the foot-hills of the Andes for a culinary delight.
Nadia has created a five course meal that's all about sharing, tasting plates and experimenting with new flavours.
"Peruvian cuisine is full of flavour, colour and textures with influences from many European, Asian and African cuisines. It's exotic, diverse and unique."
And yes the beloved quinoa will make an appearance in the dishes.
"There's a reason quinoa was such a prized crop for the Incan Empire," says Nadia. "It has a unique nutritional profile. Full of quality protein and dietary fibre. It makes a great gluten-free alternative, all of which has led to its popularity".
Ceres Organics Managing Director Noel Josephson says the pop-up will pay homage to Peru and the farmers who create its most prized crop.
"Demand for quinoa keeps Peruvian farms in business, and we've worked hard to form a relationship with our farmers, built on trust, fair trading and ethical business practices."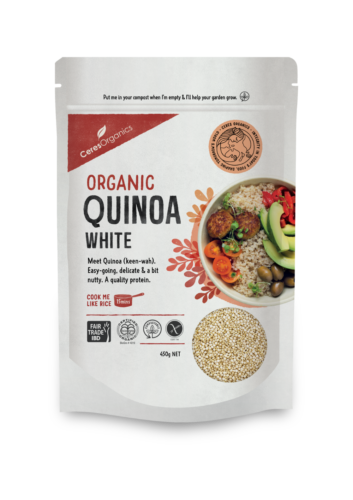 Tickets on sale now:
You can grab some tickets to this event through EventFinder for $60. Or if you're keen to give Ceres Organics new white quinoa a go, it will be available in supermarkets and health stores in October. RRP $7.95.