This September, the Clarins team launched their newest skin care innovation, the reformulated and improved Clarins Double Serum. If you've tried any of the 7 earlier generations of this product you'll already know this Serum is a must-have for getting youthful and radiant skin. This newest version does not disappoint and contributes some impressive, improved features.
If you'd like to know what sets the newest Clarins Double Serum apart from the others read on. We'll take you through the key features and benefits that make this product a skin care staple.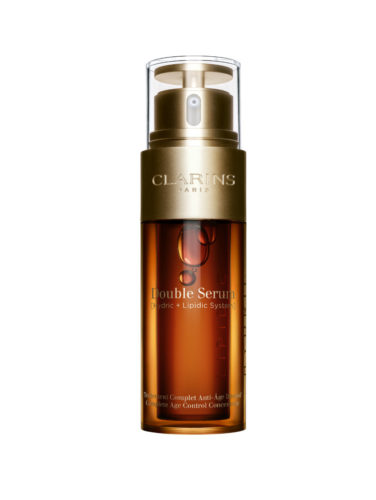 20 + 1
To stimulate the five vital functions of your skin Clarins Double Serum uses the "code" 20 + 1. This code refers to the number of powerful plant extracts that comprise the serum's formula, including the star superfood, turmeric.
Along with turmeric, 20 other plant extracts that all have specific actions on the skin's vital functions are added to the mix.
Universal texture
Clarins recognise that their customers with sensitive or combination skin have come to them after a struggle to find skin care products that work with their skin.  In response, this new version of Double Serum has benefited from an improved texture, ensuring that it is suitable for even the most challenging of skins. So no matter what skin type, age or ethnicity, this product works hard for your beauty. It's even kind to sensitive skin which is a big plus!
Responsible beauty
Being ethically-minded is a must for beauty and skin care companies these days and Clarins are definitely sticking to their values of community caring. The formula includes plant extracts from organic sources, as well as some sourced from fair trade partnerships with needy communities in poor regions of the world
The new and improved Double Serum bottle has also been developed in a more eco-friendly way with lighter materials and a more efficient delivery system. Clarins eliminated all metal from the bottle as well as reducing the amount of waste and packaging used in its production.
Client focused
One of the virtues of Clarins is that they listen to their clients' feedback and suggestions. Each new version of Double Serum takes into account the experiences reported by their clients. Now you can customise how much of the product you want to use with an adjustable sliding button. This means depending on the season and the needs of your skin at the time, you can customise application to the perfect amount.
This newest Clarins Double Serum takes the well-loved product to the next level. Plus it's nice to see a company that listens to their clients and responds with something that delivers on their needs.
Give the new Clarins Double Serum a try for yourself, it's available in Smith and Caugheys or Farmers.