There's an old saying, "don't judge a book by its cover", but I'm sure we're all guilty of buying a product simply because it looks appealing. Even if it's that subconsciously, we're drawn to things that catch our eye and if there's a choice between two unknown beauty products we'd probably go with whichever one looks is more aesthetically pleasing.
While the product on the inside is, of course, the most important part, it's always a nice little bonus when the packaging completes the picture. The eighth generation of Clarins Double Serum fits the bill, as it delivers a superior product with great anti-ageing qualities as well as new and improved packaging. The product looks appealingly elegant and it's also eco-friendly!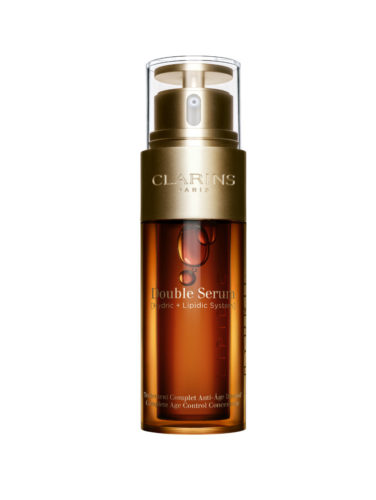 The new and improved Double Serum packaging:
The eighth generation of Clarins Double Serum is switching it up when it comes to its packaging. One of the first things you'll notice is that the bottle has a sleek, renewed shape, but this is not the only change.  Clarins have reinvented their iconic double vial bottle for this 8th generation. The last two versions had separate, side-by-side vials which contained the two different formulas – now there are two interlocking vials. The oil-based phase being housed within the hydric phase. This architecture allows the two phases to be mixed together in the perfect proportion upon application – 2/3 water based ingredients and 1/3 oil based ones.
A new made-to-measure application has also been designed so you can customise how much of the product you need. This is great as all of us have different skin requirements, especially depending on your health, the season and the impact of your environment on your skin's wellbeing.  Now, you can choose whether you want a larger or smaller dose to supplement your needs perfectly. Thanks to Clarins, it's super easy to do so, as well; the applicator is adjustable so you just switch it from a large drop to a smaller one, and voila you have the perfect amount of product in your hands.
More responsible beauty:
In 2017 and beyond, most of us are looking towards ways we can help decrease waste and act in a more environmentally friendly way, so I'm always on the look-out for more ethical and eco-friendly products. Clarins have taken this into account and have made some adjustments to their Double Serum packaging for the betterment of our planet.
The first thing Clarins did was to eliminate all metal from its packaging. Along with this, 10 per cent of the packaging is now made from recycled materials. By changing the double vial system they've eliminated waste as there's no inner wedge or product insert. The card stock used is also sourced from sustainable forests.
Reduction of waste is a big thing for this Double Serum so by having the bottle release just the right amount of serum helps to prevent too much product being used, which would result in more waste.  Lastly, the supply chain has been optimised. The steps that are involved in production and transportation were optimised to reduce the overall environmental impact.
A skin care product that is effective, looks luxurious and is eco-friendly is exactly the sort of product I would like to get on board with, and if you're concerned about a holistic solution to your skin needs, this is a great product for you.
To try the Clarins Double Serum out for yourself, check out Farmers or Smith and Caugheys.