We all want the fastest route to youthful-looking skin.  Customers are faced with a vast array of product choices claiming to deliver on this promise, but this new one from Clarins may just be all that you need to complete your Beauty Program.  Double Serum has been Clarins' iconic complete age-control formula since its launch in 1985.  It is loved by Clarins devotees for delivering soft, hydrated and radiant skin with every day use.  This perennial favourite is now redefined for 2017 with a renewed formula, custom-dosing and an elegant dual chamber bottle that ensures that the active plant extracts are optimised from first to last application.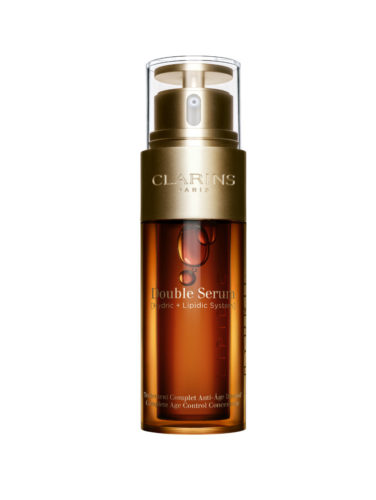 Key features
The eighth generation of the Clarins double serum goes further than ever before in age-control technology.
Its secret youth code is 20+1 – 20 of Clarins most effective plant extracts plus 1 superhero – turmeric.  Turmeric is well known as a traditional spice that is the staple of superfoodies, blended in everything from health shots, salad bowls to lattes.  In Double Serum it is utilised for its ability to boost intercellular communication, resulting in a more efficient absorption and assimilation of the active anti-agers by the skin.  This new version has incorporated a more universal approach to texture, allowing for those clients with sensitive and oily skin to also reap the rewards of this super serum in their beauty routine.
It is not just about its positive effects on the skin, Double Serum benefits the environment through more eco-friendly packaging and the community with key ingredients sourced through fair trade partnerships.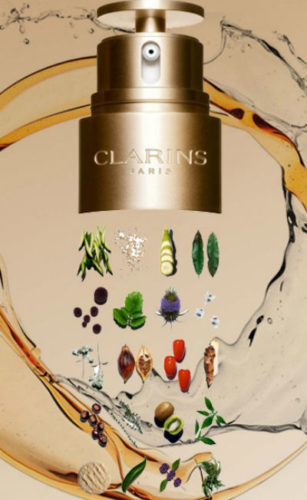 Benefits
However customers purchase serums for their targeted anti-ageing effects and Double Serum's sophisticated formula targets the skin's 5 vital functions, nutrition, oxygenation, hydration, regeneration and protection.  This wide-ranging approach delivers holistic anti-ageing benefits wherever you are in your skin's lifecycle.  What you will notice is softer, more hydrated skin, a more noticeable wrinkle smoothing effect, greater radiance, enhanced firmness and the diminished appearance of pores.
Impressive though it is, Double Serum works best in conjunction with a daily beauty program to address all of the skin's essential needs and, for that, a visit to your local Clarins Counter is a wise investment of your time that will pay off in the future wellbeing of your skin.
So if you're on the lookout for a new serum that will give you more radiant and younger looking skin, this product is for you. This newest edition to the Clarins skincare range can be brought now from Farmers or Smith and Caugheys.