Valentine's Day is almost upon us and if you're anything like me you're probably still umming and ahhing over what you and your partner are going to do. If the thought of going out to a glitzy restaurant isn't so appealing – or you just want to spend some quality alone time with your valentine why not have a fancy meal in?
So whip out the candles, put on the Michael Buble and get ready to enjoy a cosy night in.
The Entree
Kona Mussels
Recipe by Jamie Miller
Ingredients:
Cooking oil or butter
1-2 dozen Kona mussels
White wine
Tomato
Onion
Cucumber
Parsley
Salt and Pepper
Method:
Bring a pan with cooking oil or butter to a high heat.
Add mussels and a generous splash of white wine, salt and pepper.
Lower the heat and cover until the mussels open.
Very finely dice the tomato, finely chop the onion and parsley and mix together – this is your tomato salsa garnish.
Remove half the mussel shell and carefully garnish.
The main event
Lamb ribs with honey and caramelised apple
Recipe by Peter Gordon 
Ingredients:
2 litres canola oil
1 kg of lamb ribs
3 apples
2 quills dried cinnamon
Ground salt
Ground black pepper
1/3 cup of honey
1 tablespoon butter
1 teaspoon sugar
Salt flakes to serve
Method:
Put the lamb in a deep dish or pot.
Cover the lamb with 2 litres of canola oil.
Ensure the lamb is completely covered with oil then add cinnamon quills and one apple cut in quarters with salt and pepper to taste.
Cook the lamb at 85 degrees Celsius for at least two hours until it has cooked through – this cooking technique is known as confit.
Then rest pot for one hour more, keeping it covered with a lid.
Peel the remaining apples and cut into thin wedges.
Cook with butter and sugar until caramelised.
Stand to the side.
When the lamb has finished cooking and is tender, cut the ribs, spoon them with honey and return to the oven in a pan at 200 degrees Celsius for approximately eight minutes until the honey has caramelised.
To serve:
Serve with the caramelised apple on the plate and salt flakes on the top.
The sweet treat
Raw chocolate and raspberry lava cakes
Recipe by Jose Stitchbury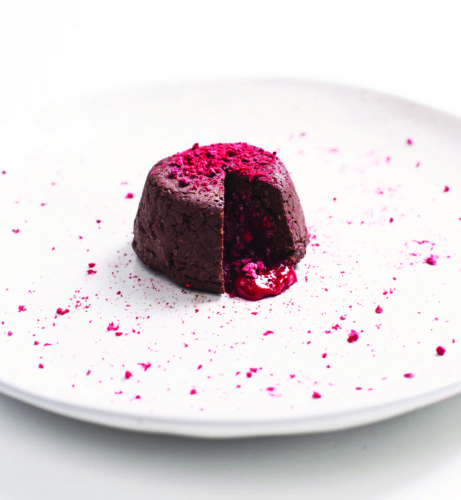 Ingredients
Raw Chocolate Cake
1 cup raw brazil nuts
1/2 cup desiccated coconut
1 ripe avocado
3/4 cup raw cacao powder
6 medjool dates, pits removed
1 Tbsp rice syrup
1 tsp vanilla powder
a pinch of Himalayan pink salt
Raw Raspberry Chia Sauce
1 1/2 cups fresh or frozen raspberries (defrosted)
1 Tbsp chia seeds
1 Tbsp rice syrup
To Serve (optional)
Freeze dried raspberries
Fresh berries
Coconut yoghurt or Nice cream
Directions
1. Place all ingredients into a high speed blender and blend until smooth. Set aside.
CAKES
2. Line 6 holes of a standard muffin pan with a double layer of cling film. This prevents cakes from sticking and allows you to lift them out easily at the end.
3. Place brazil nuts in a food processor and blend until they resemble coarse breadcrumbs. Transfer them to a bowl, then add desiccated coconut to food processor and blend until it just starts to break down. Transfer coconut to the bowl with the brazil nuts and set aside.
4. Combine avocado, cacao powder, dates (pits removed!), rice syrup, salt and vanilla in the food processor and blend to a smooth chocolate paste. Add brazil nuts and coconut and pulse until just combined.
5. Press tablespoonfuls of raw chocolate cake mixture into lined muffin holes and press it up the sides, forming an approximately 8mm thick shell. When you have all 6 holes lined you should still have enough mixture leftover to create 6 circular 'lids' of the same thickness.
To serve
6. Pour raspberry chia sauce into centre of each chocolate cake shell and fill to just under the rim. They should hold approximately 2 tablespoons of sauce.
7. Place chocolate lids onto each cake and press the edges down to form a tight seal ensuring the raspberry chia sauce won't escape.
8. Place chocolate lava cakes in the fridge to chill for at least half an hour before serving. To serve, lift lava cakes out of the tin, place on a plate and peel off the cling film. Serve sprinkled with freeze dried raspberries, fresh berries and/or your favourite coconut yoghurt or nice cream.