Okay, okay so these may not be the most wearable everyday eyeliner looks out there. But sometimes it's fun to create some statement eyeliner looks for festivals, night out, or just for wearing around home, because why not?
Doing the same old eye looks everyday can get boring so here is some out there inspiration for some statement eyeliner looks that are bound to turn some heads.
The dot eyeliner
This look can be a bit hit or miss but after seeing Emma Roberts rocking it at an event I feel in love with this 60's inspired eye look. This is an eye look which does have the potential to go horribly wrong so my advice: use a waterproof liner and make sure to line u the dots with your pupil so that they're symmetrical. It also looks super magical if you use a metallic liquid statement eyeliner.
Graphic lines
Play around with thick lines and bright colours. This one is super simple to do and is something a little bit out of the ordinary.
White eyeliner
To make a classic wing more exciting why not ditch the black eyeliner for some white? Adding pastel coloured eye shadow really sets off the look.
Helix eyeliner
This eyeliner trend was doing the rounds all over Instagram last year and for good reason. This is a look that is eye-catching but is actually relatively easy to do. Just do a usual wing and then add a liquid liner of any colour to add around it. Plus blue and black eyeliner always looks gorgeous together.
Rainbow statement eyeliner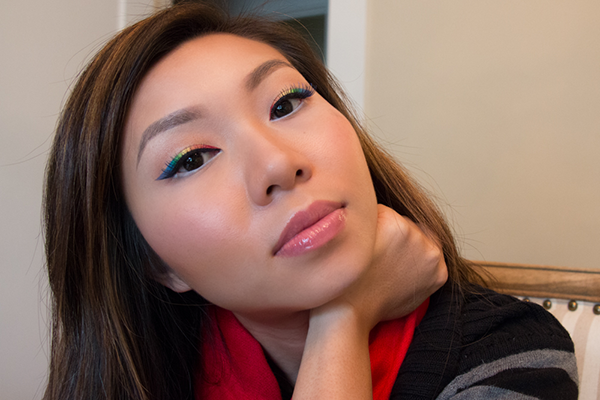 If you can't decide what colours to put on your lids why not just put them all on? This look is a statement but still something you could wear in everyday life. This one could take a bit of practice but it's so worth it.
Add some glitter
For a night out add in a sneaky little bit of glitter to your eye look. You can achieve this by doing a thing line of glitter above black liner, or skip the black and just go straight in with the glitter. If you want to take it to the next step up you can add a sneaky line of glitter directly under your eyebrows for some extra glam.
Read Next: Beauty Trend Sees Celebrities Ditching Their Foundation In Favour Of Freckles