It's the time of year when festive beauty collections are being dropped left, right and centre, and I for one am loving it! MAC Cosmetics are one such brand who have recently dropped their holiday range, MAC Snowball and the products will have you starstruck.
We decided to give you a quick rundown on what new beauty products you can expect from MAC Snowball. As well as showcasing the seriously beautiful snowflake inspired packaging.
The MAC Snowball collection:

The collection features a range of new lipsticks, eye shadows, lashes and face powders that all come in this glitzy golden packaging.
The lipsticks $40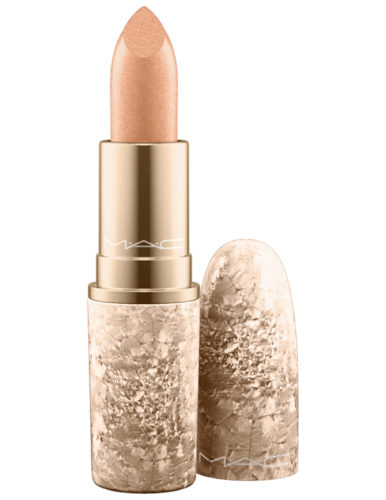 The lipsticks come in a variety of shimmery shades and all have cute Holiday themed names. There's Warm Ice (pink with silver sparkle), I'm Glistening (light pink with purple sparkle), Holiday Crush (muted pink with sparkle), Shimmer & Spice (dusty rose with shimmer), Rouge En Snow (apple red matte) and Elle Belle (deep red).
Extra dimension eye shadows $45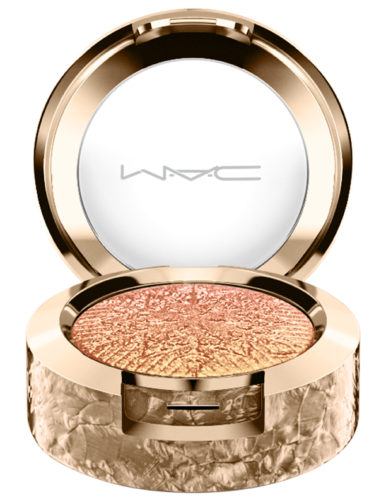 One of the most exciting things about these pigmented eye shadows is the gorgeous snowflake design etched in to each one. It gives these a very luxurious Christmas look. The colours include – It's Snowing (pinky purple shimmer), Frostwinked (white with silver pearl), Delicate Drift (light pink with sparkle), Stylishly Merry (gold shimmer) and Starry Starry Nights (black with silver sparkle).
Lashes $26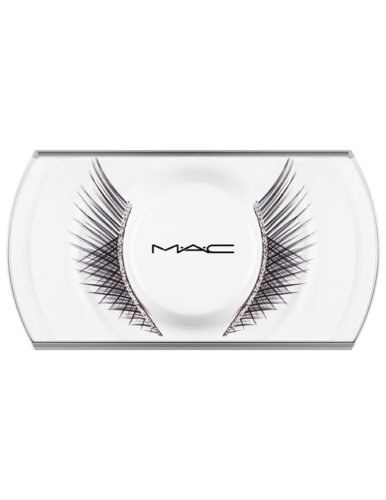 Holiday themed lashes in both gold and silver.
Face powder $64
The face powder also comes with a gorgeous snowflake design etched in to the product. The pan itself is gold and sparkly. It comes in two separate shades – Happy Go Dazzlingly (gold with sparkle) and Here Comes Joy (peachy gold with shimmer).
The MAC Snowball kits:
Mini lipstick kit $170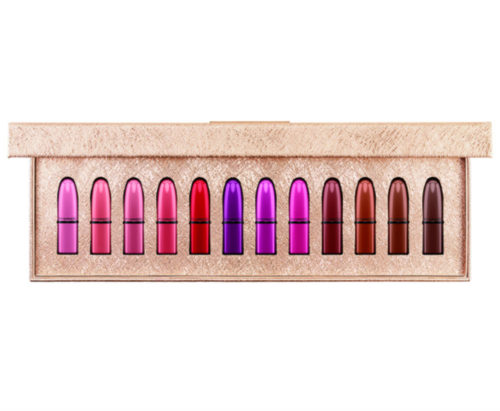 The mini lipstick kits contains some of the classic MAC lipsticks. It has mini versions of all the favourites including – Diva, Ruby Woo, Velvet Teddy, Party Commencing and more. There's also a good range of different everyday and going out shades from reds to purples to soft pinks.
Eye compact $80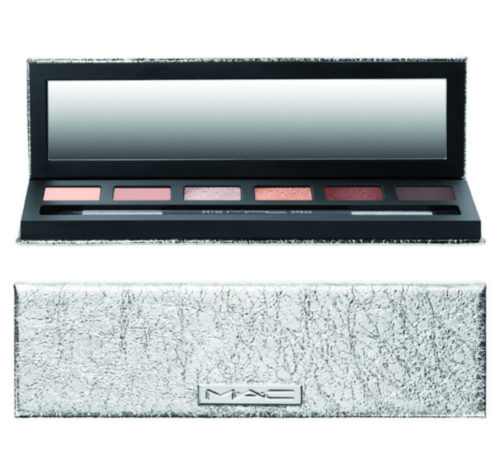 There's two different eye compact offerings in rose gold and gold. They each include six different shades with a mixture of sparkly and matte shades.
Snowball lip bag $100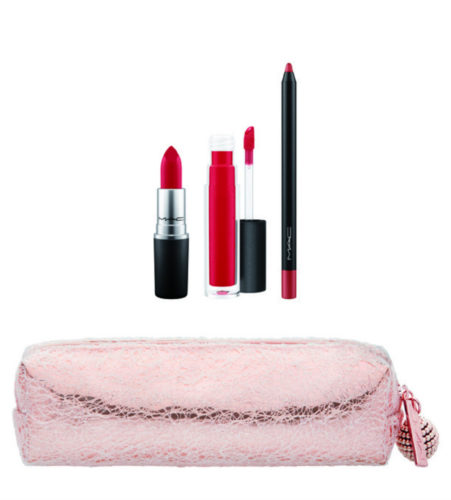 The lip bags come in both nude and red and have everything you need to create the perfect lip. They include a lip liner, lipstick and lipglass. As well as being packaged inside a rose gold makeup bag for easy storage.
Mini lip gloss kit $60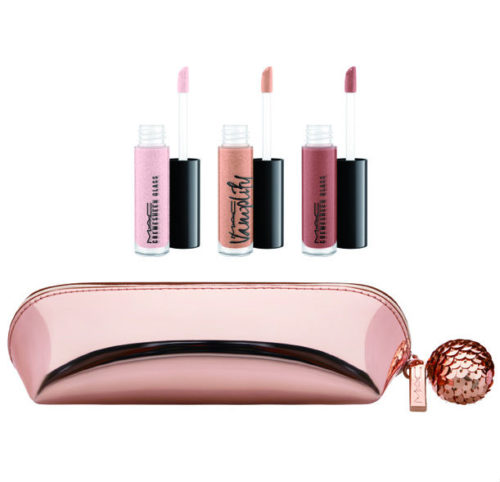 The mini gloss kits all include three different gloss shades inside a shiny pink bag. There's a few different kits including nude, pink, rose, cool and warm.
Brush kit $64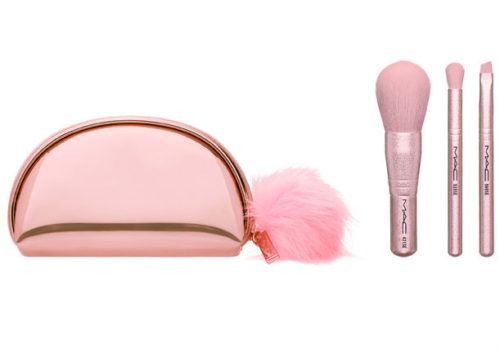 The brush kit comes with a full powder brush, a rounded shadow brush and an angled liner brush.
Pigment and glitter kit $60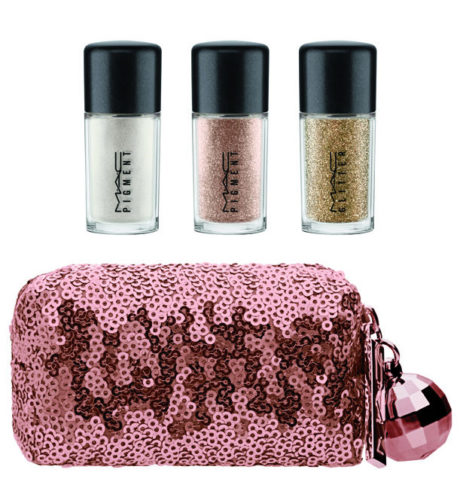 There's two glitter kits in gold and pink shades. They both come with pigment and glitter.
Mascara kit $60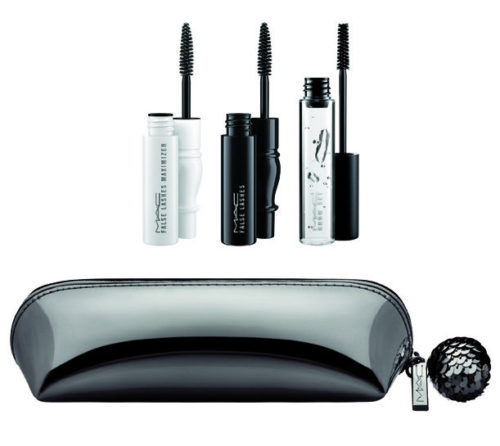 The mascara kit features mascara and brow products in a sleek makeup bag.
Shadescents kit $64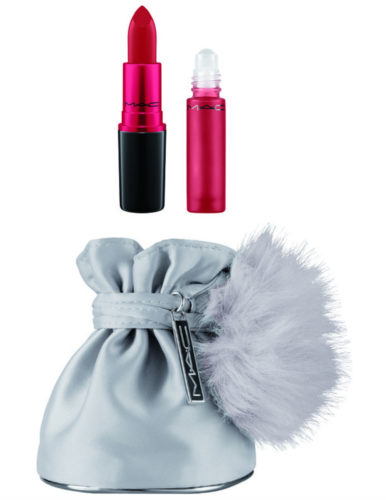 These kits are exclusive to MAC stores and can't be purchased online. They come in three different shades and feature a lipstick and a fragrance inside each little bag. These bags include – the Creme D Nude (with a pale muted beige lipstick and amber musk), the Candy Yum-Yum (a matte neon pink lipstick and fruity floral fragrance) and the Ruby Woo (a very matte vibrant red lipstick and woody floral scent.
All of the MAC Snowball holiday collection can be purchased from now until Christmas through their website or in store.