Sometimes we are a bit shy about letting the family know what we really want for Christmas. The result can be a plethora of socks, shirts, undies and cardigans which we smile and be eternally grateful for, but then stuff them in our drawers where they fail to emerge again. I thought it appropriate in this special issue to suggest a few great design icons to drop hints about to your loved ones when the Christmas present decisions are being formulated around your home.
A great design piece will not only capture your heart but will keep on giving you pleasure over the years and decades to come, a concept, if explained tactfully to the family, could result in a great Christmas for everyone as your excitement on receipt of a design classic permeates throughout Christmas Day and beyond. I was in Germany recently for the biannual Office Furniture trade fair 'Orgatec' which reminded me of the ground breaking ergonomic technology presented there 22 years ago when the Aeron chair was launched in 1994. I was totally mesmerised by the design which seemed so outlandish at the time and looked like something out of a futuristic space movie. After sitting in it of course I was sold for life and now refuse to do any work unless I am seated in one as I am right now. The design has of course become legendary and the chair is now the most widely used and best recognised office chair in the world.
Hence I was delighted to learn that the design team at Herman Miller, alongside one of the original designers, Don Chadwick, have completely revamped the Aeron to adapt to modern collaborative work styles and ergonomic advances.
The three colours now include Mineral, as pictured – a pale neutral ideal for the home office or the modern light, airy, collaborative work space. The pellicule seat and back looks the same all over, but new technology now enables separate invisible zones in different densities to provide subtle support to specific areas of the body. The lumbar support now has four separate options and the tilt options have been further streamlined to accommodate long sessions at the keyboard.
While remaining true to the original design, the appearance of the Aeron has been modified to enable these changes – it is now ready for the challenges ahead in a rapidly changing 21st Century workplace. Another excellent choice for under the tree is the Eames Lounge Chair and Ottoman – this also now has a lighter option available in Pearl Leather and Light Ashwood. This classic of mannish comfort has been around since 1956 when Charles Eames successfully aspired to create the look of a well used baseball mitt. For a mid century look, it also works well in other leather colours, usually black, tan or brown combined with walnut, Santos Palisander rosewood or cherrywood.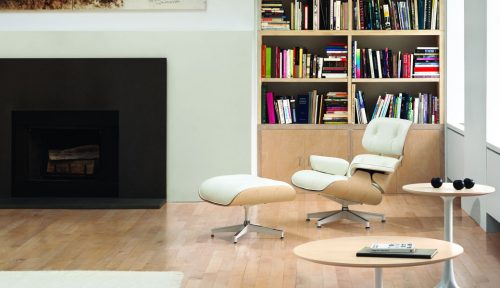 Another perfect present for those of you who spend considerable time on bar stools, and not necessarily in the kitchen, the superiority of the Triton bar stool will be immediately understood. It is a rarity – it looks great and is also comfortable. Thanks to its anatomically formed, saddle like leather seat, it is extraordinarily easy to sit on for long sessions at the bar. It even has a hidden hook for hanging bags, keys and suchlike.
The Euvira Rocking Chair by Jader Almeida recalls the work of the great Brazilian masters of the 1960's and 1970's. Timeless solid ultra smooth wood plus the type of leather that improves with age, combine to create a contemporary club style chair with elegant tapering and thickening lines. You can enjoy the comfort of a capacious rocking chair in a new and stylish manner.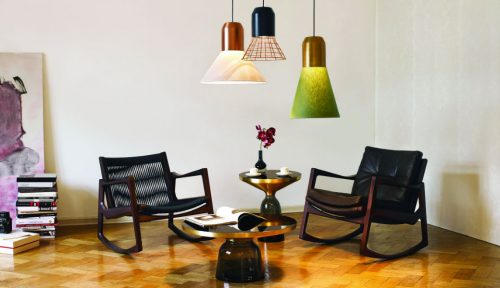 George Nelson was a giant of post war American design. What would make a better Christmas present than a Swag Desk – a classic piece of industrial design from 1958 – the swag metal process determined how the legs actually looked. Amazingly, after all these years, it is now the perfect size for the small footprint workplace or home office – the bouncy colours of the shelves are as fresh as ever and the clean spare lines of George's ultra functionalism work anywhere.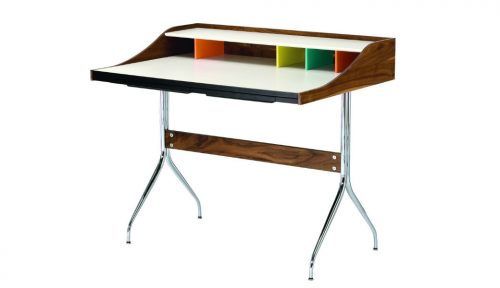 So if you still receive a deluge of boxed handkerchief sets and joke boxer shorts, its time to take control and just go out and get something for yourself, something that you can enjoy and use every day, that will more than retain its value, both aesthetic and monetary – a piece of great authentic design.