When a man needs time and space completely to himself, the last frontier is often the bathroom. However, when we are renovating or re-building our homes, the bathroom often does not get the attention it ought to.
There is something basic, primeval and reassuring about the combination of running water and a hard surface – tiles, polished concrete, marble – which creates the exhilarating feeling of being outdoors in a waterfall.
Thanks to new approaches to the design of bathrooms and new technology your bathroom can now be tailored to create exactly the setting required for a man's daily rituals – showering, shaving, shampooing and singing.
The high tech bathroom has been transformed – overhead showers can now not only create a vast surface area of 'downpour' but can be preset with lighting in colour and timing options, music and temperature. Whether it's the Stones or Tom Jones, your shower can be turned into an eighties disco or a Las Vegas lounge with backing music and lighting for your morning or evening performance.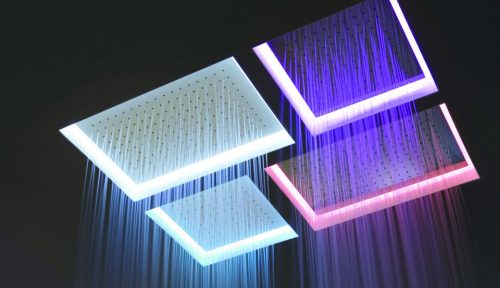 Basins and mirrors are now not only integrated into the wall but are back lit, particularly with fluoro coloured lighting. Antonio Lupi, an Italian company specializing in innovative bathroom style, has created basins that seem to form part of the wall. This creates an otherworldly, outer space effect – your private time can now be spent in a fantasy future.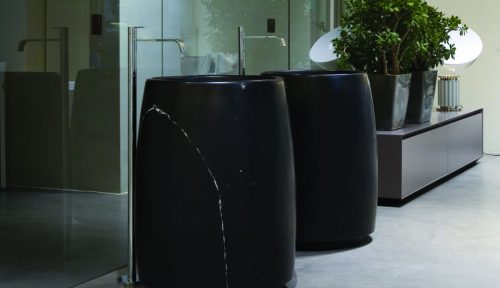 If comfort is your preference, another direction in bathroom design is to extend a bedroom or living area and integrate the bathroom, especially the bath, with the furniture – clear glass walls are often a feature or otherwise it is left open plan. This works well for homes in a very specific style such as Mid Century Modern or austere minimalism. It is really a new interpretation of an earlier approach to bathrooms, which used to have comfortable chairs, screens, drinks tables, rugs and plants for a room designed for really long soaks in the bath.
The development of materials for bathroomware has also made a huge impact, particularly on the design and pricing of baths and basins. Agape, another prestigious Italian bathroom company, uses Cristalplant, a material consisting mostly of mineral fillers bonded to small percentages of polyester and acrylic polymers. The 'Soft Touch' surface looks like natural stone, which makes it particularly suitable for use in the bathroom. The material has a uniform structure throughout so can easily, if required, be restored to the original surface – this is often not as easy with the original natural material. Another composite material often used in Agape creations is Exmar – a mix of resin and quartz powders with a white satin finish surface that is not only ultra smooth to touch but is able to retain the heat of the water for long time.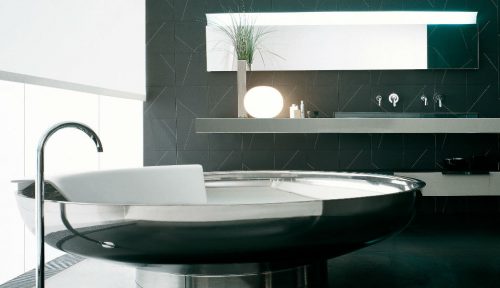 The UFO stainless steel bath, as pictured, is ideal for a minimal bathroom – it not only looks ultra functional as the high alloy steels containing chromium and other alloying elements increase resistance to corrosion. Stainless steel is stronger, harder and more resilient than plain iron and to this Agape add a surface treatment to give a polished or satin finish.
For the purist, nothing can beat the real thing – actual rock hewn marble, the most luxurious of bathroom materials. Marble is a compact, crystallised calcareous rock – black Marquina or white Carrera marble with a satin finish are used by Agape for baths and basins, either carved directly out of the rock or by joining slabs together. Because of the carving limitations, monolithic shapes are prevalent in marble bathroomware which makes it eminently suitable for a more masculine looking bathroom. It creates an instant aura not only of expensive hotels and unbridled power but it harks back to the natural world of water running over stones.
For those of you whose idea of having a bath is Clint Eastwood in a spaghetti western sitting in a tin bath smoking a cheroot, the bath for you is the Vieques – a stylish contemporary take on the old tin bath. This style goes well with a bathroom fireplace and a neatly placed pile of logs. There are even new baths for outdoors with fires or heating underneath – rather like being cooked in a pot.
So, with the assistance of new technology, any bathroom fantasy can be created to give you an island of peace and pleasure in your bathroom, away from everyday concerns.
Alan Bertenshaw
Matisse International Design
www.matisse.co.nz