From marine biology to life insurance – say what?
From highly paid corporate employee to start-up entrepreneur – why on earth?
Why did I, a science and math's enthusiast, go from studying marine biology at Auckland University to embarking on a life-long career in the life insurance industry?
Simple really. As an academically bright 17 year old with no real understanding of the range of career opportunities available in the world, I picked what my father thought would be a really interesting career – marine biology. My only impression of what a marine biologist does was based on Jacques Cousteau – and it seemed very adventuress and a little bit glamourous. I absolutely loved the study but two things became apparent very early on:
There was a lot of budding Jacques Cousteau's studying alongside me but there was only one real Jacques Cousteau – meaning there had to be lots of qualified, out of work, marine biologists; and
I wanted to get married and couldn't see how I could also afford to continue full-time study.
So I decided I needed to leave university part-way through my degree and get a job. The first job I saw advertised was for a management trainee in insurance. I didn't actually know what insurance was at that stage, but I liked the idea of management and so my career in life insurance began. A career which has afforded me opportunities galore to undertake professional study and achieve qualifications along the way.
Having climbed the corporate ladder for many years, to become a Senior Executive and Company Director by my early 30's, I most probably had the option to simply do enough to remain in my well-paid, comfortable job until I either retired or was paid a significant amount of money to leave (e.g. redundancy) – something that I had seen plenty of other people do over the years. So what on earth possessed me to do the exact opposite? Why did I walk away from well-paid safety and comfort to risk it all – financial and reputational – to join the ranks of NZ entrepreneurs?
The answer to this question is also simple – because I cannot and do not want to be someone that I am not.
I cannot behave in ways that are not consistent with what I believe is the right way to treat people – all people whether they be customers, business partners, employees, colleagues, shareholders etc. When you work in a competitive and corporate environment, changes in ownership, personnel, strategy, profitability etc. can all have an impact on the types of behaviours which become encouraged and rewarded.
To me, the only way I could see to belong to a business where the values of the organisation would consistently match mine over time would be if it was my business. I was brave enough (or naive enough) to believe that by building a business based on consistently doing the right thing by people – even when the going gets tough – we would create a more valuable and profitable business than would otherwise be the case. And I think the success of Partners Life, has emphatically proven that.
So for all of those people who think they are forever destined to remain in a career because their qualifications and/or experience and/or age dictate that; and for all of those parents who think their school leaving kids must decide on a career, study for it at university, and then pursue it as their life long career; and for all those people who think a career must only go in one direction where the only reason to change jobs is for more responsibility, a bigger title and a larger remuneration package, maybe, just maybe, you might think again.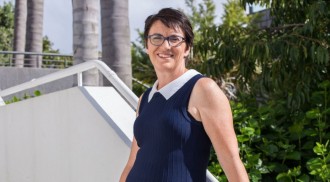 Naomi Ballantyne, founder and managing director, Partners Life.
You can read more of Naomi's columns here.