At this time of year you are probably reading this on a white sand beach under a pohutukawa or perhaps it's at the airport waiting for your flight to the ski slopes and pine trees of the Rockies or maybe it's on a quick break at the office as you spend your holidays getting ahead of the competition.
Whatever the scenario, it's at a time of year when most of us decide to create a better version of ourselves and this can go deeper than taking out a new gym membership.
We all seem to now live lives where we are always accessible, have way too much to do and are often stressed from being behind the eight ball all the time.
An innovative and effective way to alleviate all of this, believe it or not, is with design.
A smoothly run life, devoid of clutter, that is pleasing to the senses and most importantly contains only what you love and actually use, can enhance your life by eliminating time wasting activities and having everything to hand, readily visible as you need it.
The preparation costs nothing – just get rid of anything that you no longer use or need, find a place for the things that you do keep and make sure that they stay there. No more piles of sneakers, unread newspapers, pizza boxes and the dog's rubber bones. No tired rugs or the sofa from your student flat – whatever your age it's time to grow up and join the 21st Century.
The other good news is that for a functional minimal life, you don't actually need much – about four or five really well chosen pieces.
First up is a sofa – the Juno (pictured above) is possibly for the very stylish, austere, minimal man who enjoys an office/airport/hotel look for the home to remind him of the places where he feels most comfortable.
Other classic sofas, always in an architect's top five, that make great starting points are the Cassina Maralunga, for sublime comfort, the B&B Italia Diesis for absolute style, the Eames Walnut sofa for commercial grade functionality, the Walter Knoll Fabricius for an industrial feel or the B&B Italia Bambole for inviting soft comfort.
Aim for quality, ideally a steel frame with a cold formed polyurethane foam fill and an upholstery that suits the weather ( sun resistant if required ) and level of use.
The next essential is a desk and/or table. The Pallas metal table as pictured is a perfect multipurpose combination that comes in zappy bright yellow and blue as well as neutrals. However the sophisticate may prefer Cassina's Ventaglio table which, even though it was designed in the 1950s, is a perfect fan shape for a computer desk.
The Cassina Le Corbusier LC6 Table is another excellent choice for a table that can shapeshift from power desk to architecturally perfect dining table.
Multipurpose furniture is ideal if you move house, change lifestyles often or only occasionally need it for its other purpose.
No matter how busy you are, lounging, naps and sleeping are essential, as are great beds and daybeds. A daybed is not an extravagance or waste of space for the power napper – it is in fact a perfect example of purchasing design to meet your exact needs, thereby enabling you to work more effectively. The ClassiCon Ulisse day bed, pictured, is by design genius Konstantin Grcic – it provides a tidy, professional looking nap area in the office or home.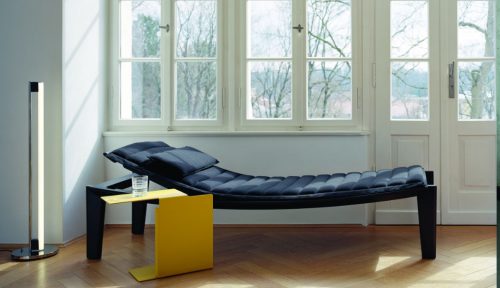 Other great beds and daybeds from Cassina are the Le Corbusier LC4 which is ergonomic as well as being a style classic and the Cab Bed – absolute plain simplicity in saddle leather in a timeless style that would suit a more masculine décor.
Your desk chair option cannot go past the Herman Miller range, including the new version of the famous Aeron chair – it will energise you, take care of your posture and back as well as look good in your work area.
If you add to this, as needed, some simple lighting such as the ClassiCon Selene lamps, perhaps a feature chair for the occasional guest and a low table for entertaining, you have an excellent base for either comfortable effective living right now or a starting point for a future home.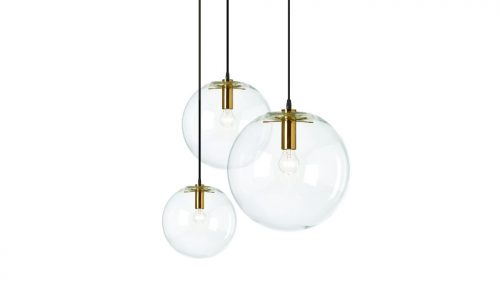 So when planning 2017, think of the long term – great design, particularly furniture is not only a wise financial investment, it will enrich your life, health and time management so that you can have the time to do what you actually want to do.