When I was given the opportunity to sit down with Kim Cattrall, also known as Samantha Jones the queen of sass from Sex and the City, I let out a lot of squeals. The night before I was so excited I couldn't sleep, it was like Christmas!
With such high hopes for this chat, heading up in the lift I was naturally incredibly nervous. Not just worried that I would fan-girl, but that I would make myself look like a fool in front of someone I was so excited to meet.
Kim was in New Zealand for the Spectacle Wearer of the Year competition, presented by Specsavers. She is the start judge and ambassador for the competition and came to launch it. Could they have found someone more fitting?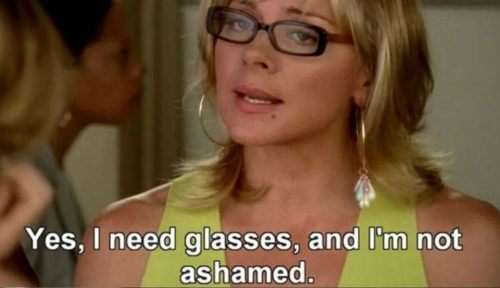 Minutes within meeting Kim and I can safely say she is as wonderful in person as my wildest dreams had imagined. Donning a pair of Collette Dinnigan Spec Savers glasses, Kim and I chatted about feeling sexy in your glasses and of course, Sex and the City.
Toward the end of Sex and the City Samantha has accepted that she needed glasses, with the perfect line of "Yes, I need glasses, and I'm not ashamed…I'm fabulous." Samantha's attitude was to be a sexy, confident woman and this was no different. Why do glasses make you feel sexy?
I don't think they make you feel sexy and confident, but they can add to your confidence. It always starts inside you, your brain, you are in the driver seat. They can reflect who you are and your mood and your wardrobe, but they are not a magic potion but they are a lot of fun. And the great thing about glasses and sunglasses, or 'sunnies' as you call them which I love, is that there's so much choice now. When I first started wearing glasses when I was 10 … everybody looked like they were studying for some awful exam. But now with Karl Lagerfeld and Ellery and Collette Dinnigan, we have Australia, we have American we have German, French all of these different designers are coming up with these new, expressive shades and glasses so you have all these selections so it's not just aviators or scientist glasses you can still wear those and they're fun but you have so much more selection.
There is something great about glasses, when you try on glasses you don't have to take off your clothes. They're really really easy. I enjoy just wearing them, feeling like a rockstar sometimes.
How many pairs of glasses do you own?
That's a really hard question … They're easy to pack and move around then shoes! Sometimes I lose them, which is horrific. You know when you've just bought a pair that you love whether they're prescription or not and then you love them. I really get upset about that.
What are your favourite Specsavers Frames?
I'm really digging Kim Ellery's stuff. She's really got some great designs. They're not over the top and they make a statement but they don't over shadow your face. I think that is the most important thing to find something that embraces what you naturally have, the shape of your face, and maybe down plays the things you're not as happy about on your face.
What advice do you have for people who are a little ashamed by their glasses? Especially those who are thinking of entering the Spectacle wearer of the year competition?
I think it is a gradual process, change in anyway. Because these are on your face and you wear them all day it's a very, very personal choice. I witnessed two young girls yesterday picking some glasses and one of them was really encouraging the other one to change her look and the glasses she was already wearing. She took a pair of glasses that were slightly different, while her friend took a pair that were way different, which looked really cool. But it is a process; I don't think you should be hard on yourself to look a certain way or emulate someone else. Take your time; get more and more confident your style is evolving through your whole life.
I look at my glasses and my makeup and what I am wearing and see if they kind of working together. The older I get the less makeup, the less hairstyle, the glasses actually become more of an accessory  and more when I am expressing some fun than a crazy hairs do or different makeup. I pretty much stick to what I know works and looks fresh and natural.
To read more about Kim and her favourite Sex and the City moments, get your hands on a copy of our next issue.
For those of you who were wondering, I managed not to fan girl until I was out of the room! If you fancy meeting Kim and heading to New York (to fan girl and live the dream) get your specs on, chanel your inner Samantha and enter here.