Keeping up with makeup trends can be more complicated than keeping up with the Kardashian trends. Should we be contouring, non-touring or strobing? Is it all about matte, dewy or natural skin?
Needless to say when we are looking for answers it is always best to go to the source itself, that is why we spoke to Napoleon Perdis, Australian makeup artist and businessman from Sydney behind products that have won countless beauty awards and have prime spot in many of our makeup bags. We wanted to find out what we should avoid and what we should invest in this season.
What are some of the biggest current trends that you predict are going to end?
I'm not a fan of heavy, dark contouring, instead if I want to contour I opt for a technique called 'reflective contouring'.  Reflective contouring is about highlighting the highest points of the face (cheekbones, brow bone, bridge of the nose and the cupid's bow). By doing this not only does it create a much more natural finish, but instantly contours and adds definition to the face.
[shortcode id="33529″]
I would also love to see the end of over-drawn lips too. It's so obvious where a woman's lips begin and end and trying to fake it sometimes just looks horrible. Lip contouring is a great technique for fuller looker lips. You line the lips and fill the corners, then add a lighter shade in the middle. Add a gloss to the center of the top and bottom lip and voila!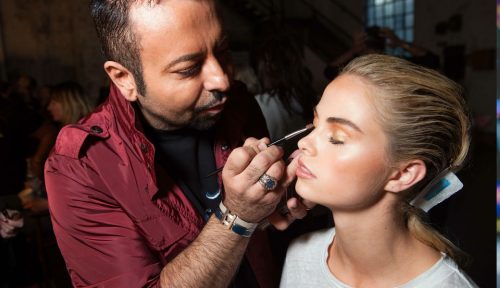 What are some of the new trends we need to look out for?
Skin is in! I am loving the natural, fresh and uncomplicated beauty look where skin is the feature. Think fresh bases that celebrate your natural beauty. Apply foundation, only where needed to achieve a lit from within luminosity. My new Personal Trainer Serum Foundation is great to create this look as it's lightweight and features ultra-fine pearlescent pigments which reflect natural light.