We have been caring for our skin for longer than even our grandmothers can remember. In the 16th and 17th centuries "cures" for freckles and miracle face creams flooded the marker, while toners were made from oil of bay, rhubarb, spices, and wine and were sold by travelling salesmen. It was the 20th century that saw a shift when it became the golden era for face cosmetics as mass production made cosmetics available to all women, of every class.
Sothys has seen it all, which is no surprise seeing as they have been on the quest for perfection and beauty for women and men for over 70 years. In 1960 they pioneered ampoules, essential skincare supercharged serums that have higher concentrations of active ingredients that you should use for a finite amount of time as a boost – particularly if you are having a skin nightmare.
With the rise in K-Beauty and consequently ampoules Sothys has gone back to the essentials with their mini beauty courses of treatment that are ideal for all women. They have created 4 ampoules for every skin type and skin concern.
Need more hydration? Use the …  Hydrating essential ampoules
Set to optimise your skin hydration, this ampoule has the following essential active ingredients in its solution:  hyaluronic acid*, aloe vera extract, pca salts (essential component in the nmf), vegetable glycerin
Want to more limit the appearance of signs of ageing? Use the … Anti-ageing essential ampoules
Looking to protect the skin from signs of time, this ampoule has essential active ingredients in its solution: a combination of argan tree polyphenols and ellagic acid to fight against the harmful effects of oxidative stress and hyaluronic acid* for a hydrating-smoothing effect on the surface.
[shortcode id="33529″]
Want brighter skin? Use the … Brightening essential ampoules
Set to restore a more even complexion, this ampoule has the following essential active ingredients: a synergetic complex of 6 botanicals (blackberry bush, saxifrage, skullcap, grape, sophora and kiwi) to limit the appearance of pigmentation spots, grafted glycolic acid and prickly pear extract for gentle daily peeling.
Want to maintain a healthy glow? Use the … Oxygenating essential ampoules 
Looking to help you achieve a fresh and rosy complexion, this ampoule has the following essential active ingredients: a biotechnological complex of soy extract and vitamin B8 to optimize skin cell function, softening hamamelis extract.
Apply these ampoules to skin that is cleansed and dried, just before any serums and your usual cream. You should apply them 7 days, morning and evening.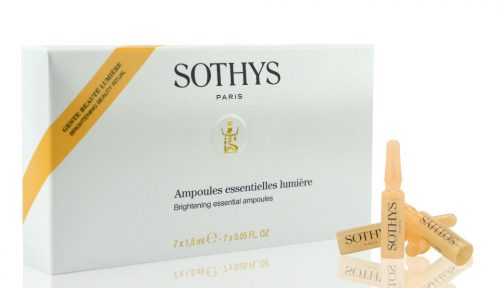 Now read: A guide to using the real anti-ager: Retinol.