Vitamin A is an ubiquitous ingredient that can be found in many cosmeceutical skincare brands' formulas. However, not many know that it was Dr. Des Fernandes who pioneered the ground-breaking development into skincare in the 1980's. Vitamin A is now used to counteract external aggressors such as pollution, stress and harmful UV rays.
He is currently rated amongst the top five plastic surgeons in the world and continues to expand his legacy of scientific innovation since his creation of Environ in 1990. In this summer takeaway issue, Dr. Des Fernandes teaches us how to take care of our skin correctly under the scorching hot and highly damaging Kiwi sun.
In summertime, we get UVA from very early morning through to a short while before sunset. The main problem with UVA exposure is that in summer, it extends for a longer period during the day than in winter. At this stage,there are only partially effective screens against UVA irradiation. The most effective are also the sunscreens that are opaque. In addition to UVA, in summertime in New Zealand, one gets UVB irradiation from about 11 o'clock through to about 2/3 o'clock. This is the only period of time when the SPF property of a sunscreen is active. The SPF factors are pretty effective, but even with the highest SPF cream available, you do not get a total block of the UVB rays. On average, one can expect about 2 – 4 % of UVB rays to penetrate through the sunscreen and do damage in the epidermis. In addition, in summer we get more exposure to sunlight and the infra-red rays that are very difficult to block.
So with this in mind, one has to try and maximise the sun protection and at the same time have a counter measure for the rays that do get through into the skin.
During summer, I believe that everyone should load their skin with retinylpalmitate, because this acts as a natural sunscreen against both UVA and UVB.  In addition, vitamin A heals the damage that is caused by the rays that come through the skin, particularly the UVA rays. There are very many specific problems caused by UVA rays, but using enough vitamin A counteracts every one of them.
The next level of protection we receive is what we take as nutritional supplements or food.
Do supplement your vitamin A every day and use higher doses if you are going to be in the sun, because vitamin A is damaged and removed from the skin by the sun.
Eat carotenoid rich foods and supplement with:
Beta-carotene, which is particularly useful to counteract infra-red rays.
Lutein, which specifically blocks damaging rays from the blue component of the spectrum of light.
Lycopene, which improves the skin's resistance to sun damage. Eat tomatoes or have a bowl of tomato soup quite frequently in summer.
Supplement with antioxidants. I believe that by applying vitamin A and antioxidants to the skin, one makes it more resistant to sun damage. I also believe these should be applied in the morning before you go into the sun and definitely at night after you have been in the sun.
Recommended products:
Use a Vitamin A based cream such as Environ AVST 1 and slowly progress to level 4, or the maximum level comfortable for your skin.
Add antioxidants such as Environ C-Boost or an Antioxidant Gel. This can be done either in the morning or in the evening.
Use the Environ Youth EssentiA Toner to increase the amount of vitamin B3, another vitamin which is also damaged by sunlight.
Finally, apply the Environ RAD sunscreen (which also contains antioxidants) and if you are going to be in the sun for along time then re-apply every 1½ to 2 hours. Make sure to apply it evenly in a moderately thick layer.
If you're no sure what is best for your skin, book a consultation and find out exactly what you skin needs.
To celebrate 25 years, Environ has a lovely gift with purchase for Christmas!
Purchase your favourite Environ Cleanser, Toner and Vitamin STEP-UP SYSTEM™ Moisturiser.

And receive an Environ Festive Gift Box Free (valued at $207).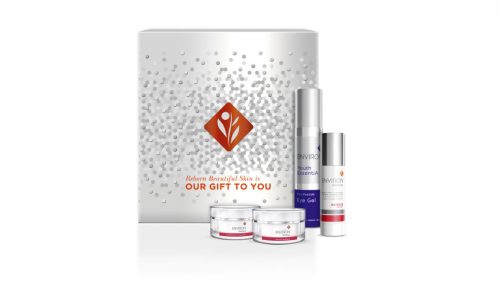 Gift Box Includes:
10ml Youth EssentiA® Eye Gel
10ml Intensive Revival Masque
10 Intensive Hydrating Oil Capsules
5ml Intensive Avance DFP312™ Cream