Kate Hudson attributes it to her taut body, Victoria's Secret models hit it before their big shows and Cameron Diaz swears by it. So why wouldn't you give it ago? We shared our experience with Kcore Pilates in the July/August M2 Magazine.
Reformer Pilates is the latest craze to sweep the fitness world, with its muscle-quivering Pilates machine and heart-pumping routines that promise to leave you feeling elated, relaxed and seriously fit. While this sounds like a bizarre combination, I for one generally don't associate relaxation with droplets of sweat; if it is good enough for every celebrity that walks the earth, I need to give it a go.
I visited Kcore Pilates, one of Auckland's newest dynamic, high performance reformer Pilates studios and spoke to founder, director and master trainer Kate Benefield. The studio has been open just over two months and she has already had to hire new staff and add on weekend classes because the demand is so high. I mean, with the promise of a supermodel body who would blame the clients for banging down the door.
[shortcode id="33529″]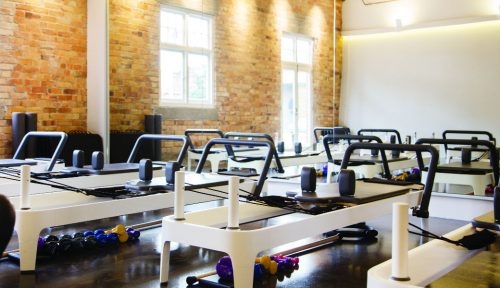 The popularity for reformer Pilates is insane, something Kate attributes to the fast results. "After five classes most people are feeling something or have some sort of change… You really feel things happening in your body very quickly."
"You're not going to be a supermodel overnight but you will be at some stage."
Kcore's aim is to give you an efficient workout in 45 minutes, because as Kate said, everyone is so busy these days. Taking on Pilates is something that has always sworn to give good results. Adding a reformer machine that helps guide you with the ropes and springs while giving you resistance is a winning combination. "It's addictive because it's fun, you get results and you don't feel like you're doing exercise, yet you are doing quite hard exercise," Kate said. "I think it is so effective because it is that full body workout, within 45 minutes," she said. While most exercises just work the global muscles, reformer Pilates is also working on those tiny intrinsic muscles that help to tone, tighten, lengthen and pull everything in."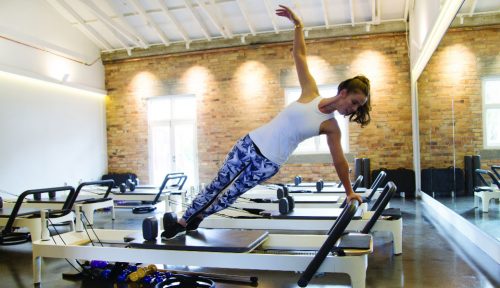 It all sounds too good to be true and I wanted to find out if I could really leave a class feeling zen whilst also cradling my sore and shaky muscles, so headed along to a class one Wednesday night. I was certain I would walk away feeling tight, toned and hopefully not bruised from falling off the machine. Upon entry I felt the stress of work fall off my shoulders – which I must note would be so sore (in a good way of course!) The studio itself is a thing of wonders and the machines, as daunting as they look, were the top of the range. Class began and I situated myself in the back, but not right on the edge in order to make sure no matter which way we turned I had someone to copy! The class focused on the small, niggly bits so it was all about small, controlled movements. From the usage of light weights to a Pilates ring, you were on your machine, with your body on the carriage and your foot on the bar or the platform.
We also did the classics, a few push up and planks. Now, I am going to be honest, some people made it look so easy, whereas I held myself with every muscle in my body clenched I was so scared of falling. I don't think I have ever worked so hard in a push up or a plank – guess everything they say about not being able to cheat is true! Kate was hands on and was not afraid to pull and push you into the right position and while this was a blessing, there were times I wanted to cry and tug my leg away! Of course, I knew it was for the good and by good I mean pain. After the class, which absolutely flew by, I realised Kate was right, I had not thought about looming deadlines or what was for dinner and my mind felt rested. That night my body felt relaxed and sore in the strangest places – again, in a good way! My body fell asleep before my brain, and I knew that was the result of a good workout.
The next day my colleagues were curious how I felt walking up the stairs to our building, I told them it was fine but in all honesty my glutes were burning. I also felt the urge to sit up straight and ensure everything was tucked in the right way, I'm certain I looked like an idiot constantly propping myself up from my poor posture but it was worth it for the sake of my shoulders. I went back for a second session, which involved me getting out of bed early, which is a great sign. This class was more intense and focused on the thighs… and as you can imagine it burnt in ways I had never experienced before and honestly I grimaced every time I had to stand up that day. Surprisingly, all the pain made me even more eager to attend a third class.
I can see why the celebs rave over this and how supermodels owe their body to it. As a gym membership owner, but only an infrequent gym attendee, I like that there was someone telling me what to do and that there was no chance for me to slack off. Sorry gym, it's time to break up. It's not me, it's you.