Of all the cultural experiences in the world, there are none more spectacular and beautiful than festivals. The best of these achieve an almost transcendant quality as individuals gather together for a massive shared experience. There are certainly have a few that we think pretty much everyone should have the chance to be part of. Read on for a handful of these.
1. Holi (India/Nepal/Sri Lanka)

Perhaps the most visually spectacular festival on earth, Holi is celebrated during the last lunar cycle of winter as participants throw every imaginable kind of brightly coloured dye at each other in a massive kaleidoscopic battle. Holi heralds spring, the season of life and colour, as locals and travellers alike are caught up in the deeply immersive experience.
2. Día de los Muertos (Mexico)

When a festival is named The Day of the Dead, one might expect it to have dark and morbid undertones. Nothing could be further from the truth however for this event which celebrates life and honours the souls of the departed. Altars are built, small offerings are made, and people paint their faces in the distinctive "sugar skull" style to symbolize the power of death as a tool of transformation.
3. Wakakusa Yamayaki (Nara, Japan)

How many events culminate with torching an entire mountain? Not too many, we're guessing. That's just one part of Wakakusa Yamayaki though – the day starts with a giant rice cracker tossing competition before an interreligious procession moves from the city to the base of Mount Wakakusa. Then it's time for the bonfires, a huge fireworks display, and then finally the razing of the mountain, the glow of which can be seen over the entire city of Nara.
4. Rio Carnival (Rio de Janiero, Brazil)

For sheer scale, you can't beat the Carnival in Rio de Janiero. With two million people per day on the streets of the city and more than 200 parade floats, this is spectacle on a level that is hardly imaginable unless you've been there. Flamboyant costumes, rhythmic music and dance and elaborately decorated floats create a heady atmosphere that epitomizes the carnival spirit. This is, without doubt, the world's biggest party.
5. La Tomatina (Buñol, Spain)

Did your mum ever tell you not to play with your food? Well, you're an adult now and that means you can take part in the largest food fight on earth. No one's quite sure of the exact origins of La Tomatina, but it's famous worldwide today for the all out tomatoey carnage wreaked by celebrants in the rural town of Buñol. Don't wear any clothes you care about because no one is safe, and you will end up a red, soggy mess.
6. Ati-Atihan (Kalibo, Phillipines)

A nine day exhibition of costume and dance, it's difficult not to get caught up in the exuberant spirit of Ati-Atihan. Originating from a time in the 13th century when two tribes shared and banded together to help each other through tough times, the festival retains that spirit of welcoming and friendliness. All proceedings lead up to an elaborate masquerade ball that romps through the streets, followed by an atmospheric torchlight procession in honour of Santo Niño, the Christ child.
7. Diwali (Mumbai, India)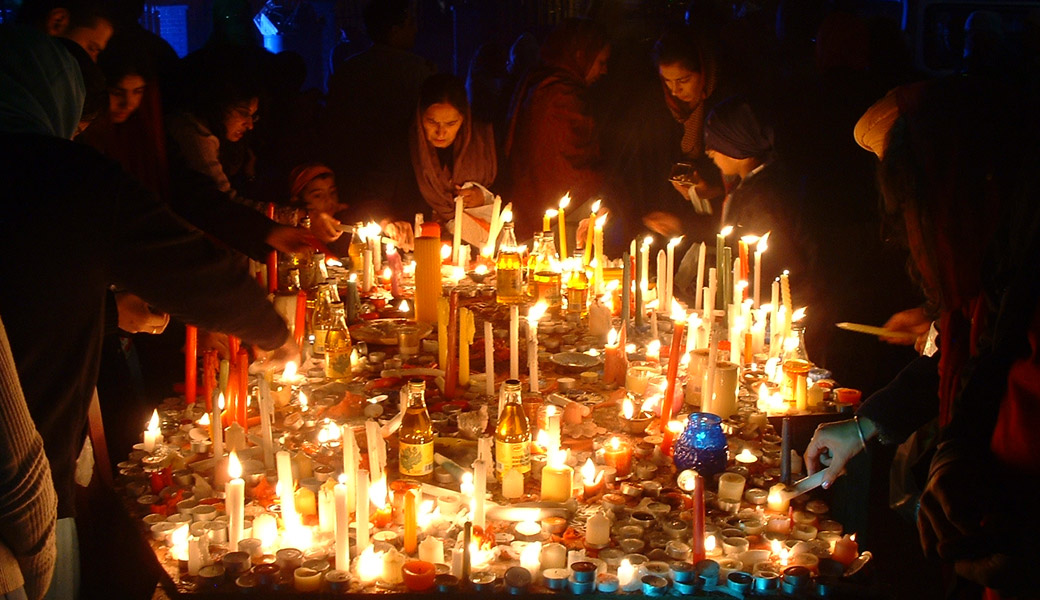 A festival welcoming the Hindu god Rama home, celebrants light oil lamps to guide his steps. While it's technically a religious event, anyone is welcome to share in the happiness and celebration that accompanies this season of abundance. Lavish feasts, fireworks and gifts are all a traditional part of Diwali, but the most iconic emblem of the festival is the lights. Torches, lamps and fireworks all light up the night sky in a joyous proclamation of the triumph of good over evil.
Discover the wonders of the world with Thai Airways – plan your adventure today!
*SOME OF THESE SPOTS ARE WELL OUT OF THE WAY, AND ANY PLANE TRIP CAN ONLY TAKE YOU MOST OF THE WAY THERE.