Naz Khanjani's boxing opponent has been named and it's DJ Lily Taurau from Mai FM.
But relative 'unknown' Jessica Aitchison, an ex-Cantabrian living in Australia says she wanted to be considered by the promoters to go few rounds with with the bachelorette.
Aitchison, a centrefold model, rapper and fire-eater who performs under the name Jackel posted to her 100,000 Facebook followers last Tuesday that she wanted to go toe-to-toe with the Bachelor New Zealand celebrity.
In typical Naz fashion, her response on Twitter to the rapper wasn't exactly encouraging.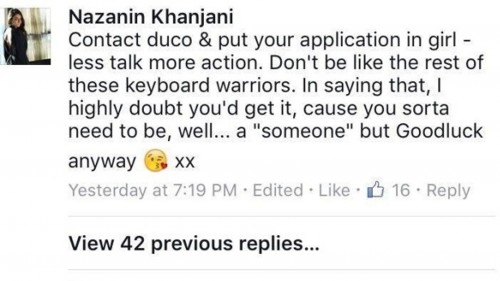 Aitchison told Stuff.co.nz that Naz's had responded in a 'nasty' way. Her post: "Less talk, more action… I highly doubt you'll get it, seeing as you need to be, well, "a someone" came as somewhat of a shock to the rapper.
"I was surprised at her response as I had assumed her persona on television was scripted. I thought to myself 'no-one can actually be that egotistical'.
Taking her right to fight to the battleground of social media, Aitchison, who'd previously held the title Miss Nude Sydney 2012, posted a video to Facebook stating the reasons why Khanjani should fight her.
https://www.youtube.com/watch?v=rIwfUFmA5k4
The video has now had 70,000 views since it was posted on Tuesday evening.
Khanjani will get into the ring in Christchurch on July 21. She's the undercard to Joseph Parker's clash with Solomon Haumono.