Sometimes we just need to take a moment out of our busy lives to have a little chortle. Laughter unites us. A woman who knows how to deal (and receive) laughter is New Zealand's own Mel Bracewell. She's a trailblazer in comedy and has been since starting in 2014, where she was offered an internship on 7 Days, after winning the 7 Days Comedy Apprentice competition. After a successful internship, she became a writer for the successful TV show and has also worked on Radio Hauraki.
It was only a year later that she won the National Comedy Quest and then the Billy T James Award, amongst others too. She's famous for her social engagement, with her tweets and Tumblr making it around the world with Playboy and New York Times. We sat down with Mel and talked comedy and hilarious audience experiences before her new show, 'The Rumours Are True' in Auckland and Wellington. Her show is part of the Best Foods Comedy Gala, running from May 2-26. 
What drew you to comedy in the first place?
I've always been drawn to consuming comedy. All of my favourite movies and TV shows are comedies, and I think my family was a big influence. It seemed like the objective of any family gathering was to get the biggest laugh.
I started becoming friends with a few comedians as I started university. My job at the time was flyering for the Comedy Festival and trying to get people to go to other people's shows. They were the ones who encouraged me to give it a go myself and I haven't looked back!
Is it a 'practice-makes-perfect' profession, or were just blessed with the gift of the gab?
It's hard to say really. I don't think I was a hilarious child or anything. I wasn't straight out the womb making observations about childbirth, but I think there must've been something there.
I think some people are naturally better at it than others, but you can always improve with time. I'm definitely a lot better now than when I started, thank goodness.
Life! I genuinely spend a lot of my time hoping funny things happen to me that I can write about. It's hard to pin it down to one specific thing, but generally I just vibe it out.
When you're not behind the mic doing stand-up, what would you most likely be doing?
I'm probably at The Project working as a writer, or behind the microphone at Radio Hauraki. I'm a busy gal! Gotta hustle! When I get a free moment though, I'm probably playing basketball. Dunking on some people, kicking butt, that kinda stuff.
Your tweets are renown over Tumblr and Twitter and they've been published in places like Playboy and New York Times. Is it a hard transition between writing comedy and performing it?
I would like to first clarify that Playboy has a comedy section on their website! I'm not posting nudes on Twitter!
It's not really a transition though. I started out comedy by basically just reading my tweets on stage. Writing comedy is part of performing comedy – probably the most important part. I think the hardest bit is knowing whether it's definitely funny or not. You can delete a tweet, but saying a joke out loud could live or die right then and there.
What do you think the world of comedy needs nowadays?
Oh man, I wish I was an authority on this! I guess just as many voices as possible! It can sometimes be daunting if you go to a comedy show and don't see anyone who looks like you. I never really had any female comedy heroes growing up because I barely saw them. Not everyone wants to do comedy, but I think if you represent the population a little more, you're gonna see more and more people deciding that they want to be part of a comedy audience
What comedian do you most admire and take inspiration from?'
I'm a massive fan of James Acaster, I've seen him live quite a lot and really found his shows captivating. I also love Tig Notaro and would really like to see her live sometime. She has this hilarious 14 minute story about meeting a C-list celebrity and it makes me cry with laughter every time.
Is there such a thing as a 'bad audience'?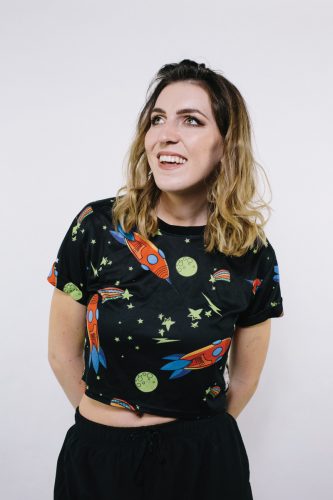 If they're yelling and being a disturbance then yeah, sure. If parts of the audience are ruining the show for everyone else, then I think you're allowed to say that. If that's your excuse because no one is laughing at your jokes, I think that's an entirely different story.
What's the worse audience experience you've had?
A group of dudes constantly shouting 'show us your tits!' throughout my whole set. It's one thing to get heckled based on your jokes, but to have people say that kind of stuff before I've even said anything is pretty exhausting. I'm just now realising you probably wanted a funny answer to this. Too bad!
What's next for you in comedy?
I'd like to travel a bit more and do comedy in different parts of the world, maybe develop some of my own ideas for the television, who knows really! It's an exciting time.
What's the best piece of advice you've been given?
"Act like you've been there before". In comedy, you find yourself doubting everything you've ever done. Sometimes you'll get an opportunity that you didn't expect to get and just live with imposter syndrome the whole time. In those moments, I've had to just check myself, grab a bagel from the table and pretend I'm extremely confident. Also, don't use the blankets on planes, apparently they don't wash them.
Melanie Bracewell performs her new show 'The Rumours Are True' in Auckland & Wellington and is on the line-up for the Best Foods Comedy Gala in Auckland, both as part of the NZ International Comedy Festival with Best Foods Mayo, running May 2-26. For more info head to comedyfestival.co.nz
Photos by Anneliese Nappa