New pictures have been released for the upcoming Legend of Tarzan with explanations of what to expect from the film but everyone's talking about Alexander Skarsgård's rippling abs.
Seriously the definition is amazing, and it was no easy feat to achieve. For four months he "basically didn't see my family or my friends," though he adds that the part "was definitely worth getting up at 4:30 in the morning."
In describing the 6 foot 4 actor the director David Yates liked that the actor was born in Sweden but found a career in the States, and not really belonging to either, much like the character he's portraying. "he has this wonderful quality of not quite belonging to one or the other."
"Tarzan needs muscles, but it's more a leaner, longer, more vertical modern man than the square-jawed stereotype we're used to," Yates says.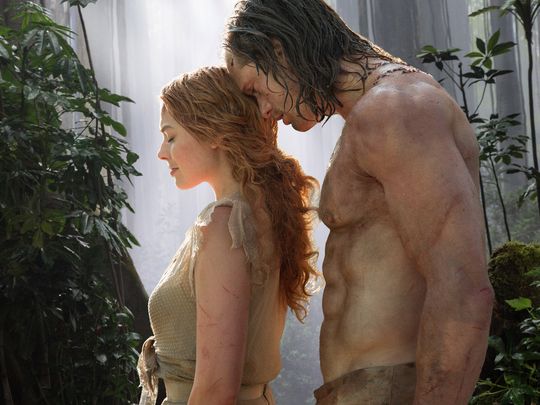 Skarsgård isn't the only one playing a strong character though. Margot Robbie plays the iconic Jane. She's  "in no way a passive partner to Tarzan. She's a really strong, assertive, beautifully knowledgeable, very sexy modern woman who can more than look after herself," says the director.
"In a way, it's a story of two human beings and how they save each other."