The myth of the fountain of youth seems almost as old as time itself. The tale of a mystical spring that restores youth is so pervasive that different cultures across the world have their own version of the story. The powerful concept of holding onto our youth of course is something that has kept this myth alive for thousands of years but also fueled a search for other ways of holding on to a youthful appearance. The market is filled with promises about skin restoring serums and lotions but few have the scientific backing to support the claims.
Sothys is one of the only cosmetic companies in the world with its own fully operational Research & Development laboratory, SOREDEC, employing 15 highly qualified scientists covering chemistry, physics, biology, botany and pharmaceutical sciences. Sothys also has its own Organic Garden in the centre of France engaged in botanical research, searching for original new molecules for cosmetic application in Sothys Green Science program.
Out of this intensive focus on scientific efficacy, Sothys have created an incredible range of Youth Serums. The six-product range is inspired by laser and LED esthetic dermatology techniques and formulated for specific skin concerns. Packed with performance dermo-mimetic active ingredients these serums really target in on all the signs of ageing.
The really innovative thing is that you can mix and match the serums based on your lifestyle. If you are an active urban dwelling 30-year-old for example you would go for a combo of Detoxifying Anti Free-Radical Youth Serum, Unifying Youth Serum and Wrinkle-Specific Youth Serum. If you are in your 40s and worried about loss of tone and visible wrinkles you would go for Perfect V-Shape Youth Serum, Reconstructive Youth Serum and Firming-Specific Youth Serum.
It's this adaptable personalisation that helps make the range so effective but it's also the level of thinking and research behind each serum that really makes it a powerhouse of a range.
With each serum Sothys have developed ingenious ways to target specific signs of aging. The Firming Specific Youth Serum for example emulates clinical dermo-aesthetic techniques with active ingredients around key areas. For dermo-densifying the active ingredients of manioc and pullulan extract create an immediate tightening effect and smoothing action. While, for dermo-lifting copper peptites create a metabolic brick for skin to facilitate the natural activity of collagen and elastin synthesis.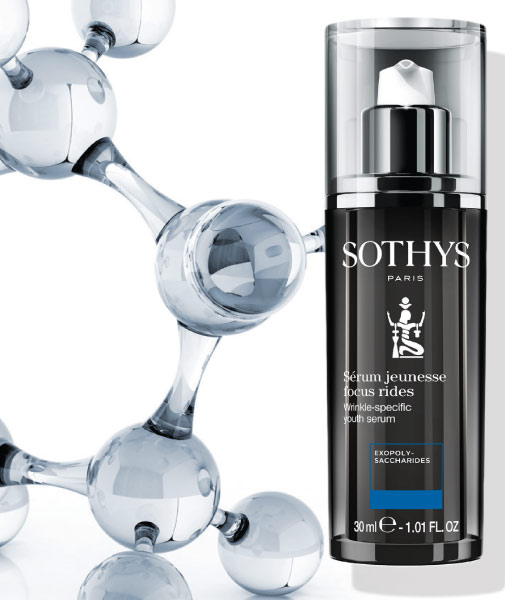 Each serum is a work of art in terms of this specific and targeted approach to ageing but combined as part of a personalised the results are outstanding. There might not yet be a fountain of youth but at least we have the Sothys Green Science program.
The range
Unifying Youth Serum
This serum with its matte texture helps to reduce the appearance of colour imperfections and all types of open pores, and to visibly smooth wrinkles on the skin surface.
Detoxifying Anti Free-Radical Youth Serum
This serum with its complexion illuminating pigments is immediately absorbed, visibly protecting the skin against free radicals and optimising cell renewal.
Firming-Specific Youth Serum
This serum with a gel texture tones and helps to limit skin slackening and visibly lift the features.
Wrinkle-Specific Youth Serum
This serum with its melting texture helps visibly fill existing wrinkles, smooth the skin surface and limit signs of ageing.
Reconstructive Youth Serum
This serum, with its gel-oil texture, envelopes the skin and intensely nourishes it bringing greater density and vitality to improve the signs of ageing.
Perfect V-Shape Youth Serum
(Sagging Jaw Line and Heavy Neck)
This serum has an enveloping texture which instantly reshapes and protects the facial contours, and smooths the décolleté.