Are you covering your skin with harmful chemicals every day?
26 seconds is all that it takes for the chemicals in your skin care products to reach your blood stream. When you think about treatments like nicotine and hormone replacement patches, which rely on the skin's ability to let chemicals through, it's easy to come to a common-sense conclusion: you need to be very careful about what you're rubbing into your skin every day.
Your skin is your body's largest organ. It weighs around 3.6 kilograms and measures about 2 metres square (depending on how tall or slim you are). If your daily skincare routine involves using products to clean and protect every square centimetre, which you're doing to feel good and preserve youthfulness, that's a lot of scope for absorbing chemicals you don't really want in your body.
Many of the world's most popular skincare products contain ingredients that have been flagged as harmful. For example:
Parabens
Parabens are preservatives found in everything from body wash to moisturiser. They're included to stop the growth of bacteria, however they also have the ability to disrupt your body's endocrine (hormone) system. Recently a study found concentrations of parabens in breast cancer tumours.
Sodium lauryl sulphate (SLS)
SLS and SLES (sodium lauryl ether sulfate) are foaming agents used in skincare products, shampoo and toothpaste. They can irritate skin and eyes, and are toxic to aquatic organisms.
Artificial fragrances
Most conventional skincare and makeup products contain artificial fragrances, and they're not required to name what goes into the fragrance on the ingredients list. Fragrances are often a cocktail of carcinogens, allergens, irritants and endocrine disruptors.
Polyethlyene glycol (PEG)
Commonly used as a thickening ingredient in skin lotions and sunscreen, PEG is often contaminated with both ethylene oxide (a carcinogen) and 1,4-Dioxane, which causes respiratory problems and is banned in some countries.
Polymer microbeads
Many exfoliation products contain polymer microbeads. These are washed down the drain and end up in the oceans. Marine creatures eat them, thinking they're food. As the toxins progress along the food chain they become more concentrated, leading to potential threats to human health (not to mention the health of the planet!).
A new strategy for safer skincare
An increasing number of women, and some men too, are paying a lot more attention to what they apply to their skin every day. But finding a skincare range that is effective, pleasant to use and safe isn't always easy. Knowing this, Kiwi skincare entrepreneur Vibs Amin made it her business to create a New Zealand-made range of face and body care products that live up to modern expectations of non-toxicity and effectiveness.
"I began doing my research and soon found that even beauty and skincare ranges that loosely call themselves 'natural' are packed full of questionable ingredients. Even fragrance, something that is inherent to most skincare and beauty products, is often highly-sensitising, causing allergic reactions, redness or swelling," says Vibs.
"I've always had problematic skin. It was oily, very hormonal and I suffered from persistent breakouts. After my pregnancy, for some reason or due to hormonal change, my skin issues grew threefold. It had become unbearable and I was desperate to find a solution."
Vibs' mother suggested she try the home-made approach to skincare, so Vibs began making her own products using ingredients that are 100% edible.
"It turns out that the answer to all my skin problems was creating a skincare range with my own hands. The moisturiser and scrubs I developed at home contained the bare minimum of raw food ingredients, but in much higher concentrations to provide beneficial nourishment for the skin."
Five years after Vibs first started making products in her kitchen, the Okana skincare range was born. Today it's one of New Zealand's fastest growing personal care brands. Okana's promise to the market is: 'If you wouldn't put it in your mouth, we won't put it in our products'.
All Okana products are 100% natural, free of artificial fragrance, alcohol free, cruelty free, vegetarian and self-preserving. They are literally good enough to eat.
How natural skincare supports your looks and your health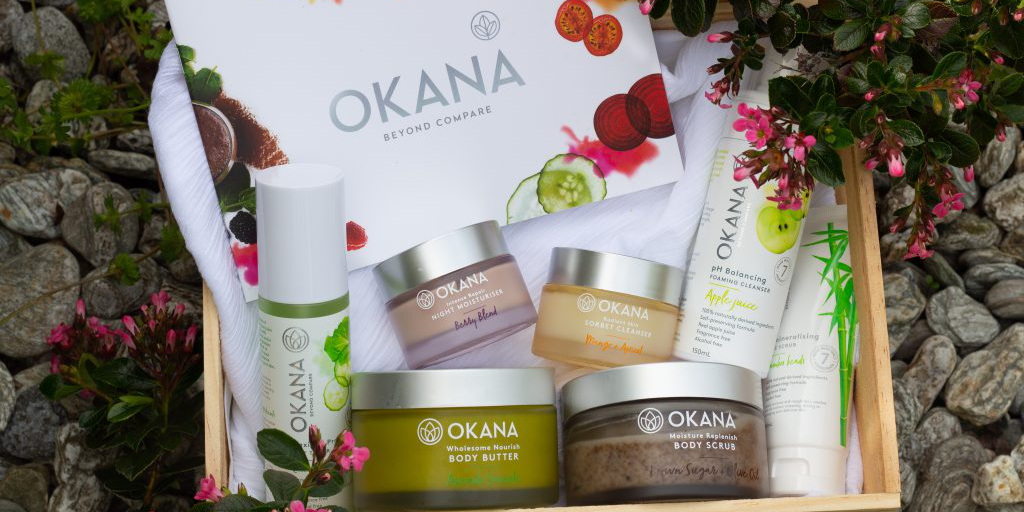 Cleansing: A great example of how natural skincare can also be effective is Okana's Apple Juice Foaming Cleanser. Made with just seven ingredients, including fresh apple juice, this naturally-fragrant and SLS-free cleanser effectively cleans away oil, dirt and dead skin cells without stripping the skin or changing the optimum pH level. RRP $15.99
Exfoliating: Once or twice a week it's good to resurface your skin with an exfoliation product. Okana's Remineralising Face Scrub does this with fine bamboo powder, which gently removes dead skin cells without causing irritation. And there are microbeads to pollute the ocean. RRP $15.99
Toning: Using a toner completes your cleansing ritual and prepares the skin for nourishment. Okana Cucumber & Lettuce mist toner does this delightfully – just spray it directly onto your face. RRP $14.99
Moisturising: For daytime a moisturiser needs to be nourishing and protective, but light enough to wear under makeup. Okana High Antioxidant Day Moisturiser helps the skin to survive daily assaults (pollution, sun and temperature changes) with a formula that features apricot oil, olive oil, carrot and tomato juice. RRP$22.99
Feeding: At night, skin support needs to assist the body's natural repair processes. Okana Intense Repair Night Moisturiser contains a blend of berry extracts, macadamia nut oil and apricot kernel oil to feed your skin while you sleep. RRP $22.99
Body: Many people lavish care on their face, then forget about the décolletage area, arms and legs. Body skin benefits from daily protection with a product like Okana Avocado Smash Body Butter, which is made with just four delicious ingredients – avocado oil, apricot kernel oil, macadamia oil and lecithin. RRP $25.99
A New Zealand success story you can enjoy every day
If you'd like to commit to a healthier future by consciously moving away from skincare that contains harmful ingredients, you'll find the full range of Okana products online at okana.co.nz. The Okana range is also available at selected pharmacies and supermarkets.
You'll also like: