A RANGE OF FRESH NEW SPECIAL DELIGHTS FOR EVERY AVID BEAUTY COLLECTOR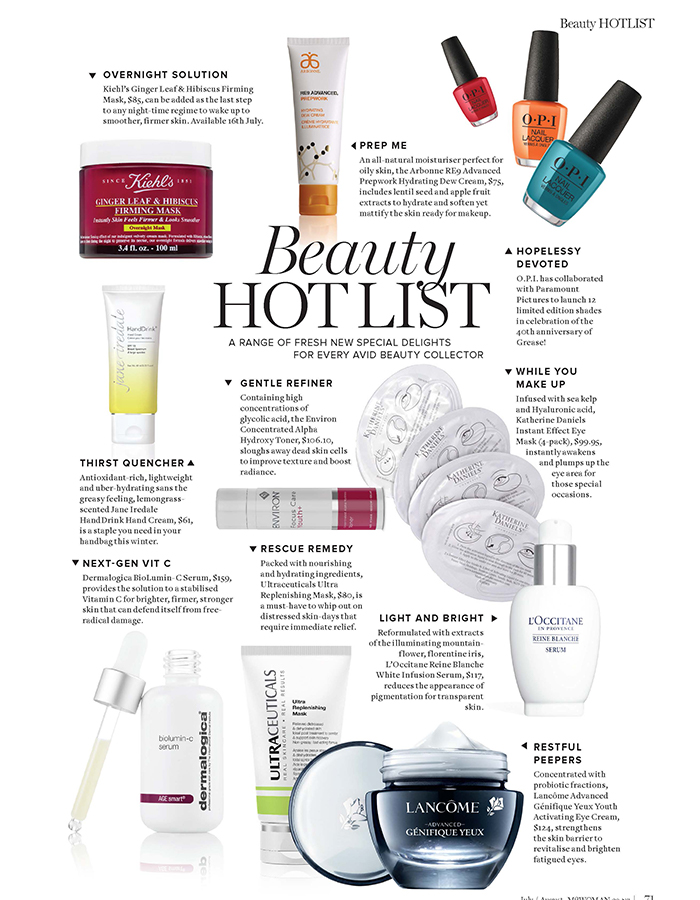 GENTLE REFINER
Containing high concentrations of glycolic acid, the Environ Concentrated Alpha Hydroxy Toner, $106.10, sloughs away dead skin cells to improve texture and boost radiance.
OVERNIGHT SOLUTION
Kiehl's Ginger Leaf & Hibiscus Firming Mask, $85, can be added as the last step to any night-time regime to wake up to smoother, firmer skin. Available 16th July.
PREP ME
An all-natural moisturiser perfect for oily skin, the Arbonne RE9 Advanced Prepwork Hydrating Dew Cream, $75, includes lentil seed and apple fruit extracts to hydrate and soften yet mattify the skin ready for makeup.
HOPELESSY DEVOTED
O.P.I. has collaborated with Paramount Pictures to launch 12 limited edition shades in celebration of the 40th anniversary of Grease!
THIRST QUENCHER
Antioxidant-rich, lightweight and uber-hydrating sans the greasy feeling, lemongrassscented Jane Iredale HandDrink Hand Cream, $61, is a staple you need in your handbag this winter.
WHILE YOU MAKE UP
Infused with sea kelp and Hyaluronic acid, Katherine Daniels Instant Effect Eye Mask (4-pack), $99.95, instantly awakens and plumps up the eye area for those special occasions.
NEXT-GEN VIT C
Dermalogica BioLumin-C Serum, $159, provides the solution to a stabilised Vitamin C for brighter, firmer, stronger skin that can defend itself from freeradical damage.
RESCUE REMEDY
Packed with nourishing and hydrating ingredients, Ultraceuticals Ultra Replenishing Mask, $80, is a must-have to whip out on distressed skin-days that require immediate relief.
LIGHT AND BRIGHT
Reformulated with extracts of the illuminating mountainf lower, f lorentine iris, L'Occitane Reine Blanche White Infusion Serum, $117, reduces the appearance of pigmentation for transparent skin.
RESTFUL PEEPERS
Concentrated with probiotic fractions, Lancôme Advanced Génifique Yeux Youth Activating Eye Cream, $124, strengthens the skin barrier to revitalise and brighten fatigued eyes.