This recipe is by Laura Burgoyne of All Day Energy. Enjoy!
For when you feel like something just a little bit fancy. The earthy flavour of the beetroot, creaminess of the feta, rich flavour of the salmon and slight bitter sweetness of the walnuts amalgamate perfectly.
Benefits of beetroot: Helps to lower blood pressure because of the naturally occurring nitrates which covert to Nitric oxide, and in turn, helps to relax and dilate your blood vessels, improving blood flow and lowering blood pressure. Beets are a unique source of betaine, a nutrient that helps protects cells, proteins, and enzymes from environmental stress. It's also known to help fight inflammation, protect internal organs, improve vascular risk factors, enhance performance and help prevent numerous chronic diseases. Beets are high in immune-boosting vitamin C, fiber, and essential minerals like potassium (essential for healthy nerve and muscle function) and manganese (which is good for your bones, liver, kidneys, and pancreas). Beets also contain the B vitamin folate, which helps reduce the risk of birth defects. The betalin pigments in beets support your body's Phase 2 detoxification process, which is when broken down toxins are bound to other molecules so they can be excreted from your body. Traditionally, beets are valued for their support in detoxification and helping to purify your blood and your liver. So as you can see you are getting a bunch of benefits… and that's just the beets. Ready for more goodness?
Benefits of Salmon: The essential Omega 3 is of course found in Salmon. It benefits us by improving control of the body's inflammatory processes, overall cell function, the transferring of information between the body's cells, and brain function. It also contains essential amino acids, proteins and nutrients such as selenium to help us function optimally and perform at our best.
Benefits of walnuts: Walnuts also contain the plant-based omega-3 fat alpha-linolenic acid (ALA), which is anti-inflammatory and may prevent the formation of pathological blood clots. Antioxidants which are crucial to your health, as they are believed to help control how fast you age by combating free radicals, which are at the heart of age-related deterioration. Walnuts contain several unique and powerful antioxidants. Walnuts contain a number of neuro-protective compounds, including vitamin E, folate, melatonin, omega-3 fats, and antioxidants, all which help keep our brain healthy and functioning optimally.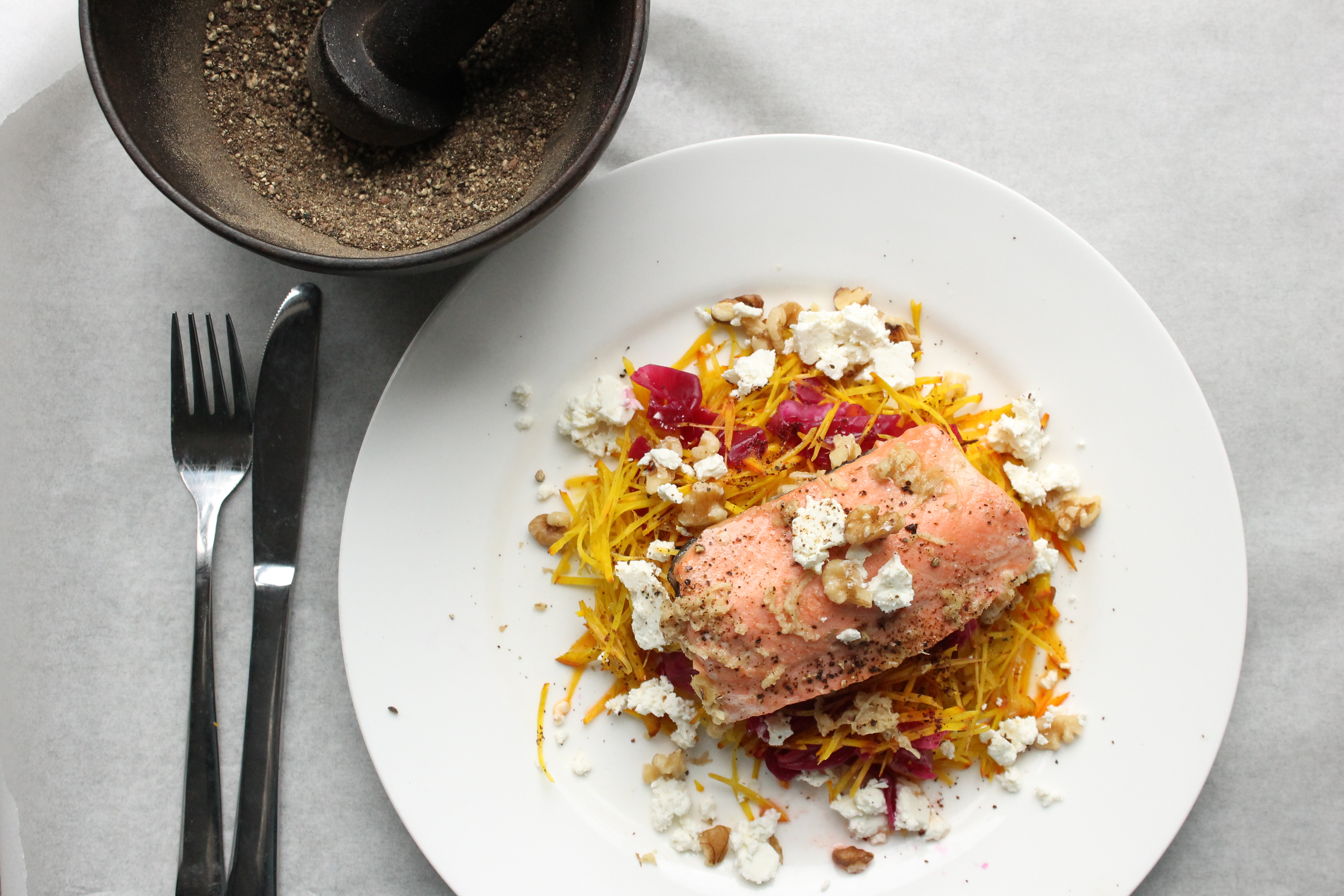 Beetroot, Walnut and Feta salad with Salmon
For the salad
1 Medium Beetroot, julienne
1/4 cup sauerkraut
1/2 cup walnuts, roughly chopped
1/2 cup Goats feta
1/2 cup sprouted chickpeas
1 cup frozen peas
1 tbls olive oil
Juice of 1 lemon
1 tbls apple cider vinegar
1 tsp Sumac
Salt and Pepper
For the salmon
2 pieces wild Alaskan salmon
1 tbls grated fresh ginger
1 tbls Tamari
1 tsp apple cider vinegar
Salt and Pepper
To assemble
Turn the oven onto 180°C
Place Salmon on tinfoil and place in an oven safe dish, cover with marinade and fold tinfoil to completely seal. Set aside.
Use a julienne to chop the beetroot or slice thinly
Add beetroot, sauerkraut, walnuts, peas and chickpeas to a large bowl (Crumble feta last over salad when serving.)
Mix olive oil, lemon, apple cider vinegar, sumac together and pour over salad, mix through.
Bake Salmon for approx. 20 mins, check at 10 mins and adjust to how well cooked you like your salmon.
Place salad on plate and top with feta, place Salmon on top or to the side of the salad. Salt and pepper to taste.
Enjoy all the goodness!