Summer's here and what better way to use fresh berries than in a sweet Christmas treat. Kim Evans from Little & Friday shares her Berry Cheesecakes recipe from her new book, Little & Friday Celebrations.
These are best made a day in advance so the topping has a chance to set.
200g chocolate biscotti
50g unsalted butter
1 punnet strawberries
125g cream cheese
¼ cup caster sugar
½ tsp rosewater
300ml cream
4 leaves gelatine
1 punnet raspberries
Topping:
100ml water
¼ cup caster sugar
1 punnet raspberries, plus a few extra to garnish
2 leaves gelatine
½ cup pomegranate seeds
Pansies, borage or violets, to garnish
Makes 8
1. Grease eight 8cm diameter × 6cm deep metal ring moulds and place on a tray lined with baking paper.
2. Place biscotti and butter in a food processor and blitz for 2 minutes until mixture resembles crumbs. Distribute mixture evenly between moulds and, using a glass, press mixture firmly to form a solid base.
3. Slice strawberries into 3mm-thick slices and line the sides of the moulds, overlapping the slices. Place in the refrigerator to chill.
4. Using an electric mixer, beat cream cheese with sugar and rosewater until soft and smooth. Turn out into another bowl. Pour 250ml cream into mixer bowl and whisk until soft peaks form. Fold cream into cream cheese mixture.
5. Meanwhile, soak gelatine in cold water for 2 minutes to soften.
6. Pour remaining 50ml cream into a saucepan and heat until warm but not boiling. Remove from heat.
7. Remove gelatine from water and squeeze out excess water using a clean tea towel. Add gelatine to warm cream and stir to dissolve.
8. Mix gelatine and cream into cream cheese mixture. Add raspberries and stir to combine.
9. Pour mixture into moulds and refrigerate for 2 hours until set.
10. To make raspberry topping, in a saucepan mix water, sugar and raspberries. Simmer for 5 minutes. Remove from heat and strain mixture through a sieve. Reserve raspberry syrup.
11. Soak gelatine in water for 2 minutes to soften. Remove and squeeze out excess water. Stir gelatine into raspberry syrup. Allow to cool slightly before pouring over cheesecakes. Syrup shouldn't be so hot that it melts the
12. cheesecake. Refrigerate overnight to allow topping to set.
13. When ready to serve, remove cheesecakes from moulds by running a palette knife soaked in hot water around the inside of the moulds, then gently lifting them off.
14. Decorate cheesecakes with pomegranate seeds, fresh edible flowers and a raspberry.
15. Keep refrigerated until ready to serve.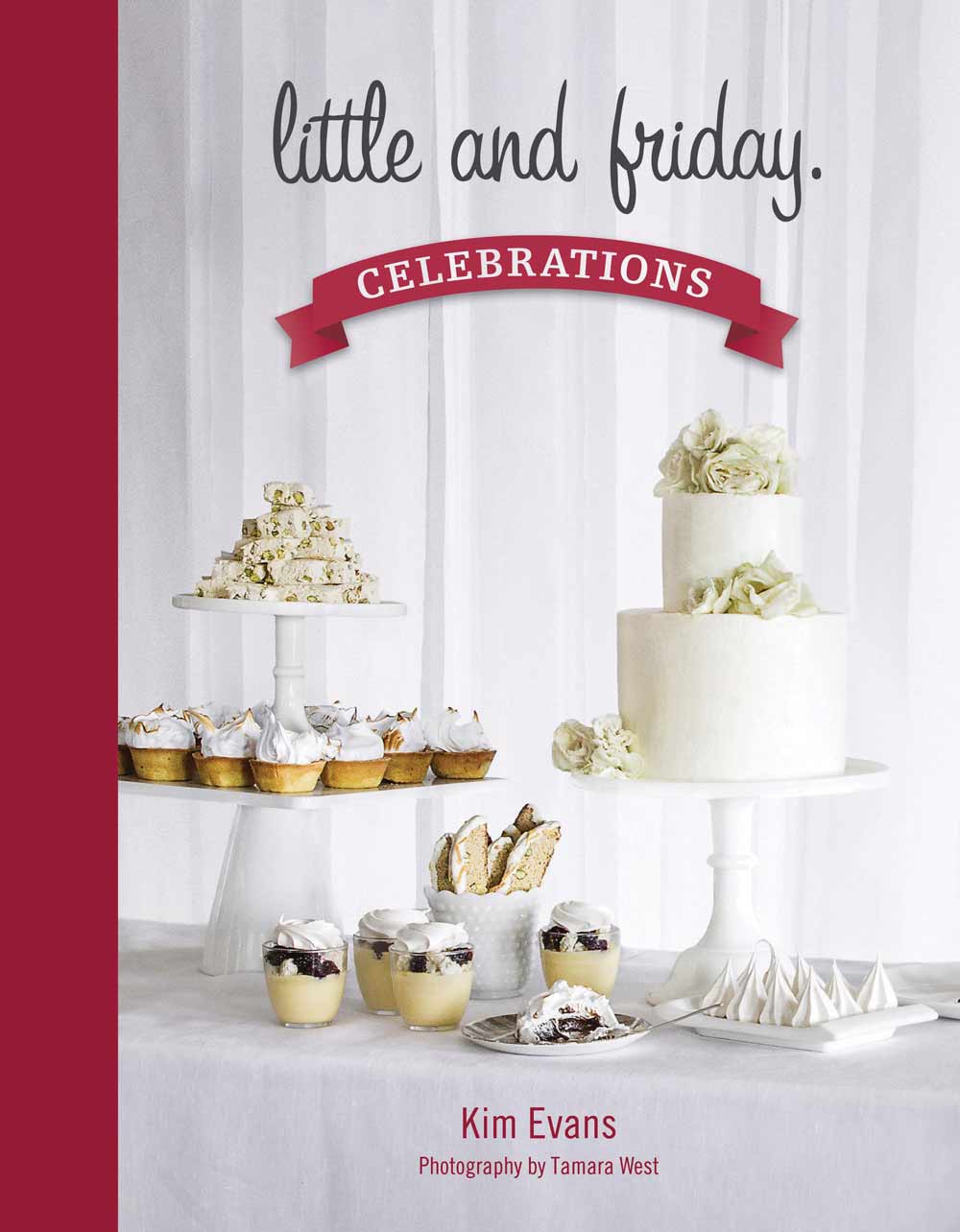 Starting from a little cafe in Belmont, Little & Friday quickly grew a cult following. Renowned for their ultra-fresh ingredients and gourmet style recipes, they have now expanded to include two locations, a dinner menu, a shop and two cookbooks!

To get hold of their cookbooks or to find out more about Little & Friday, just go to littleandfriday.com
---