Energising An entire industry
For people asked what they know about Vector, Auckland's electricity company responsible for getting power to your door and keeping the lights on, many are quick to describe it as the company which looks after the poles and wires spread throughout our country's biggest city.
And they'd be right – as the organisation in charge of moving power throughout the region, one of Vector's main responsibilities is ensuring the resilience and reliability of power supply to homes and businesses.
But the avenues available to Vector to do that stretch beyond just 'poles and wires'. As the energy industry is disrupted by technology and the effects of climate change makes itself known, the impetus is on the company to look to developing sustainable technologies that help them keep the city's power on – whether that be through solar power, powering a home from an electric car, energy trading and sharing opportunities made possible with energy storage batteries, blockchain trials linked to its network's transformers, or other energy technology.
Vector's presence in the technology and digital sector is growing, and so too are the opportunities available to effect change in an industry ripe for disruption as it prepares for the new energy future.
We spoke to one of Vector's digital business leaders – Belinda Langley, General Manager of Enterprise IT – about what it's like to work as a female leader in the energy and digital sector.
Can you share with us what it is that you do at Vector, and what a typical day is like for you?
My role can be varied depending on the day and business priorities. My team looks after day-to-day operations for all the underlying technology platforms here at Vector. Whether it's the provision of productivity tools for staff to ensure they have what they need to succeed at work, to providing application services to various parts of the business like network operations or customer resolutions. We also review and manage the status of those systems, where the business is at with current issues or projects, what challenges might we face today, and how can I help mitigate those risks.
Add on top of that my role in working with our vendors, road mapping our services so we can better understand where we need to innovate, upgrade, and improve to support the business. It's hectic, with a lot of balls up in the air at once – but I wouldn't have it another way.
I imagine there's a lot of strategy and forward-looking planning, especially around how technology trends might make themselves known in your work and Vector's.
Absolutely. One of Vector's biggest goals is to help build the new energy future, which is inspiring and aspirational. A lot of time goes into collaborating with the business on how we can support them to achieve strategies like that.
In any digital or tech role these days, you need to apply a learning mentality to everything to keep yourself up to date with technologies and trends out in the market but also how those things are influencing the talent we are constantly on the lookout for to enhance our capability.
The other part is around understanding how you can stretch yourself and grow within the context of your role and the business and the industry. There is no shortage of opportunities here at Vector to get involved in projects outside your immediate remit, projects that are strategic and forward thinking and whose outcomes will impact the company's overall direction. That is pretty exciting to me.
Did you always know that working in technology was what you wanted to do?
No (laughs). I started my career in Fast Moving Consumer Goods, then I did my OE like most Kiwis and landed in Europe, where I moved into a role in a Project Management Office working on what would happen during Y2K!
From that I was hooked, and when I came back I've been working in IT and digital since. I started my career predominately in service-management and operational type roles and even today, that's the bent that I take to all my roles in digital and tech – I always think about what the best ways are to serve the business and the team that I lead.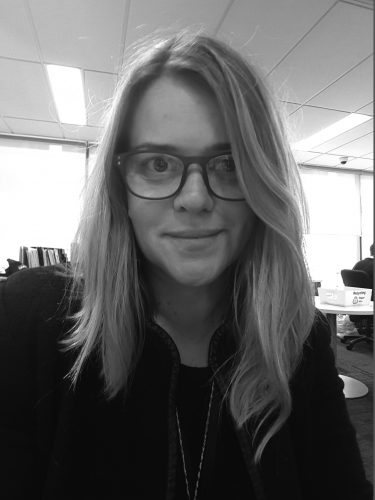 Did you find working in digital was more of a cultural fit for you then?
Having that approach to how I work, yes that's a personality trait. I'm conscientious and a problem solver by nature. For me, it's about how IT can best enable or support the business and our people to just crack on and do the best work they can do.
How did you find the shift to working in digital and technology and the different ways of working?
All of my roles in my career have morphed into people management roles, and as I have honed my skills, I've moved into leadership positions. It was less about needing a deep-dive in technology in order to understand it, and more about understanding the business and getting people together to solve problems or deliver better services.
To do that successfully, you need to understand the business, and why technology is important to help the business achieves its outcomes. While my background is not deeply technical, I've learnt on the job and after 20 years, I have become more technically au fait. So long as you come at your role with a willingness to learn, and to accept when you don't understand something but then actually make the effort to grow and enable those around you to do theirs, you can achieve a lot and deliver value.
How do you reconcile a traditional industry like energy with the fast pace of digital?
It's a cultural thing. Digital and IT can be as slow- or fast-moving as the business that it represents, so it truly matters whether the business's heart is in it and whether it's committed to looking at new ways of doing things.
Digital and technology at Vector is very different today than it was several years ago, and that's because Vector has made that commitment to providing Aucklanders what they need in the new energy future – which is undoubtedly going to be mixed up with digital and tech. So, digital and technology at Vector has had to speed up and develop to be able to meet those business needs for the future.
I find it exciting that my job isn't purely about producing digital or tech products – it's mixed in with the needs for a changing industry that's coming to terms with what it will look like in the future. All possibilities are up for discovery, debate, and development, and as we move into that space as a leader in the energy industry, we must be mindful of all the challenges that come with it.
There's a senior cyber security role being advertised now to help lead Vector forward which is super exciting, and shows the commitment Vector must a secure digital and tech future.
The way a woman's gender has affected the way people perceive or treat them is well examined within the tech industry. Do you think that's valid?
I think many women have had moments like that in their career, regardless of the sector they work in. I can honestly say those occasions are becoming less and less frequent. When those moments occur, being able to even just identify it and put a label on it allows me to deal with it.
It's about considering your options – to nip in the bud there and then, or avoid a knee-jerk reaction and address the issue at a better time – which are so dependent on the situation, and happen across any industry. For me personally, I am a fairly open and honest person who tells it like it is, which I think has served me well – most of the time!
Vector does a lot to support women and help them grow their careers. I have been very lucky to have been a cohort in Vector's first Woman in Leadership programme, where female leaders (and those with leadership potential) across the business work in project teams to solve real business problems. That experience is a very powerful thing.
Being part of Vector's digital team is about capability and collaboration, and not gender. Embracing diversity is also an important part of working for Vector. Diversity of thought is hugely important, and you don't find that in every workplace.
What advice would you give to a woman considering a career in the tech industry? What do you wish you had known?
That a career in digital is not beyond your reach. I've noticed a change in more young woman making their way through the ranks, but on the flip side I'd say that just because you don't come from a technical background or qualification, that doesn't mean there isn't a role for you in technology. Don't disregard it as a career path. There are roles that aren't necessarily deeply technical but which have their place in the technology industry, like delivery and management.
If you find the right organisation to work for, you'll have plenty of opportunities to upskill and grow and work in areas you might never have considered. Working in technology and digital opens those doors for you like you wouldn't believe. My one piece of advice is don't turn down an opportunity because you think you aren't qualified enough or haven't done all aspects of the role before. You will surprise yourself. Go for it!
For more information about Vector, and details about roles in digital that are available now, visit www.vector.co.nz/womenleadership
You'll also like: