Feeling Eco-Fantastic
Founded in 1993 by Malcolm and Melanie Rands, Ecostore has fast become a highlight in New Zealand's eco-conscious community. The idea of Ecostore was formed when the Rands were living in an ecovillage in Northland and by 1997 they had opened their first pop-up store in Auckland and have since become a much-loved brand, both here and overseas. As a sustainable brand that places a high value on safety, their products are designed to ensure they are not harmful to users or the environment and they use the Environmental Working Group Cosmetic Database to ensure the safety of every ingredient.
Ecostore's Rose and Geranium Body Wash is the result of that love and care. The body wash is designed to cleanse and nourish, without erasing natural oils that the body produces. Containing plant-based ingredients, such as hydrating harakeke (NZ flax), the body wash helps naturally keep your skin in tip-top shape. To up the sustainability factor even further, Ecostore use plastic bottles that are made from sugar that is renewable, recyclable and removes carbon from the atmosphere. In fact, since 2014, Ecostore have saved 4,485 tonnes of carbon from being released into our environment.
After being named as the most authentic brand in New Zealand, it's hard not to go past a brand that keeps it sustainable and natural.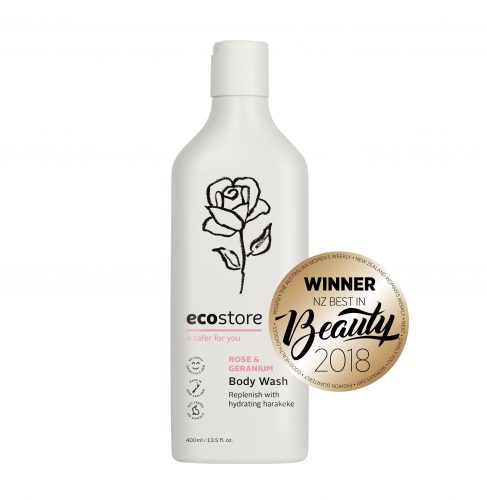 You'll also like: