Make This Delicious Lemon 'Licious Poppyseed Cake
When life gives you lemons, don't make lemonade – make this cake. It's gluten-free and mouth-wateringly good.
Photography by Aimee Finlay-Magne
Ingredients
2 lemons
2 cups ground raw almonds
2 cups coconut sugar (or use white sugar if you want the cake to look more of a pretty yellow colour rather than a browner colour – your choice)
2 tsp baking powder
2 tbsp poppyseeds (optional)
5 eggs
OPTIONAL TOPPINGS:
1 lemon
2 oranges
maple syrup
Preheat the oven to 160°C. Put baking paper in a round tin and spray with oil.
Place the lemons in water in a pan on the stove and pop a lid on the top. Boil for 30 minutes, until they are soft. Drain and put to the side to cool. In a bowl, place the almonds, sugar, baking powder and poppyseeds (if you want the latter ingredient). Now leave this to the side.
Remove the pips from the cooled lemons and then put the lemons in a blender and blitz until a smooth consistency. Put the cooled smooth lemon mixture in with the dry ingredients and then mix in the eggs. Pour the mixture into the cake tin and bake for 75 minutes (depending on the shape/depth of your tin – so remember to keep an eye on it in the oven).
I eat this cake as is or add some yoghurt or whipped cream on the side. An optional topping that looks pretty neat is this idea: thinly slice an orange and lemon and put them on a lined oven tray. Drizzle maple syrup on top of these to glaze. Bake at 160°C for about half an hour to dry them out. Once done, I put them on the cake and then drizzle maple syrup on top.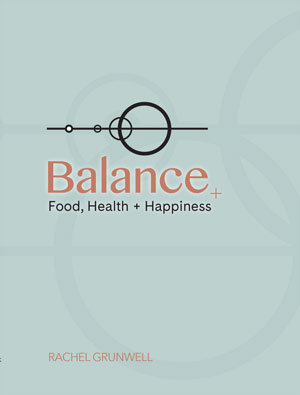 Recipe extracted from Balance: Food, Health + Happiness by Rachel Grunwell. Beatnik Publishing. RRP $40. beatnikshop.com
You'll also like: