Often referred to as the elixir of the gods and quite possibly the magic potion from Gaul that often appeared in Asterix comics, Champagne has long been the celebratory drink for all occasions. To a large part, the wine makers use predominantly Pinot Noir grapes mainly from the Champagne region mixed with Chablis from the Grande Crus of Chablis region of France. To be called a Champagne it must be produced in the Champagne region. Here is our selection for the festive season.
Champagne Bollinger – La Grande Année 2007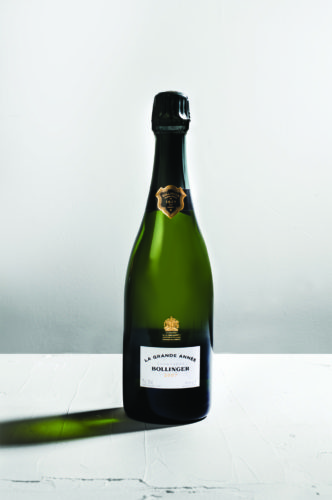 "I drink Champagne when I'm happy and when I'm sad. Sometimes I drink it when I'm alone. When I have company I consider it obligatory. I trifle with it if I'm not hungry and drink it when I am. Otherwise, I never touch it – unless I'm thirsty." – Madame Lily Bollinger (Head of the House of Bollinger until 1971). Harvesting at Bollinger for the 2007 vintage was one of the earliest of record, similar only to the harvests of 2003, 1947 and 1893, so this is an exceptionally rare vintage. Made from 70% Pinot Noir grapes and 30% Chardonnay solely from the Grands and Premier Crus (translation 'the best growing areas'), this is Bollinger's interpretation of this exceptional year.
La Grande Année is Bollinger's prestige blend, produced only when the harvest reaches perfect balance. It was Maison Bollinger that created the Charter of Ethic and Quality for Champagne, thereby making it very clear there are Champagnes and then there is Bollinger. "There is no limit to quality" Christian Bizot – nephew of Madame Lily Bollinger – once said. Tasting a bottle of the La Grande Année will produce an exceptional experience for any wine connoisseur, but this particular vintage excels above most – certainly more than you could get your hands on today.
Tasting Notes: First impression is the aroma of fresh almonds, then yellow-flesh fruit aromas evoking peach and mango; toasted notes accompanied with dried citrus and pink grapefruit. On the palate you'll experience a lovely aromatic fullness with honey flavours and a smooth chalky texture; candied lemon notes and a delicious bitterness, a wonderfully refreshing finish.
Enjoy with: The ideal food match for this exceptional Champagne would be foie gras fresh or pan-fried, grilled fish with or without sauce, lobster, roast lamb, veal, parmesan or comté.
Dom Pérignon Vintage 2009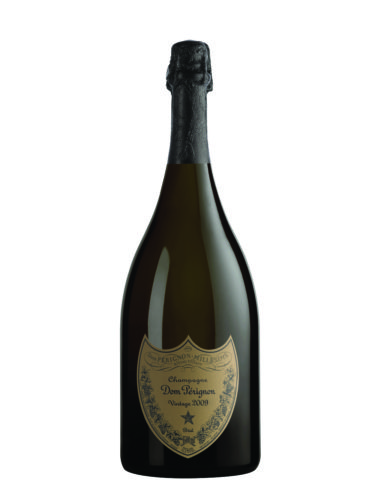 Dom Pérignon was a benedictine monk that around 1670 pioneered a lot of the Champagne making techniques of today. Perfecting the art of producing clear white wine from black grapes was one of these, Dom Pérignon was aiming to produce a clear white wine from black grapes, but often creating bubbles which he saw as a failing in his production.
Fortunately the courts of France and England disagreed, this spawned the resulting Champagne industry. Today Don Pérignon is produced by Moët and Chandon and is always a Vintage Champagne with a reputation for excellence, and maintains a position of prestige with vintage Dom being highly sort after by billionaires and royalty, achieving incredible prices at wine auctions worldwide. The 2009 didn't start out well, as a harsh winter and a wet spring made flowering difficult. Storms in July raised fears for the health of the grapes, but August brought perfect weather, uninterrupted and dry right up until harvest creating an exceptional vintage – magnificent fruit, flawless and healthy.
Tasting Notes: The result is a Champagne with aromas of lovely guava, grapefruits and stone fruit followed by woody vanilla undertones.
Enjoy with: The palate is majestic, ripe and fleshy. Perfect with fresh shucked Bluff oysters.
Champagne Bollinger Special Cuvée
You'll notice that Bollinger don't refer to the non-vintage range as non-vintage. By suggestion of their British agents at Mentzendorff in 1911 they started calling this range 'Special Cuvee' ("special" written the English way, without an accent ) since at least half of the wine used is cask fermented. More than a hundred years later, the name of Bollinger's key figure Champagne still symbolises both its expertise and its history.
Blended from 60% Pinot Noir, 25% Chardonnay and 15% Meunier from a majority of reserve wines, part of which have been aged in magnums for 5 to 15 years to produce a golden colour, distinctive of black grape varieties and very fine bubbles. Special Cuvée is perfect shared among friends, for a simple and meaningful moment. It was our choice as premier sponsor of the M2 Man of the Year – what better way to toast success – the champagne we give to the people we love and who love nice things.
Tasting Notes: A beautiful aromatic complexity; ripe fruit and spicy aromas; hints of roasted apples, apple compote and peaches. On the palate it is a subtle combination of structure, length and vivacity with bubbles like velvet.
Enjoy with: Any fish, especially sushi and sashimi. It is also the perfect match for poultry and white meat or a platter with parmesan, and good cured ham.
Moët Imperial Golden Sparkle limited edition bottle
Perfect for the festive celebrations Moët & Chandon introduces the Moët Imperial Golden Sparkle limited edition bottle. Putting a bottle of this on the table you are sure to impress – the shimmering golden hues and delicately textured effects on are a real showstopper. Loads of bling make it the perfect gift and the perfect celebratory drink when you want to make it outstanding. The highly festive bottle features Moët Imperial, Moët & Chandon's iconic champagne.
Toast to the end of another great year with the Moët Imperial Golden Sparkle. Buy one for your boss, your in-laws or a good friend this Christmas – then buy one for yourself, so you can pop it open when the festive mood strikes you. For Moët & Chandon, success is a matter of style.
Tasting Notes: It is a sparkling bouquet, with vibrant, citrus intensity complimented with a fresheness.
Enjoy with: Seared Scallops with pink grapefruit-brown butter Sauce.
Moët Ice Impérial
Moët Ice Impérial, is the first champagne especially designed to be enjoyed over ice and is set to be the drink of summer. Moët Ice embodies the freedom and beauty of a summer party that combines friends, fun and sun. The Moët Ice Summer Sessions mark the season of celebration and champagne and will be held this summer for the public to enjoy great music and sunshine over a goblet of champagne on ice in the heart of Auckland's vibrant viaduct. Taking place at HeadQuarters they will include live DJ sets as well as a curated Moët Ice Impérial cocktail list.
As the first champagne designed especially to be enjoyed over ice, Moët Ice Impérial embodies the freedom and beauty of a Summer party that combines friends, fun and sun When you drink Moet Ice try freezing some cucumber or strawberries in your ice cubes, but be sure to add the ice cubes after you pour the drink rather than adding the champagne to the ice cubes – you'll get more bubbles that way. This is the perfect drink for a hot summer day – not too dry and very easy to drink!
Tasting Notes: It is an intense, fruity bouquet with the aroma of tropical fruits, and notes of raspberry.
Enjoy with: Seared Tuna on Mango salsa.
Mills Reef RESERVE non vintage Méthode Traditionelle
Mills Reef produce some outstanding Chardonnays and with this particular Methode they have used 3 different Pinot Grapes blended with their Chardonnay – Pinot Noir, Pinot Meunier, Pinot Bactobel Crafted in the traditional way from grapes grown in the Hawkes Bay area. A refined sparkling wine that was made in the time-honoured 'methode traditionelle' style, exuding a delightful array of fresh peach, vanilla biscuit, granny smith apple and citrus aromas.
Tasting Notes: The palate is wonderfully creamy with fresh acidity and delicate fruit sweetness of citrus, apple, and marmalade flavours, intertwined with a fine mousse and delicious breadiness, culminating in a satisfyingly persistent off-dry honeyed finish.
Enjoy with: This champagne would be the perfect compliment to a creamy cheese like brie.
Nautilus Cuvée Marlborough BRUT NV
As with some of the earlier French Champagnes this outstanding Cuvée is made from 70% Pinot Noir and 30% Chardonnay grapes grown in the Marlborough region from three separate vineyard sites, The sites are managed to produce fruit for Nautilus Cuvée Marlborough BRUT NV, giving them a range of flavour influences. Pale straw in colour with a fine bead and creamy mousse.
Tasting Notes: The wine has a distinctive nutty bouquet, which shows the richness of a Pinot Noir dominant blend and the benefits of extended maturation. An elegant finely structured wine in which the fruit flavours harmonise with biscuity, yeast derived complexities and crisp acidity to give a lingering dry finish.
Enjoy with: Try with delicious fresh oysters or parmesan wafers.
Grant Burge Méthode Traditionelle Brut Non Vintage
Grant Burge is a 5th Generation winemaker from the Barossa Valley. The wine making obsession began back in 1855 when John Burge emigrated from England and his son Meshash started winemaking 10 years later. That preoccupation with winemaking continues today with Grant Burge. While Grant produces quite a few award winning wines for high profile wineries, it wasn't until 1988 that he and his wife established Grant Burge winery. Grant personally oversees all aspects of the winemaking process to ensure the highest quality across a superlative range of wines.
Tasting Notes: Using Pinot Noir and Chardonnay grapes Grant Burge has produced a sophisticated sparkling wine in this brut, with ripe peach, strawberry and citrus notes combined with nutty, biscuity nuances. The mouthfeel is creamy and textured.
Enjoy with: A delightful sparkling wine that is great on its own or with smoked salmon and caviar.