Sarah Walker is a New Zealand woman who pushes herself to her limit at every given chance, and encourages us to get back up and never give up trying. She has stayed strong when facing adversity and found her place as a woman in a male-dominated arena. We sought inspiration from Walker and we also spoke to her about how Samsung's new smartwatch, the Gear S3 Frontier, helps to keep her mind and body healthy, and manage her hectic schedule.
Walker had only just arrived back in the country a few days earlier when we caught up with her, having spent the past few days overseas on official business with the International Olympic Committee (IOC). But now she was back into what has made her a household name, racing around the North Harbour BMX track that she had spent so much time training on in the past. Needless to say, Walker is a busy woman both on the track and off, as she travels all over the world with the IOC and BMX events, trains for the next big event, makes changes to the future of the Olympic games and designs houses. As a Gen Y, Walker has a penchant for technology and all of the ways in which it can encourage her to live her best life – not to mention improve her time.
It was this passion for pushing the limits that made Walker an ideal candidate for Samsung's newest smartwatch – the Gear S3 Frontier – which is New Zealand's first smartwatch to work without needing your phone at arm's reach. "Just figuring out ways that technology can make our lives easier, I think that's what everyone likes technology for," Walker says.
Never Miss a Moment
With so many commitments, keeping organised is imperative and Walker admits the Gear S3 Frontier is probably most handy (no pun intended) for staying on top of things. "It is pretty much a phone by itself. I [often] use it for my calendar, so I can see what I have coming up that day [or that] week. So that's really helpful to keep on top of things." Whether she is in a meeting or has left her phone in another room on silent, Walker can take phone calls from her watch, which is another feature she admits has been useful, especially when travelling or being in a lengthy IOC meeting.
The convenience of this watch is endless, and Walker highlights simple things like being able to put your phone on charge while still having an alarm. "When you're at a hotel, there's not always a plug right next to the bed. Their plugs are usually over by the desk and unless you have a three-metre cable to charge your phone you, can't always have the phone next to you. So being able to have the alarm on the watch and being able to just use it, and leave the phone away from the bed – that's quite nice as well." The watch features its very own eSim and data connection, which means you can use the watch without needing your phone in your possession – and it is this feature that opens up even more possibilities.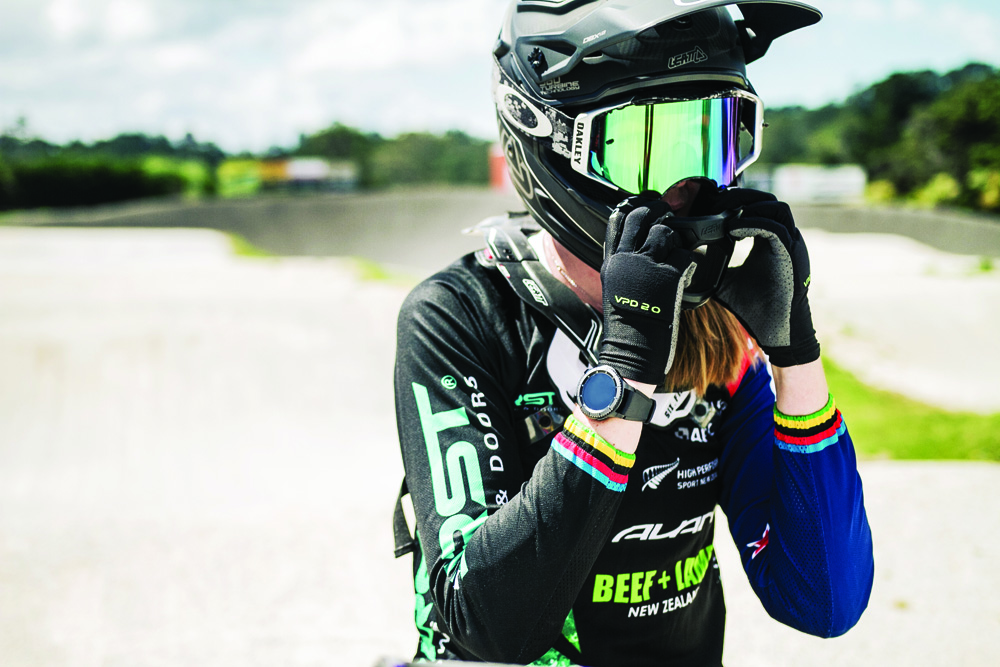 As technology advances, we can become more and more reliant on it and the ways in which it can help what could be said to be an an increasingly time-poor society. Take Walker for example, she is a woman trying to balance countless responsibilities. Like many of us, Walker admits she is still searching. "I think balance is probably one of the hardest things to really find. Especially with technology and everything moving so quickly. I've got training and then I've got IOC stuff. I also enjoy designing houses. There are all these things you want to fit into a day, and for me, it's prioritising what's the most important. I think it's important to prioritise all those different areas in your life and what the most important thing is to do that day – and sometimes, the most important thing to do that day is nothing."
It can be said we are a society obsessed with having instant gratification and connection because we have become accustomed to this with the technology on offer. What the Gear S3 Frontier offers is the ability to shut yourself off from the distractions of the internet and the endless hours spent scrolling through Facebook or reading the news, without leaving us disconnected.
"I find when I just have my phone on its own, you kind of pick it up and glance at the time, or you pick it up and check your messages or go through Facebook. And I find that having the watch kind of stops me from getting distracted at times when I need to be focused on things. When I need to concentrate, I can just put my phone away, and if a text or a phone call comes through that I need to get back to, I've still got access to that."
While for some individuals, not having their phone on them may instill a feeling of dread, Walker admits it wasn't so much of a challenge for her. She admits she enjoyed testing out not having her phone on her but still being connected. "Being able to test out this watch and figure out – are there places in my life where I can leave my phone behind, or not rely on my phone so much? I wanted to see if I could leave my phone at home and not use my phone.
I think that's really important to just remove yourself from that screen all the time. So being able to have the watch and know people can still get in touch with me, that's kind of middle ground." Testing her limits and trying new things is what ensures Walker is constantly at the top of her game and being able to use the watch's S Health App, stopwatch and heart-rate monitor features enables her to push herself that bit further.
The watch also benefits Walker as it is designed for the elements, which means she doesn't need to be concerned that the watch is going to be damaged when she is on the track."It's really nice to know that when I'm training, I don't actually have to worry about my technology getting broken or anything like that. I don't have to be delicate. In a sport like BMX, delicate isn't really a word you'd use to describe us. It's really reassuring to know that I can just chuck it on and – whether it's raining or whether it's dusty or muddy, I can [still] keep track of phone calls and messages." Of course, it is on the track that she gets a lot of use out of the features, such as the stop-watch and the heart rate monitor, which help her continue to push herself to her limit.
Maintaining a fit and healthy lifestyle requires a lot of attention, especially for Walker. All of this can be tracked on her watch, from the amount of water she is drinking, the food she has eaten that day, to the amount of sleep she gets with the S Health App. "Probably the best thing I use this for is tracking my sleep, my rest and my recovery. Because I can train as hard as I can but if I don't recover and I don't rest properly, then I'm not able to train as hard as I can the next day. Being able to see how well I'm sleeping, how well I'm responding to training and being able to track my heart rate [is helpful]. [It's all about] being the best that I can be off the bike, so that I can be the best on the bike."
There is more to a healthy lifestyle than just keeping active; it also entails taking time for your mental health and ensuring that you are getting enough rest. "Mental well-being is really important, especially with so much going on, and so many different things to think about. So just having the time to unwind and do nothing and let my brain rest – I think that is really important as well," Walker says. Of course, it can be easy to get carried away with doing nothing but Walker says the watch reminds her to get moving: "There have been a couple of times when the watch has told me I've been doing nothing for too long, and I need to do some stretching. So it's a great reminder to relax but also to not get too comfy for the whole day."
Get Out There
In 2016, Walker faced a significant obstacle on her road to gold as she suffered an injury at the Rio Olympic Games. But her dedication and down-to-earth nature meant she was able to overcome this adversity. "I guess not making the Olympics was really, really hard. You work for years and years for that success and to be able to be there on the day, and to perform your best at the Olympics. It was kind of three-and-a-half years of training, and I didn't make it. So it was definitely hard to deal with but at the same time, I knew that I had given it my absolute best. Sometimes, your best works out but sometimes it doesn't. So it kind of sat fairly well."
In 2017, Walker was given another shot at proving herself, especially to herself, as she made the Women's Elite Final at the BMX World Championships. "Getting on the gate, and making it all the way through to the final was such an amazing feeling. I wasn't on the podium but just to be in that final was this massive feeling of pride because everyone that was in Rio was there. And everyone that was in Rio was on form too. So it was kind of this validation that I was good enough."
After facing disappointment for something she had worked so hard for, Walker admits there were times when she had to push through moments of fear and be courageous enough to deal with it, and give her best performance regardless of it. It is Walker's attitude of giving your absolute best that has helped her continue to strive to improve and it is advice she would share with others.
"When we try our best and we're not good enough, that's usually the hardest thing to deal with. And it's some of the reasons why people don't try their best to start with, so that if they don't succeed, they've got a reason why. They've got an excuse. They've got a back-up to really justify that feeling of not being good enough. But I've found that once you let go of that fear of failing, and just unleash and give it the absolute best that you can – whether you succeed or you fail becomes irrelevant."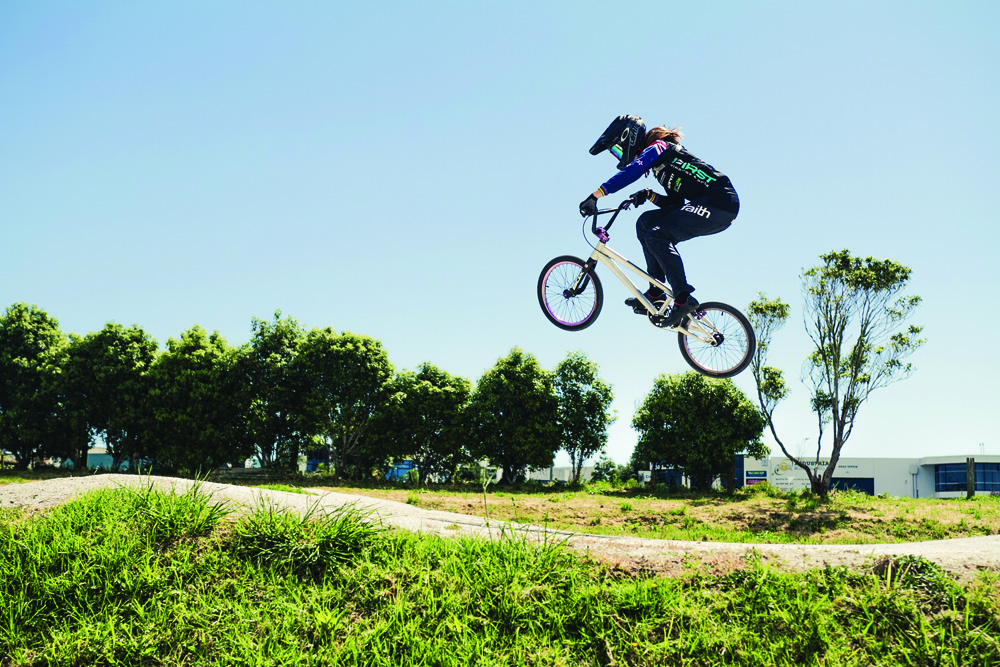 It's (Not Just) a Man's World
Walker is immersed in an arena that is dominated by men but despite this, she admits she has faced little to no discrimination. "There are a lot of times in society when women are discriminated against and sometimes we don't even realise because it's 'normal'. I was thinking, 'has there been any times where I've not noticed that discrimination just because we're more immune to it?' But I couldn't think of any. So I guess that's a good thing. In my experience in a male-dominated area I've not been held back, I've been encouraged to do what I want to do within whatever area [I choose], so I've never felt held back. There are not many girls who do BMX, so it's really cool when a girl comes along and is doing jumps and riding with the guys, and just having a good time riding bikes."
Walker entered BMX when she was just ten years old, and says it stemmed from watching her younger brother and thinking, there was no way her younger brother was going to be better than her. "I've always thought that if he can do something, then so can I. And I guess that really encouraged that thought of, 'Well, why can't we do it?'"
It's this attitude: the 'why can't we do it?' that makes Walker an inspiring woman. She has become a New Zealander whom people look up to because of this attitude, whether in sporting or not. Her accessibility makes her similar to the women she looks up to, like Sarah Ulma, Lisa Carrington, Sophie Pascoe and Eliza McCartney. "I think in New Zealand, we're really lucky to have very inspirational women. They're all accessible. I remember growing up, looking up to Sarah Ulma, and thinking how amazing she was. She was someone who came to my school and I was able to interact with her and learn from her."
2017 has been a busy year for Walker and 2018 looks to follow suit as she continues to push her limits, both on and off the track. "I really want to try and get my life balance to be as good as possible [in 2018], and so I'm still figuring out the finer tuning of it. But I feel like I'm on the right track – which is exciting. I really want to see if I can get faster and stronger than I've ever been, and then see what that looks like in terms of results. I know that I can still get faster, I know that I can still get stronger. And I still love riding my bike, so I want to see what kind of outcome that will produce." With the passion that Walker has for biking and the Olympics, there's a world of possibilities out there for her to experience.