Whether you are a beauty devotee or simply enjoy dabbling in the latest beauty products, do you take the time to consider what the products you use are really comprised of?
Unfortunately animal testing and animal derived ingredients dominate the beauty market, particularly when it comes to bargain brands.
Here are some ways you can up-date your beauty regime, with plant-based, natural products that actually do what they promise!
1. Look for the UK Vegetarian Society seal of approval.

The UK Vegetarian Society is the oldest vegetarian organisation in the world, which audits brands and approves their vegetarian status. This approval means vegetarians or individuals opposed to animal testing of beauty products have confidence that their products are never tested on animals and there is no cross-contamination during the production process.
2. Start small.
Reinventing your beauty bag can take a while, not to mention a lot of money. So why not start small, something for your face, eyes and lips. Then grow your collection as you can.
3. Look for brands with recyclable packaging.
Packaging of products is a huge buying point, particularly when you are looking to become more conscious. Look for brands with fully recyclable bottles and aluminum tubes, and 100% biodegradable card from sustainable forests, like Antipodes.
4. Shop Antipodes. 
Antipodes says no to animal testing, genetically modified (GM) or genetically engineered (GE) ingredients and synthetic fillers or silicon derived ingredients. But, they do not sacrifice results. Ingredients like Kiwifruit seed oil, dramatically helps to maintain moisture in the skin without covering your skin in chemicals or skin irritants. The brand is also donating NZD$60,000 to World Wide Fund for Nature New Zealand from the sales of their Chia and Kiwi Seed Superfood Serum. What's more, the brand covers all your needs with make up and skincare and it will not break the bank!
There is no better time than the start of a new season to cull your beauty products and re-stock the essentials with cruelty free, certified organic products.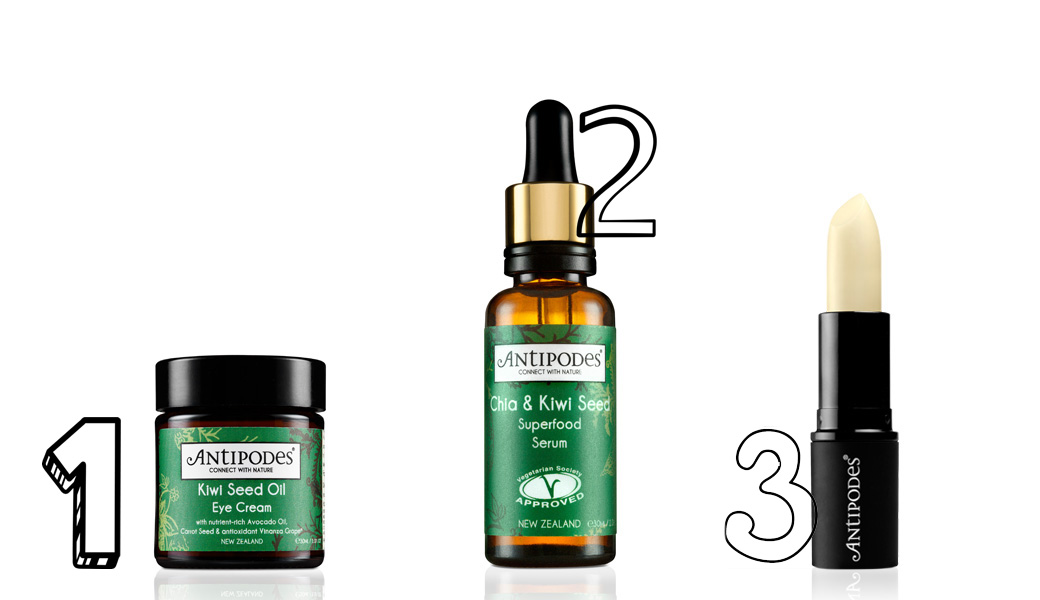 1. Kiwi Seed Oil Eye cream
2. Chia and Kiwi Seed Oil super food serum. 
3. Kiwi Seed Oil lip conditioner.