A new, dark, psychological horror-thriller film is on our radar with all-round actress, Jennifer Lawrence, taking front and centre in Mother!. We are given a glimpse of a side to Lawrence that we haven't experienced before. A side that isn't a blue mutant, a beloved sister fighting for survival or a divorced-mother building a dynasty. Mother!  is based on the tale of a couple, who's relationship is tested when uninvited guests arrive at their home. As a result, their tranquil existence is disrupted.
The film has a star-studded cast, with Jennifer Lawrence and Javier Bardem taking the lead and Michelle Pfeiffer, Domnhall Gleeson, Ed Harris and Kristen Wigg joining them on the big screen. The man behind the magic is director and producer Darren Aronofsky, who received an Academy Award nomination for best director of Black Swan. It is no surprise then that a source has described the  film as being similar to the 'psycho-horror', Black Swan, that won Natalie Portman an Oscar.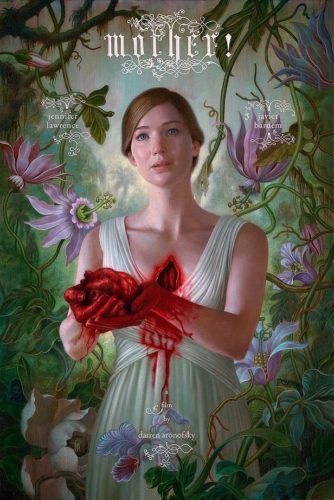 Details on the film are few and far between at this moment in time, and this poster does little to answer any questions we have. But, it is certain that J-Law's new film will make us feel a whole range of emotions – fingers crossed it's not disappointment.
The film is set to hit cinemas end of September.