Being an athlete requires a certain set of skills, mental and physical strength, drive and determination, but what happens when that career comes to an end?
Elite athletes spend the majority of their young lives training for their chosen sport. While most of us can spend close to a lifetime working our way up the career ladder, athletes only have a very limited amount of time before they have to retire due to age, injury or exhaustion.
By the time most of us are in our 30's, we mainly already have long-term employment, years of experience and a full CV, but athletes who have spent their teenage years and 20s competing are often coming into the workforce with little or no prior work experience.
During this transition from sportsperson into sports retirement, many athletes are susceptible to depression. An Australian survey published in 2015 found that 27 percent of retired athletes surveyed had experienced depression. So, what can be done to help get athletes back into the workforce?
The IOC Athlete Career Programme
At the 2002 International Olympic Committee (IOC) Forum, one of the major topics of discussion was the difficulty retired athletes were having transitioning into the workforce.
So the IOC contacted a leading international employment company, Adecco, to formulate a strategy that could help elite athletes and Olympians transition into the world of business upon retirement.
By 2005, the Athlete Career Programme had been born. The programme works to prepare Olympians for a life after sports. The New Zealand branch of recruitment agency Adecco runs the programme and helps New Zealand athletes connect with employers upon their retirement from sport.
Ella Gunson is 28 years old and has dedicated her life to field hockey. She's a member of New Zealand's national women's hockey team, the Black Sticks, and has represented New Zealand in both the Commonwealth Games and the 2012 Summer Olympics. While she is still playing hockey, she decided it was time to get into the workforce in preparation for her hockey retirement.
Field hockey has been an important part of Gunson's everyday life for as long as she can remember. Her hockey career became serious during her high school years, when she made the New Zealand age group team and played in Whangarei. She then moved to Auckland in order to continue her studies.
"I made the New Zealand team at 19 and I've been studying health and nutrition at university while also playing hockey," Gunson says.
After she finished her degree, she decided it was time to find a job, but it proved difficult to fit around her sporting schedule.
"We [athletes] are pretty inflexible when it comes to hours because we have to spend so much time on our sport. [The Black Sticks] are away playing games a minimum of three to four times a year and it's usually for two weeks at a time."
In fact, Gunson is just about to head off to Argentina with the Black Sticks to play five games.
"There are also all of the extra commitments that come with playing professional sport, [for example] spending time in the gym and having weekly physio appointments and these can often cut into work time."
Gunson did realise, however, that getting a job was essential so that she would have something to fall back on when her hockey career finishes. So last year, after talking with her team's life advisor Karen, it was suggested she make an appointment with someone at the Adecco head office.
"I went to Adecco and the woman I saw, Tracey, ended up saying they needed help in their West Auckland branch and were looking for an Adecco Resource Consultant."
Gunson jumped at the offer and now spends her days helping clients who are looking for workers to get in touch with the right person. "Adecco is very flexible with my hockey schedule. It's been really great," Gunson says.
Since working at Adecco Gunson has had the opportunity to connect with a lot of people outside of the sports world. Most of her clients are involved with industrial and construction industries. Gunson says she enjoys meeting so many different people and it's an interesting change from her sporting career.
"Before I was offered a job at Adecco, I had never even thought about working in recruitment – it's opened up another door for me after hockey."
Athletes In The Workforce
Gunson believes one of the main reasons athletes find it so hard to find work is because of their lifestyle. To get a job after retirement, you often need previous work experience and this is something many athletes lack.
"Working while still having a sporting career at the same time is hard. You have to find an employer that is flexible – working and training at the same time does leave you feeling knackered by the end of the day, but it's worth it."
Mainly it comes down to the fact that professional athletes are often left behind in terms of professional development. However, there are certain skills athletes can bring to a workplace that others can't, and Adecco aims to highlight and utilise these traits.
During her sporting career, Gunson believes she has picked up a lot of skills involving socialisation and teamwork that can be used in the workplace. "When you're playing sport, you're constantly socialising with people and communicating with your team – you learn how to work well together."
Managing director of Adecco Group New Zealand, Mike Davies, agrees that many of the skills athletes have, can make them attractive to employers. "Athletes know how to succeed independently, but they [also] know the importance of being a team player," he says.
For many athletes, the transition from the fast-paced life and rigorous training of professional sports to being unable to find work can cause a feeling of loss of identity.
Athletes spend the majority of their young lives being associated with the 'athlete identity'. An elite athlete's career is often played out in the media spotlight and their personal success can be ranked through training, competition and results. To go from being idolised by fans and surrounded by team mates to finding a job in a completely different field can make athletes feel very isolated.
The amount of time spent on their sport can often make the individual feel as though they have no identity outside of it. This is one of the reasons why finding a job or career path before retiring from sport can be helpful as it can make the transition easier. Since the Athlete Career Programme takes this into consideration, Adecco can help athletes like Gunson find a workplace and employer that is willing to allow some flexibility when it comes to hours worked and leave taken.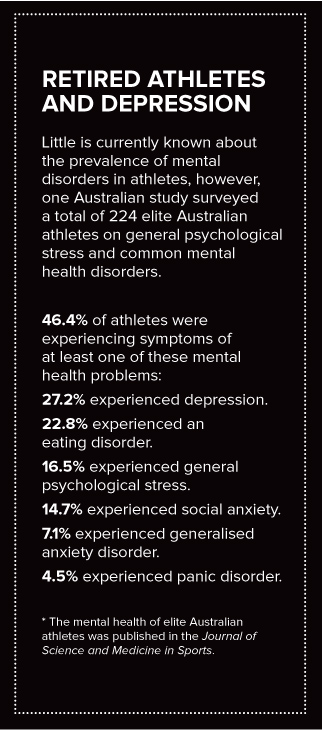 The Next Step
Adecco's Athlete Career Programme helps athletes to understand what assets they possess, figure out their career goals and get them into a job or internship. The programme is based on three pillars – education, life skills and employment.
Firstly, Adecco helps to figure out where the athletes' interests lie and what sort of career path would work for them. After this, Adecco helps the athletes get internships or traineeships and job placements.
The Athlete Career Programme has been used in more than 185 countries and has reached over 40,000 elite athletes. While not everyone will be as lucky as Gunson was in finding her own job with Adecco, the programme gives athletes a much better chance at transitioning to retirement with minimal amounts of stress.
Gunson says while she hadn't ever considered working in the recruitment industry before, it has now given her a new career path to consider. The job has taught her how to manage her time better and become more organised, and she describes it as being an enjoyable work environment.
"Working at Adecco is something different every day. I have a lot of interaction with different people and it has opened up so many new experiences."
All of us have bills to pay, families to care for and goals for the future, whether or not we've won a gold medal at the Olympics. The sporting world can be harsh and for every gold medallist who scores an endorsement deal, there are hundreds that don't.
Life after playing professional sport can be a daunting prospect and while it is a massive change of pace for most athletes, the Athlete Career Programme can help to ease the transition from elite athlete to business professional. There is a life after sport and the main key seems to be planning for it.