Living In The Mood Style: Queen Of Hearts
Image from the Soleil Levant Collection by Élitis, available at Seneca.
Transform your home into a luxurious abode fit for royalty. Look to renaissance style furnishings, deep berry tones and jade greens for a dose of grandeur while stylized florals and a few tongue-in-cheek accessories keep the style modern and playful.
Style Tip
Avoid being too literal and pick between statement wallpaper and statement accessories.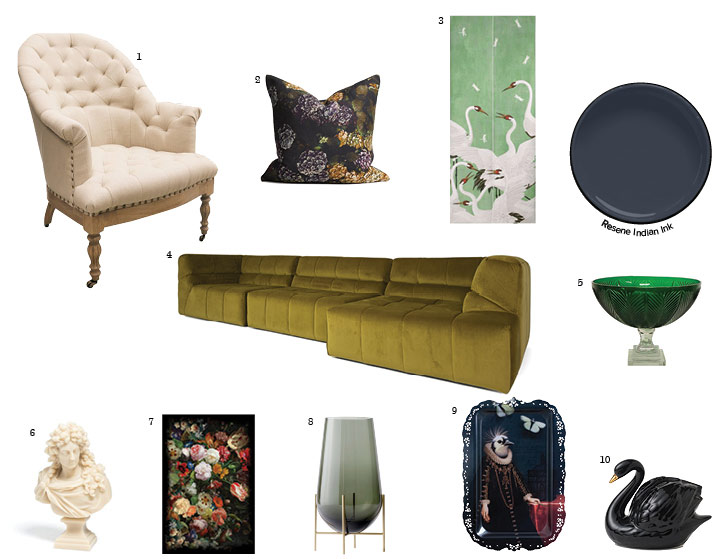 1. Armchair $1746 from Leopold Hall. 2. Cushion from Thread Design. 3. Wallpaper from $590 from Gucci. 4. Sofa $6514 from Forma. 5. Glass Bowl $349 from French Country Collections. 6. Candle by Cire Trudon $399 from World Beauty. 7. Rug by Moooi from $4235 from ECC. 8. Vase by Menu $745 from Simon James Concept Store. 9. Tray by iBride $199 from Corso De' Fiori. 10. Swan Figurine $145 by Kate Sylvester.
You'll also like:
BECOME AN M2WOMAN SUBSCRIBER FOR JUST $1.99 PER MONTH
We hope you enjoyed this complimentary M2woman article made available thanks to our channel sponsor. Become an M2woman subscriber for just $1.99 a month and gain instant access to our entire library of NZ-made content on beauty, health, style, design, technology, entertainment and more.
Subscribe now