A Journey to Diversity
You may have heard of our M2woman Journey to Excellence Live Forums; an immersive event where a panel of successful women in business talk about the issues and solutions to achieving diversity in the workplace. Currently up to its fifth series, our June panel promises to be another inspiring and informative event with practical steps discussed to take home and implement into your own workplace. Following the panel discussion is a networking hour where attendees will have the opportunity to discuss themes with other like-minded people from a broad range of industries. If you are interested in attending with your colleagues or clients, visit journey-to-excellence.co.nz for more details.
Minimalist Mondays
After a busy first few months of the year, it's time to reorganise our desks for a fresh start. With the minimalist movement sweeping households and offices in recent months, kikki.K have released their Everyday Essentials collection, a range of stationery with form and function at the forefront. Designed to help keep your workspace chaos- and clutter-free, the collection of clean lines and simple designs includes A4 Weekly Planner Pads, A5 Bonded Leather Journals, push pins, scissors and rulers – all designed to be mixed and matched. With calming colours and stylish design, reworking your working life may just be the change you need.
Hear Me Roar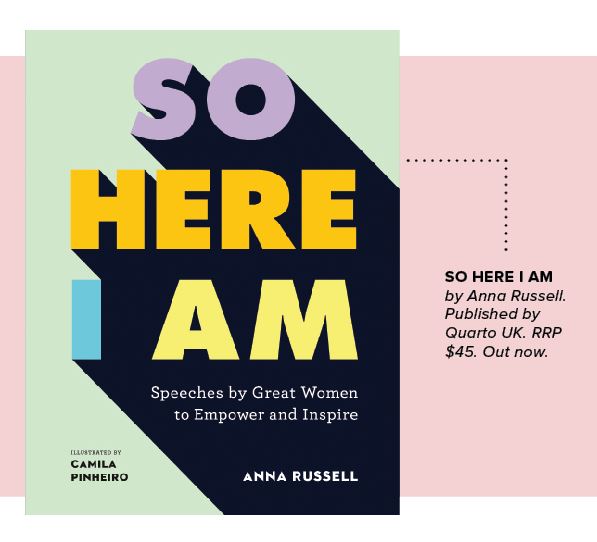 Speeches are known to inspire, motivate and empower its listeners, however, how many of the world's most well-known speeches are from women? Author Anna Russell encountered this question as she was researching for her book, So Here I Am, a collection of great speeches from some of history's most iconic women. Once she dug a little deeper from the usual books featuring speeches from mainly males, she found a bevvy of inspiring and powerful works from a wide array of women from around the world. The resulting book is testament to powerful women with engaging, inspiring and unapologetic speeches from the female trailblazers of history including Marie Curie, Ruth Bader Ginsberg and Michelle Obama. If you ever need a reminder of what we as women are a capable of, this book is here to inspire.