The Bay of Islands is a place which holds itself dear to many New Zealanders; lingering shots of turquoise waters lure anglers, divers and tourists a like, but it is the undiscovered bays, islands and beaches that are the real heroes in this slice of paradise.
Oke Bay is one of these. Possibly one of the best beaches in all of New Zealand, the crystal clear water sees often pods of dolphins seeking shelter from the large swells that can build around the rugged coast of Cape Brett.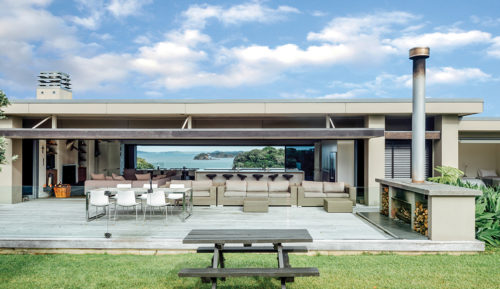 Oke Beach House, located three-and-a-half hours north of Auckland or 45 minutes from Russell, is a six-bedroom, five-bathroom architecturally designed home perched overlooking Oke and Hauai Bay. Perfectly positioned to capture the all-day views and never-ending sunshine, the house itself can accommodate four families and for us, the house was the perfect solution to bringing the entire family together to celebrate a milestone birthday.
Arriving at the house up the long, steep driveway, you can't help but feel like you have stepped off the edge of the world and into a haven of simplicity mixed with a luxe, laidback lifestyle; an entertainer's paradise with large areas for entertaining and for all in sundry to have their space to relax, we certainly felt like we had the space to be together without being on top of each other. For those looking for a simple staycation, you can do nothing but laze around on the large plush sofas, enjoying the viewfabulous living areas. And from any place in the house, you are lucky enough to be able to enjoy some incredible vistas looking straight across the sea to Paihia, or on the other side of the house, looking right out to Cape Brett.
But for those of the group looking more energetic, there were a couple of us that headed to the world famous Cape Brett track; the track entrance is only about 500 metres from the front gate of Oke Beach House and if you are after a seriously beautiful walk or run, then this is definitely it. The track itself traverses quite rugged terrain for a lengthy 16 kilometres out to the lighthouse at Cape Brett but around each corner, you are treated to stunning coastal views, dramatic drop-offs and steep inclines, giving you a real satisfaction if you were to complete the entire 32-kilometre round trip and this would take you a decent chunk of time just given the terrain. We decided to halve that and did eight kilometres out and then back to the house just in time to watch a beautiful sunset over the Bay of Islands.
Back at the house and with some healthy appetites to satisfy, some of our group were already busy making the most of the spacious open plan living and serious entertainer's kitchen, which is truly the hub of the house. The two extra large benchtops allow at least three people to be working in the kitchen without constriction, while others got busy prepping the large table to seat 18 of us for dinner. We made the most of the balmy late Autumn weather, opening up one side of the house and lighting the outdoor log fire, and both young and old enjoyed being outside seaside.
As is the common theme of the Oke Beach House, there is an abundance of space. The upper level has four generous bedrooms all complete with ensuites, including full wet wall walk-in showers, and opening onto decking to capture the breathtaking views out across the bay. Waking up to this view, in this house, is something truly special. The lower level, it could be said, is where the house really comes into its own.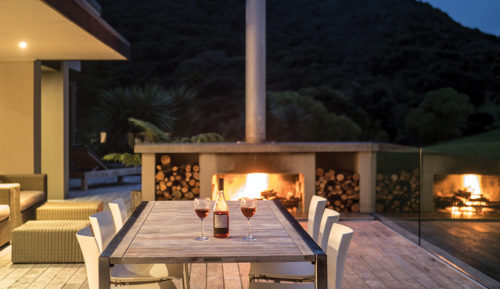 With another living area, large deck , full bathroom, large laundry and two bedrooms equipped with multiple sets of bunks, needless to say the younger members of our group were fully taken care of. Games, books and Netflix were all they needed to really feel like they were on holiday too (and for us parents also!).
Reluctant to leave the luxuries of the house, we did venture out 45 minutes driving to nearby Russell and stopped by one of our favourite Northland eateries, the Duke of Malborough. This iconic old hotel steeped in history can boast that it held New Zealand's first liquor licence, serving patrons since 1827. A wander around Russell feels a bit like a high-school history lesson and was a great interlude in our brief hiatus from Oke Beach House. However, the kids were getting restless, the sun was shining and the beach beckoned, so back we headed to savour our last day and night in paradise, trying to squeeze every last minute out of our holiday in what has to be one of New Zealand's most stunning coastal properties. Oke Beach House was our idea of the perfect family holiday, and being able to spend it in this special part of New Zealand, has created lifelong memories for us all.