Butter Up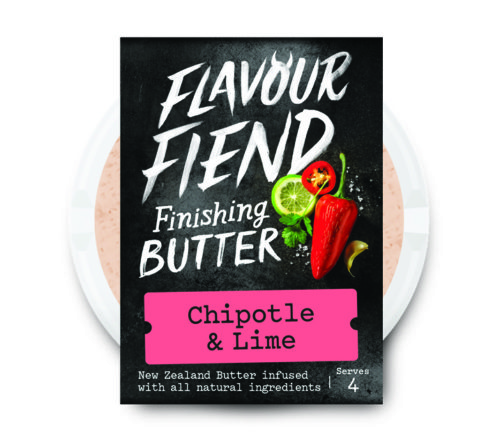 When it comes to summer food, there is one thing many of us look forward to all year – BBQs, think: perfectly cooked steak, fresh prawns and locally caught fish with summer salads and Perla potatoes. Award-winning chef Owen Sinclair has created a must-have for your next BBQ with Flavour Fiend finishing butter. It comes in four flavours to complement whatever meat or veggies you are sizzling on the grill. Garlic & Sea Salt is a natural fit for steak; Chilli, Kaffir Lime & Coriander brings the spice of Thailand to your chicken or fish; Chipotle & Lime gives anything an extra kick; and Toasted Indian Spice makes fan-favourite chicken kebabs so easy to create. Check out their website here. 
Pan-fried Prawns
Ingredients:
Flavour Fiend Chipotle & Lime finishing butter
Prawn cutlets
A little oil for frying
A couple of tablespoons of white wine or water
Sea salt
Fresh ground black pepper
Method:
Thaw the prawns and pat dry.
Season with salt and pepper.
Cut the butter into 4 pieces.
Heat a large heavy pan with a little oil until smoking then add the seasoned prawns. Allow to brown a little before tossing.
When the prawns are almost cooked (approx. 3 mins), remove from heat and add a little white wine or water.
Let stand for a minute to allow the heat to settle, then add the chilled Chipotle & Lime finishing butter bit by bit.
Move the pan in a circular motion, to melt the butter into the pan juices, until all the butter has melted. This will make a delicious sauce to coat the prawns.
Serve with rice, a fresh crisp Caesar salad, a buttery Chardonnay and a smile.