New Zealand food blogger, Eleanor Ozich, holds her love of food closely to her heart, with an emphasis on simple, homemade foods. She promotes a calm and relaxing lifestyle, love for natural ingredients and an enthusiasm for simplicity.
In addition to encouraging readers to make their food basics at home, Eleanor shares recipes for beauty and household products that are less toxic and healthier for the family. In her latest cookbook, Homemade, she looks at making your own simple, homemade basics, with tips on what tools to use, to a list of beautiful recipes. M2woman were lucky enough to sit down with Eleanor and talk about her book, living a more simplistic lifestyle and what inspires her to make at home.
Where did your passion for food and cooking start?
I grew up living above my parents restaurant, and so I've always loved food. However, it wasn't until I became a mother that my true passion for cooking began. I can remember the exact moment in which I felt inspired to cook simple, healthier meals for my family. I was in my early twenties, watching Jamie Oliver's cooking series 'Jamie at Home' which I had borrowed from the library. In that very moment, I was absolutely captivated by his rustic, vibrant and relaxed style of cooking, and felt compelled to find more joy and creativity in my own kitchen. Fast forward to now, and there's nothing I love more than cooking!
What motivated you to write your new book Homemade?
I first started sharing recipes on my blog about six years ago, and since then, I've learnt that the key to creating healthy, exciting food is to have plenty of basic recipes which bring it all together. As a mother of three, I certainly don't have all the time in the world to spend in the kitchen, I'm always trying out simpler ways to cook, keeping methods as fuss-free as possible, yet still focusing on a very delicious outcome!
The basic recipes in Homemade are methods that I've been cooking for years, with small tweaks here and there, depending on what ingredients I have lying around. I love knowing that substantial and delicious meals can be whipped up in flash, so long as I have these essential go-to recipes up my sleeve. It's a simple and fun way to cook that doesn't require too much thought.
What draws you to making your kitchen basics at home?
Simply the fact that they often taste far more delicious than store-bought versions! More often than not, we buy these pre-made foods from the supermarket, without knowing how satisfyingly easy they are to make at home. Plus they're easier on the environment without the plastic packaging, and often cost less, too!
What do you like so much about living a more simple lifestyle?
I love that when I slow down, and be intentional about the way I choose to live, I find far more beauty in the small, daily moments – the kind that I might have easily missed. You see, I believe that simple living isn't about determining how little we can live with; it's about celebrating the things we simply can't live without!
Where do you find your inspiration?
When it comes to cooking, I usually find inspiration by what's in season! I could also spend hours on end reading through my many cookbooks, bookmarking the pages and writing down notes and ideas.
What basics do you consider essential to any kitchen?
Firstly, I would say some fat, juicy lemons, a block of good-quality butter (I like Lewis Road), and a dozen or so free-range eggs for quick, nutritious meals or wholesome baking.
Grains such as quinoa, buckwheat, pearl barley or wild rice are a simple way to include more satisfying texture in your cooking. I personally find a humble jar of grains is like an old friend I can fall back on – they help me to create an impromptu-style dish out of a seemingly empty fridge. Additionally, grains are cost-effective and filling, particularly if you buy in bulk!
Other handy basics include olives, sundried tomatoes, capers, Dijon mustard, organic tomato paste, and bottled organic chopped tomatoes for quick, delicious sauces. I also have a shelf dedicated to dried herbs and spices, as well as various vinegars and extra virgin olive oils for drizzling. These are the ingredients that set my taste buds dancing, and get me excited to create vibrant food.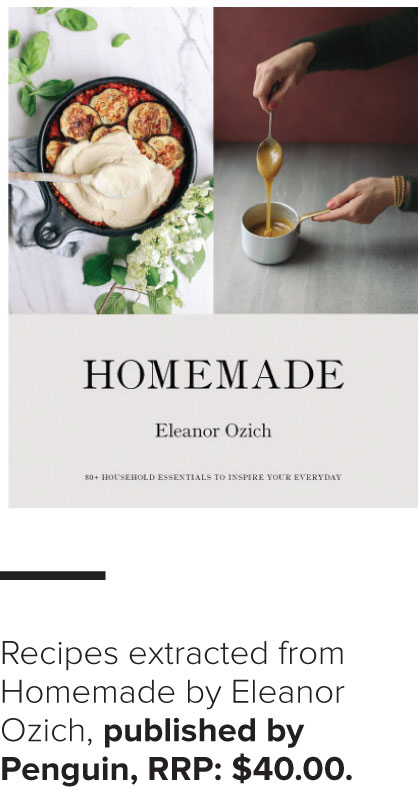 What are the benefits of making your own beauty and wellbeing products at home?
I've been making my own cleaning and beauty products for years, and to me, it just makes sense. I love that homemade versions help to create a healthier, less toxic living environment for our family, are far less expensive, as well as being a joy to make! They also inspire me to slow down, and take more time to honour, love and take more care of myself and my home.
What is your favourite recipe in Homemade?
I'm quite the sweet tooth, so it would have to be my raw brownies topped with salted nut butter caramel and raspberries. They're rich, gooey and impossibly decadent, and ridiculously easy to make!
Raw brownies with salted nut butter caramel
Rich, gooey and impossibly decadent, these raspberry-topped raw brownies are my idea of perfection. Despite looking rather fancy, they're actually very easy to make. I've topped them with freeze-dried raspberries for a surprising hint of tartness, however coconut flakes or crushed nuts would also decorate them nicely.
Makes 12 small squares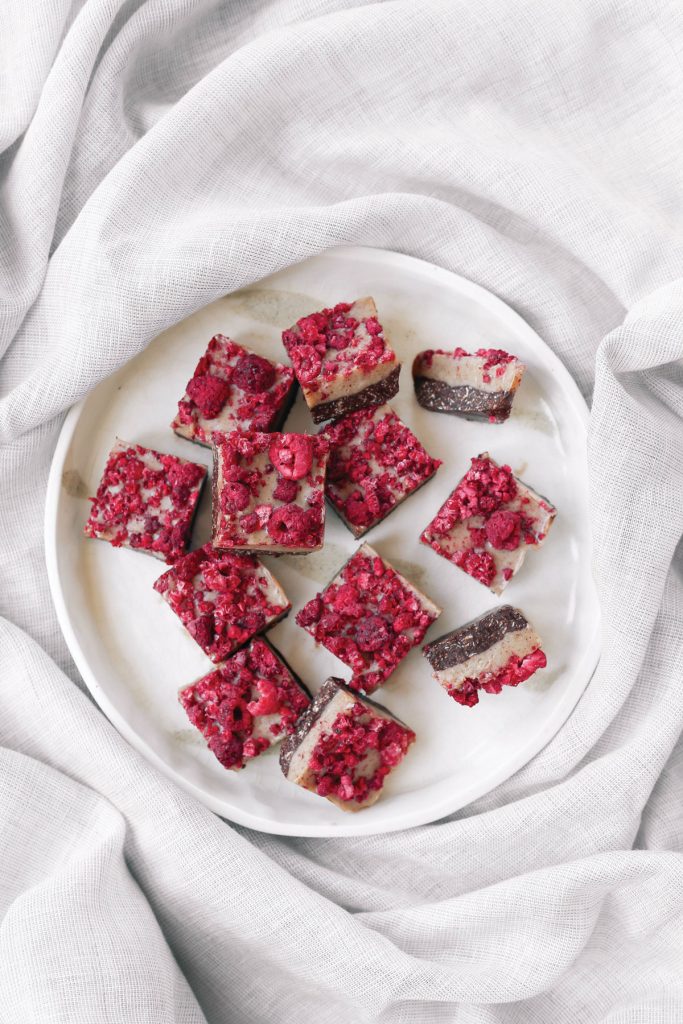 For the brownie
1 cup fresh dates, pitted
1 cup buckwheat groats or rolled oats
3/4 cup almonds or nuts of your choice
1/2 cup cocoa or cacao powder
pinch of sea salt
1/3 cup melted coconut oil
2 tablespoons water
For the caramel
3/4 cup almond butter or
nut butter of your choice
1/2 cup coconut oil, melted and cooled
1/3 cup coconaple syrup or honey
2 teaspoons pure vanilla extract
pinch of sea saltut cream
1/3 cup pure m
For the topping
1 cup freeze-dried or fresh raspberries
Line a 22 × 12cm loaf tin with baking paper.
Place the fresh dates and dry brownie ingredients in a food processor, and process for 20 seconds or so, until the mixture resembles coarse breadcrumbs. Add the coconut oil and water, and pulse until the mixture starts to come together. Press mixture evenly into the lined slice tin.
Place the caramel ingredients in a food processor or blender, and blend until silky and smooth. If the mixture starts to split, add some more coconut cream, a little at a time, scraping down the sides, until it comes together smoothly. This can sometimes happen quite quickly depending on the speed of your blender.
Pour the caramel on top of the brownie, and smooth out evenly using a spatula. Sprinkle the raspberries on top, and then pop in the freezer to set for at least 45 minutes.
Store in an airtight container in the freezer for up to 3 months. To serve, remove from the freezer and allow to thaw for a few minutes. Slice into small squares and enjoy.
Smoky almond romesco sauce
I love the simple flavours here: roasted capsicum, smoky paprika, and a good hum of garlic to tie it all together. I like mine to be rustic and textured, however it's also sublime when blended until silky smooth. Toss it through pasta, dollop it on crackers or crispy fried eggs, or serve simply alongside a few hunks of delicious bread.
Makes about 2 cups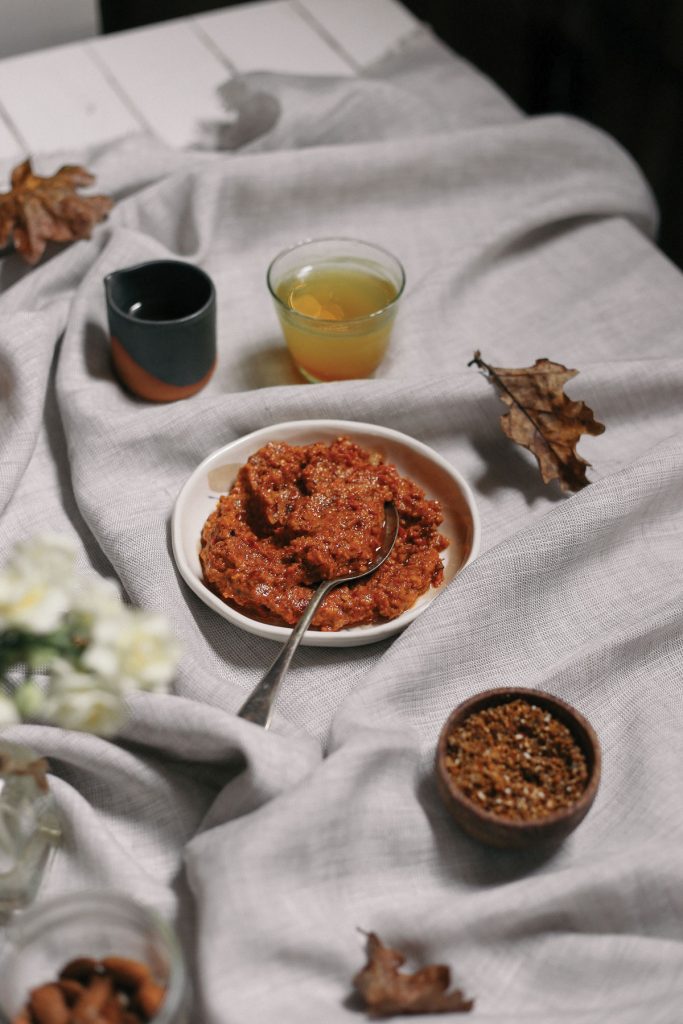 Ingredients
2 red capsicums or bell peppers, stems removed
1 cup toasted almonds
large handful of fresh parsley
1/3 cup extra virgin olive oil, plus extra for drizzling
1 tablespoon apple cider vinegar
1 teaspoon smoked paprika
1 clove garlic
1 teaspoon sea salt
Method
Preheat the oven to 180°C.
Place the capsicum in a roasting dish, drizzle with extra virgin olive oil, and season with sea salt and cracked pepper.
Roast for 30 minutes, or until tender. Remove from the oven and allow to cool for 10 minutes.
Place the capsicums in a food processor, along with the remaining ingredients. Pulse until you achieve a rustic consistency, taste, and adjust seasonings if you need to.
Store in an airtight container in the fridge for up to 1 week.